Chicago Fire Department 1925 Water Tower 2 Scale Model


Over 560 hand-crafted, intricately detailed parts.
Each individually designed, cast or fabricated part is hand-assembled using tweezers, glue-filled syringes, and a steady hand. Materials are chosen to replicate each feature accurately and include stainless steel, high-def resin, brass, wire, rubber and other composites.


A piece of Chicago history.
Chicago Water Towers are an iconic piece of Chicago's history. Finally, a museum grade scale model exists to preserve the many details and memories associated with this special rig.
.




Museum grade precision and authenticity.
Over 18 months of development has been invested in the Chicago Fire Department 1925 Water Tower scale model. Countless hours of design, proofing, and improvements make this replica museum grade.


Limited production for lasting value.
A limited number of CFD Water Tower 2 will be produced. Fire Replicas are designed with the elite collector in mind, and manufactured in limited quantities to enhance future value.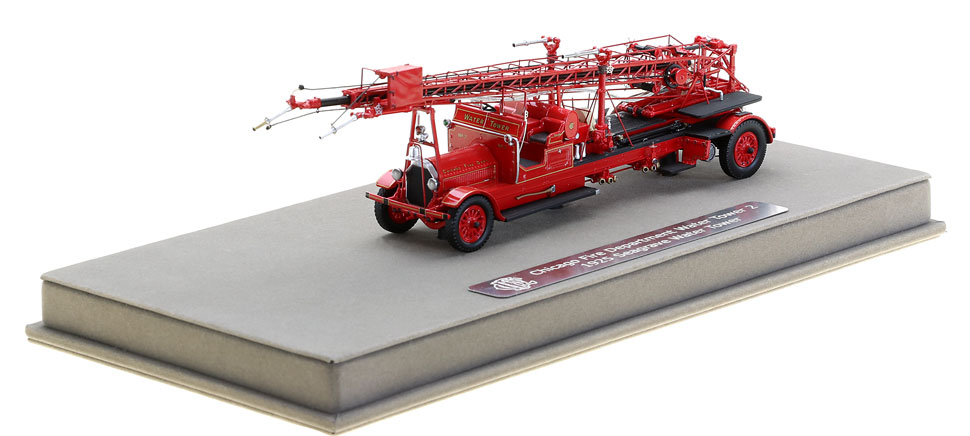 Fully custom presentation and protection.
The CFD Water Tower 2 measures 9.5"L x 2.25"W x 2.75"T and is securely displayed inside a custom case. The case dimensions are 12"L x 6"W x 5.25"T and the platform includes an etched stainless steel nameplate with the CFD seal, department and truck name.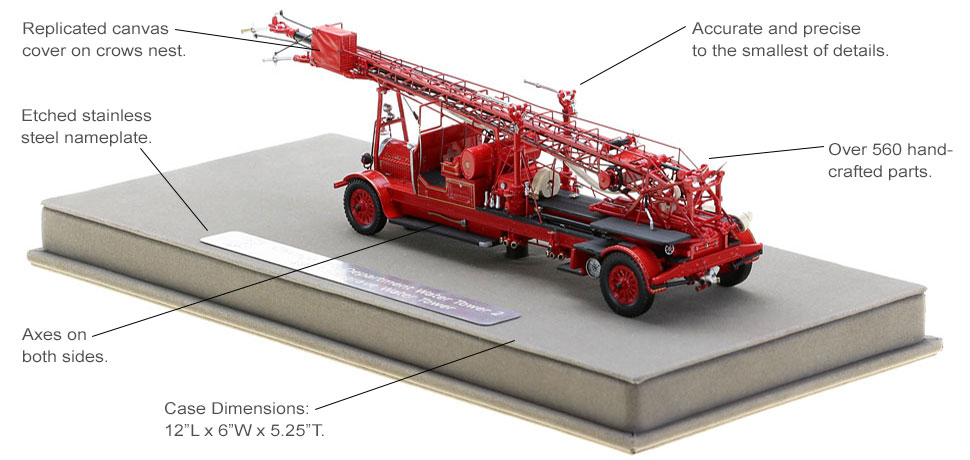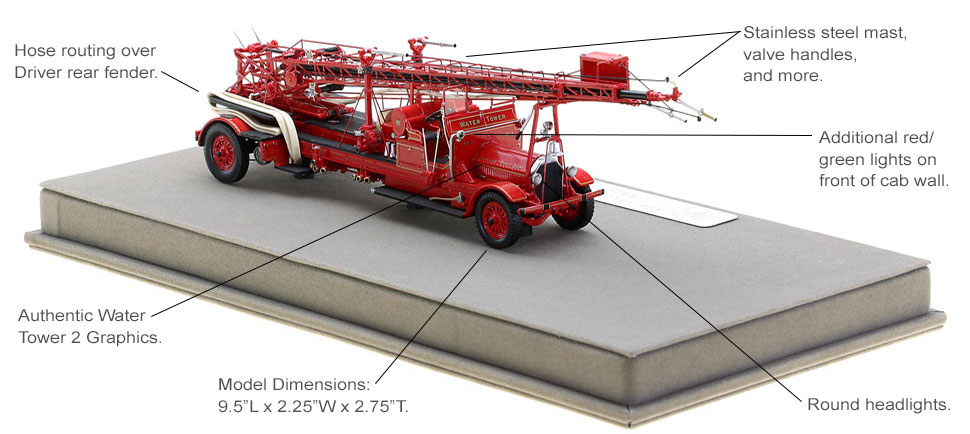 Order online or call 1.800.481.2450
Chicago Fire Department 1923 Water Tower 2 Scale Model Specs
Scale: 1:50

Production Quantity: 150

Multi-materials including High Def Resin, stainless steel photo etch metal, wire, rubber and other composites.
Mounted inside high quality, custom display case featuring etched stainless steel I.D. nameplate.
Model Dimensions: 9.5"L x 2.25"W x 2.75"T
Display Case Dimensions: 12"L x 6"W x 5.25"T
About the Scale Model
This Chicago Fire Department 1925 Water Tower 2 scale model is a museum grade replica. Like all Fire Replicas models, every detail is modeled to perfection and with razor sharp precision. The replica features the specific department configuration and graphics, leaving no detail overlooked. The display case is custom manufactured with high quality acrylic and resin. The stainless steel etched plate features the department and truck name, and department seal. This replica is a treasure to be displayed and admired and is in no way a toy.
Safety Warning
This is not a toy and not suitable for children under the age of 14. This highly detailed scale model contains small, intricate pieces that may present a choking hazard.