Hand-crafted using over 800 individual parts.
Each individually designed, cast or fabricated part is hand-assembled using tweezers, glue-filled syringes, and a steady hand. Materials are chosen to replicate each feature accurately and include stainless steel, high-def resin, brass, wire, rubber and other composites.



Industry first, true-to-scale, 0.6mm stainless steel ladder.
One feature that sets Tower Ladder 39 apart from other scale models is the razor sharp stainless steel ladder. This is a critical component in creating a replica that causes our customers to notice something new each time they view the model.


Museum grade precision.
Countless hours of design, proofing, and improvements make this replica museum grade. Hundreds of individual, razor sharp stainless steel components create realism never before seen in a fire truck scale model.


Extremely limited availability.
Production of CFD Tower Ladder 39 is limited to 100 units. Fire Replicas are designed with the elite collector in mind, and manufactured in limited quantities to enhance future value.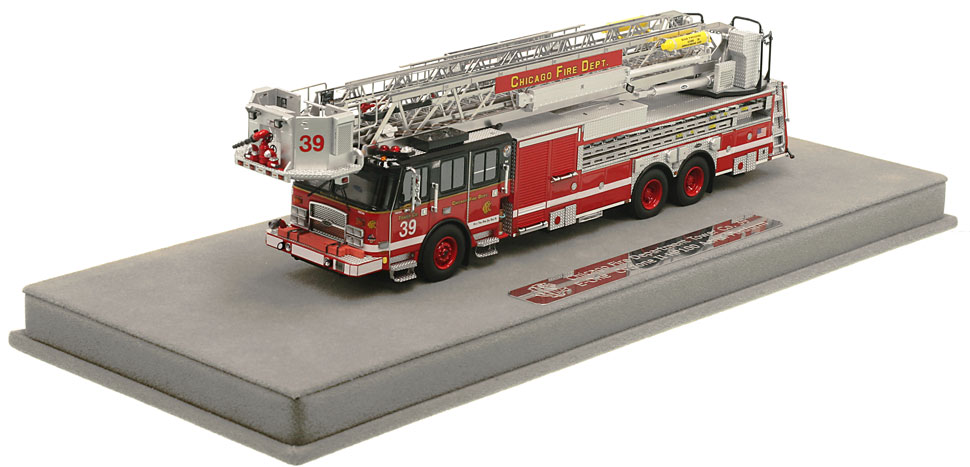 Fully custom presentation.
Chicago Fire Department Tower Ladder 39 measures 11.5"L x 2.5"W x 2.5"T and is securely displayed inside a custom case. The case dimensions are 15.5"L x 6"W x 5.25"T and the platform includes an etched stainless steel nameplate with the Chicago seal, department and truck name.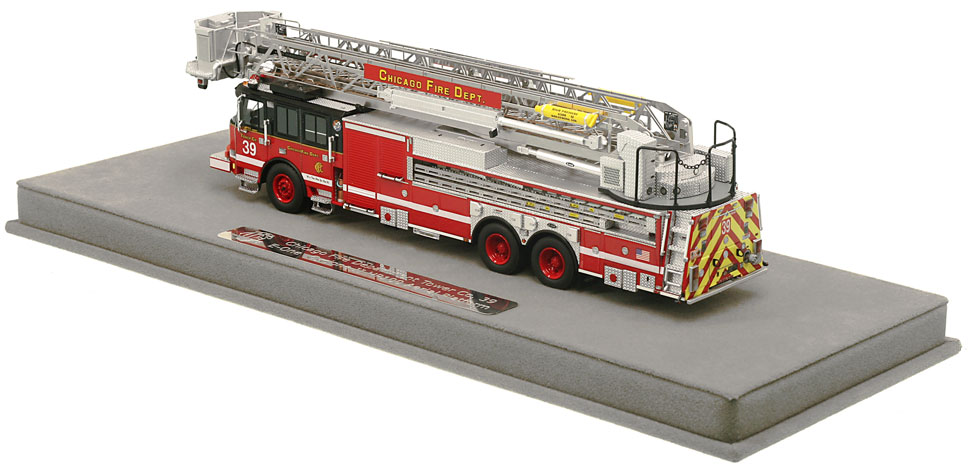 Chicago Fire Department E-One Tower Ladder 39 Scale Model Specs
Scale: 1:50

Production Quantity: 100

Multi-materials including High Def Resin, stainless steel photo etch metal, wire, rubber and other composites.
Mounted inside high quality, custom display case featuring etched stainless steel I.D. nameplate.
Model Dimensions: 11.5"L x 2.5"W x 3"T
Display Case Dimensions: 15.5"L x 6"W x 5.25"T
More About the Scale Model
This Chicago Fire Department E-One Tower Ladder 39 scale model is a museum grade replica. Like all Fire Replicas models, every detail is modeled to perfection and with razor sharp precision. The replica features the specific department configuration and graphics, leaving no detail overlooked. The display case is custom manufactured with high quality acrylic and resin. The stainless steel etched plate features the department and truck name, and department seal. This replica is a treasure to be displayed and admired and is in no way a toy.
Safety Warning
This is not a toy and not suitable for children under the age of 14. This highly detailed scale model contains small, intricate pieces that may present a choking hazard.


Amazing Detail! One of the best models I've seen. Great product!

Herby johnson sticker should be on the doors

Everything else is fine

The model is high quality and highly accurate, an exact match for the real thing.

The detailing on this 3-4-9 replica is amazing!!

L39 is again a very detailed model perfectly matching with CFD engines. Do you like the Pictures on FR's Homepage? They don't show the full truth. Got my ladder today and it looks even much better!!! Thanks FR for this excellent work and amazing release. Counting the days to get my CFD Squads!

Excited to match it with E123. Excellent detail. I was not disappointed. Superb quality.

I received my Chicago Fire Department E One Cyclone 2 Tower Ladder 39 today and can only say that I'm stunned.
Despite the fact that this is my eighth Fire Replicas model, all of which have impressed me, this one really is impressive. In fact, I have never seen a model with such a level of detail as this one poses, not only in 1/50th scale but even 1/32nd. This model raises the bar, significantly. Even just a quick once over after first unpacking the model reveals detail that leaves you amazed. I'm sure that further study of the model in coming days will reveal even more true to scale and accurate features.
A number of years ago now I, as a visiting UK firefighter, spent a night riding at the house of Chicago Engine 123/Tower Ladder 39 so this was a model that I just had to add to my collection, and I'm so pleased that I did.
Finally, a nice touch to this model is the inclusion of the decal on the front corner of the cab in memory of Captain "Herbie" Johnson, who commanded Tower Ladder 39 and who gave his life in the line of duty in November 2012. Rest in peace Brother.


Chicago Fire Dept. ladder 39

Just received my Chicago Fire Dept. ladder 39 and wow I am awe struck! this rig is awesome! the detail is flawless, once again the level of quality and attention to detail on this Fire Replica model is incredible. This E-one ladder 39 replica has the identical appearance to the real truck as if you can hear the sound of the engine & siren going down the road. The Chicago F.D. trucks have a beautiful look to them with the black over red, the Chicago F.D. unique color scheme identifies the one & only awesome Chicago F.D. and Fire Replicas has truly captured a 100% replica of the real E-one tower ladder 39 of the Chicago Fire Department . I can't wait for the Chicago Squad piece's as they look to be as incredible, It is a really great time to collect these scale model fire apparatus replica's. Never before have I seen this level of quality, I am thankful Fire Replica's continues to produce such high quality museum fire apparatus replicas to enjoy collecting. I look forward to all future Fire Replica models.