Chicago Fire Department 1923 Seagrave Water Tower 3 is now sold out.

If you'd like to be added to a waiting list in the event of cancellations, please reach out to us through the

Contact Us Form

. We'd also be happy to add you to a list for future Water Towers or other Vintage Chicago apparatus. Thank you!
Chicago Fire Department 1923 Water Tower 3 Scale Model


Over 560 hand-crafted, intricately detailed parts.
Each individually designed, cast or fabricated part is hand-assembled using tweezers, glue-filled syringes, and a steady hand. Materials are chosen to replicate each feature accurately and include stainless steel, high-def resin, brass, wire, rubber and other composites.




A piece of Chicago history.
Chicago Water Towers are an iconic piece of Chicago's history. Finally, a museum grade scale model exists to preserve the many details and memories associated with this special rig.
.




Museum grade precision and authenticity.
Over 18 months of development has been invested in the Chicago Fire Department 1923 Water Tower scale model. Countless hours of design, proofing, and improvements make this replica museum grade.


Limited production for lasting value.
Production of CFD Water Tower 3 will be limited to no more than 150 units. Fire Replicas are designed with the elite collector in mind, and manufactured in limited quantities to enhance future value.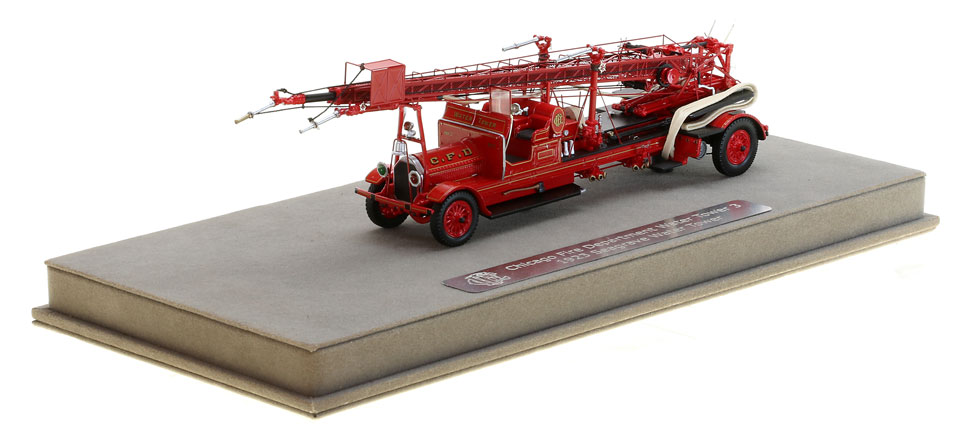 Fully custom presentation and protection.
The CFD Water Tower 3 measures 9.5"L x 2.25"W x 2.75"T and is securely displayed inside a custom case. The case dimensions are 12"L x 6"W x 5.25"T and the platform includes an etched stainless steel nameplate with the CFD seal, department and truck name.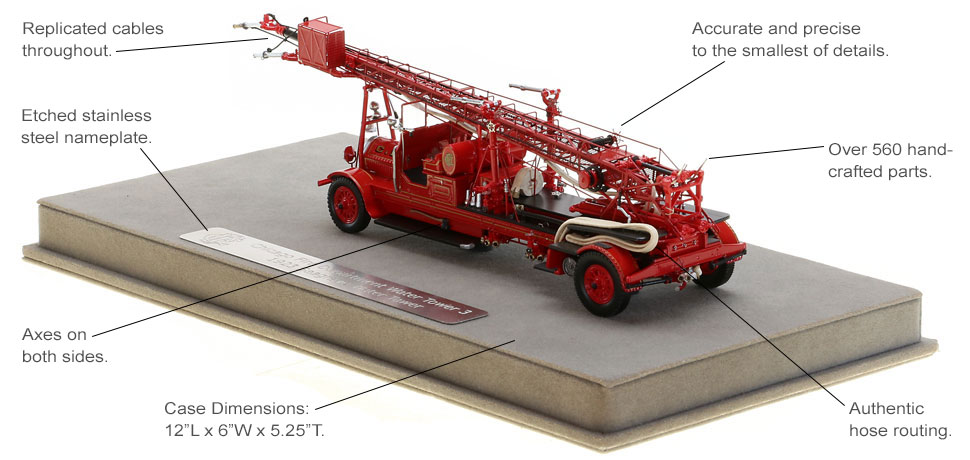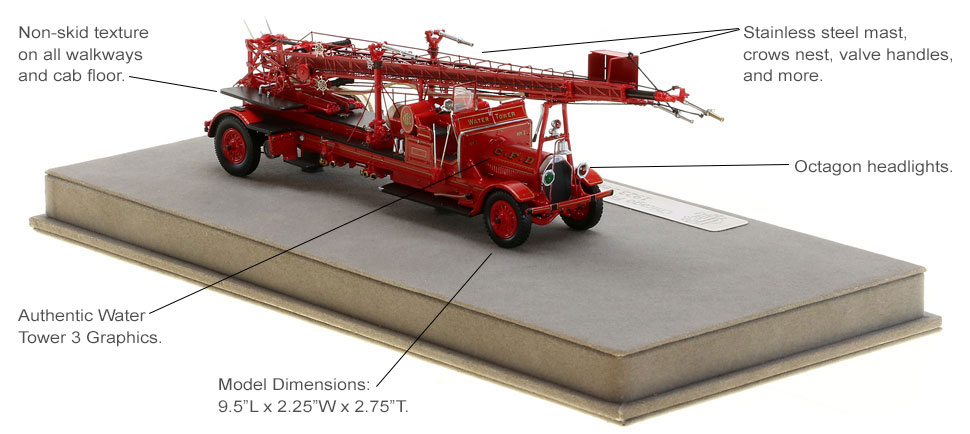 Order online or call 1.800.481.2450
Chicago Fire Department 1923 Water Tower 3 Scale Model Specs
Scale: 1:50

Production Quantity: 150 units

Multi-materials including High Def Resin, stainless steel photo etch metal, wire, rubber and other composites.
Mounted inside high quality, custom display case featuring etched stainless steel I.D. nameplate.
Model Dimensions: 9.5"L x 2.25"W x 2.75"T
Display Case Dimensions: 12"L x 6"W x 5.25"T
About the Scale Model
This Chicago Fire Department 1923 Water Tower 3 scale model is a museum grade replica. Like all Fire Replicas models, every detail is modeled to perfection and with razor sharp precision. The replica features the specific department configuration and graphics, leaving no detail overlooked. The display case is custom manufactured with high quality acrylic and resin. The stainless steel etched plate features the department and truck name, and department seal. This replica is a treasure to be displayed and admired and is in no way a toy.
Safety Warning
This is not a toy and not suitable for children under the age of 14. This highly detailed scale model contains small, intricate pieces that may present a choking hazard.


Chicago Fire Department 1923 Seagrave Water Tower

This replicas packaging is different than other models we have seen, not only does it have foam on the top of the case, an additional piece of foam is under the water tower boom to prevent damage along with instructions on how to remove it. I took the case off and followed the instructions on removing the lower piece of foam, from that point the aw feeling starts. The truck is just beautiful, you may first notice because of the boom length the truck sits back on the case, the construction of the boom and extension of the water way is replicated to the tee. All of the ropes, hand cranks, levers and cables that in real life supported the high stream is unreal. The 1923 Seagrave engine hood, and bumper are exact, the warning light, and bell was all fire trucks had on them back then. I was impressed with how well the Octagon head lamps were done, of course in green and red. The firewall and windshield look great protect the cab, the windshield on these trucks is split so the boom rests between the driver and the officer, oh yeah steering wheel was on the left side in the 20's. The interior simple with pedals, gauges, clutch and brake mounted to thee right of the driver. You really start to notice the graphics at this point, good leaf markings and pinstripes. Once you are at the fuel tank the deck comes alive. The large turrents on the deck with crank handles, and intakes below, some of the hand cranks colored in brass, silver and red with different nozzles mounted on the deck to change the flow of the large turrents. As my eyes moves up again I am just in aw as I look at the booms mesh covering the interior piping to the tower tip, the ropes, cable, cranks, and hose line neatly detailed. There are steel hand steps that would be climbed to get to the crows nest or tip that stand out on this model as back in the 20's they were simple and painted metal you have to really look for them to see them. The 3.5 inch boat hose to the crows nest rests on the underside part of the boom, and my guess its about another 50 foot section folded over the left fender. Looking under that fender you can see the chain drive train for the rear wheels, no details left out. You can also see a large section of hard suction, not sure if that was for drafting from the Cistern system or not. The stabilizers can be see at the rear with the ports to the water way. The difference LDH hose and pumping has changed over the years really shows when you look at the number of 2.5 connection on this truck, as well as hydraulic lifts to replace all the hand cranks. This truck really represents a historical view of what was used in the 1920's sitting next to my 1954 Autocar squad you can tell these machines were meant to throw big water. The details on this truck went way past my expectations, it is not a easy truck to replicate at all. Once you get one you can see why this truck belongs in a museum or better yet your museum display at home. Hats off to the folks that put this together I am sure it took a lot of time to get everything in it's proper place. This one is a 10 star rating even if we can only go 5.