Hand-crafted using over 800 individual parts.
Each individually designed, cast or fabricated part is hand-assembled using tweezers, glue-filled syringes, and a steady hand. Materials are chosen to replicate each feature accurately and include stainless steel, high-def resin, brass, wire, rubber and other composites.



Industry first, true-to-scale, 0.6mm stainless steel ladder.
One feature that sets Tower Ladder 14 apart from other scale models is the razor sharp stainless steel ladder. This is a critical component in creating a replica that causes our customers to notice something new each time they view the model.


Museum grade precision.
Countless hours of design, proofing, and improvements make this replica museum grade. Hundreds of individual, razor sharp stainless steel components create realism never before seen in a fire truck scale model.


Extremely limited availability.
Production of CFD Tower Ladder 14 is limited to 100 units. Fire Replicas are designed with the elite collector in mind, and manufactured in limited quantities to enhance future value.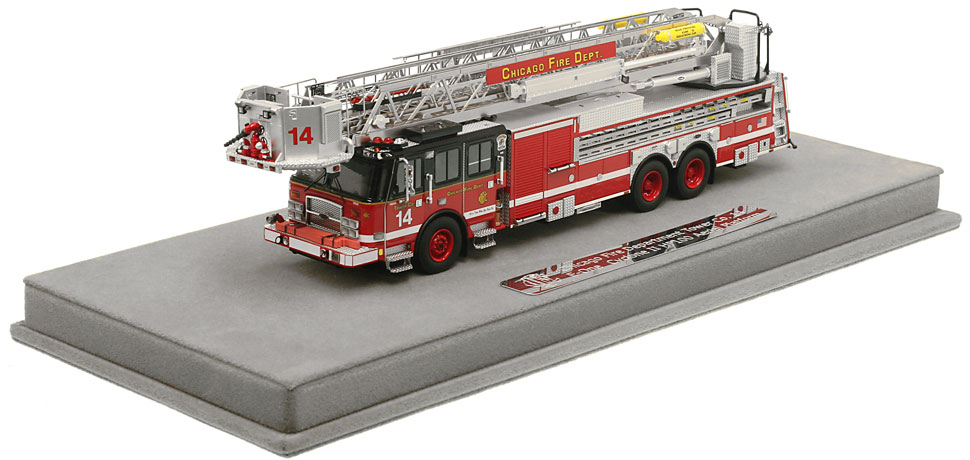 Fully custom presentation.
Chicago Fire Department Tower Ladder 14 measures 11.5"L x 2.5"W x 2.5"T and is securely displayed inside a custom case. The case dimensions are 15.5"L x 6"W x 5.25"T and the platform includes an etched stainless steel nameplate with the Chicago seal, department and truck name.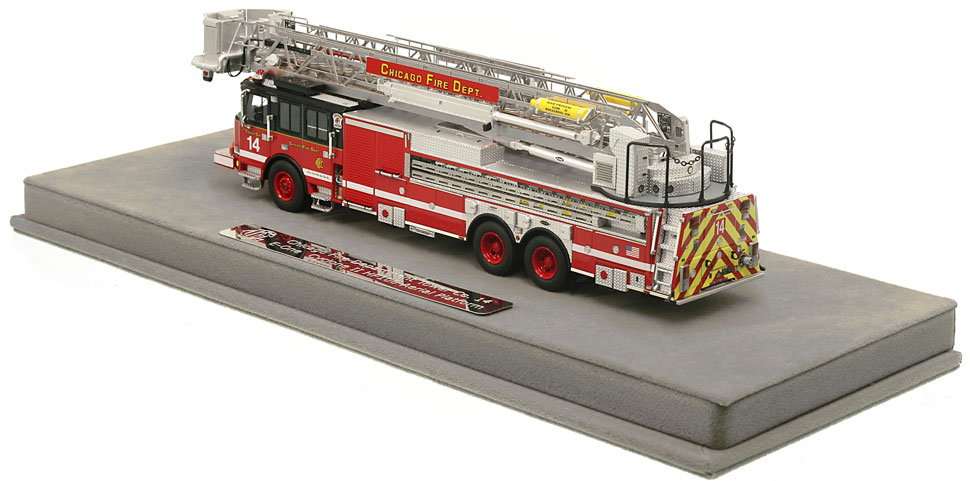 Chicago Fire Department E-One Tower Ladder 14 Scale Model Specs
Scale: 1:50

Production Quantity: 100

Multi-materials including High Def Resin, stainless steel photo etch metal, wire, rubber and other composites.
Mounted inside high quality, custom display case featuring etched stainless steel I.D. nameplate.
Model Dimensions: 11.5"L x 2.5"W x 3"T
Display Case Dimensions: 15.5"L x 6"W x 5.25"T
More About the Scale Model
This Chicago Fire Department E-One Tower Ladder 14 scale model is a museum grade replica. Like all Fire Replicas models, every detail is modeled to perfection and with razor sharp precision. The replica features the specific department configuration and graphics, leaving no detail overlooked. The display case is custom manufactured with high quality acrylic and resin. The stainless steel etched plate features the department and truck name, and department seal. This replica is a treasure to be displayed and admired and is in no way a toy.
Safety Warning
This is not a toy and not suitable for children under the age of 14. This highly detailed scale model contains small, intricate pieces that may present a choking hazard.


Remarkable details. Great quality. Extremely realistic!

Another masterpiece, no details missed here and a truly great re-creation of another great CFD prototype. Only other comment is it's still hard to think of Chicago's ladders as anything other than "trucks!"

I bought this tower replica to go along with E-117 I had bought earlier this year. Both of them are awesome and great quality. I can't wait to see what they make next so I can add to my collection

Best model yet!

we remain dumb with admiration for the quality of reproduction
silence and admire

Having worked as a former 4th district relief paramedic officer (west side), this fire house (Engine 117) was home for me. It is especially awesome to be able to now have both Engine 117 and Tower Ladder 14 to reflectively and fondly celebrate my time on that job and so many awesome memories with the men and women of the Chicago Fire Department! The detail in each of these museum grade replicas continues to amaze me. Another well done collection piece for sure - but these two in particular will always be special for me as it was my firehouse for the majority of my CFD career. Well done Fire Replicas, Well done!

And the highly detailed trucks just keep coming

My CFD E-One tower looks fantastic. The details are great. You can really see all the remarkable detail's from the front bumper to the rear. Than you get to the ladder and bucket, you become awed over the fine details of the ladder and the cables, the added tools and ladder's perfectly in place. The rear of the body has most of the detail, next to the ladder and platform above the body, the turntable graphics are great. I really like the bronze water cans again very accurate. I need to find a prominent spot for it next to Engine 117.