Seagrave Rescue Pumper - 2018 Limited Edition
The first museum grade Seagrave Attacker HD Rescue Pumper Stock Unit.
Each individually designed, cast or fabricated part is hand-assembled using tweezers, glue-filled syringes, and a steady hand. Materials are chosen to replicate each feature accurately and include stainless steel, high-def resin, brass, wire, rubber and other composites.
Hand-crafted, limited in production and display-ready
From the steel cab steps and door hinges, to Seagrave demo graphics, this 1:50 scale replica emulates a real Seagrave Attacker® HD Rescue Pumper. Production is limited to only 100 units and the unit is protected inside a display-ready case.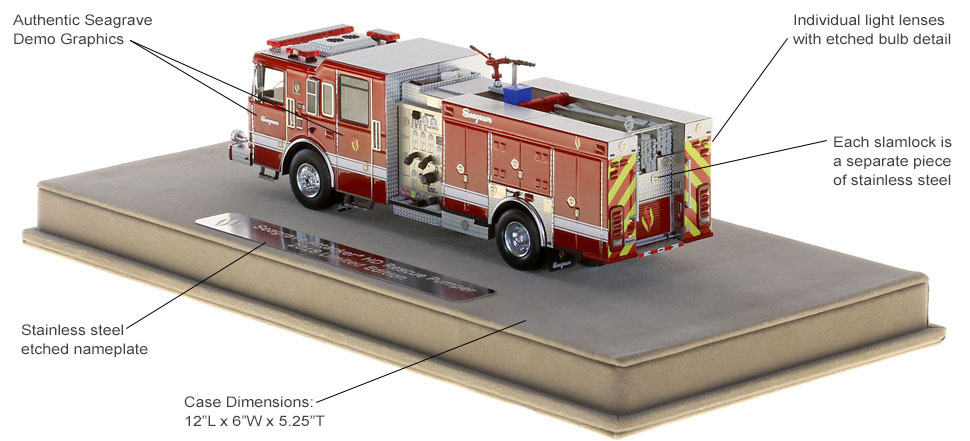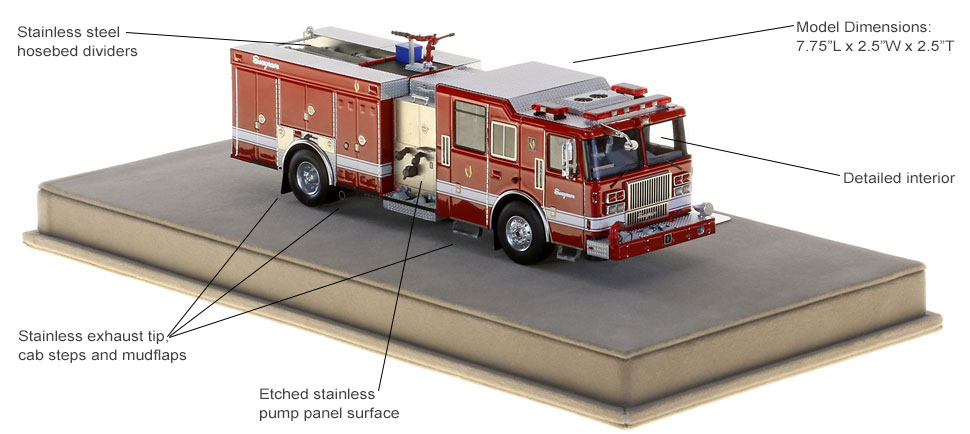 Seagrave Rescue Pumper - 2018 Limited Edition Scale Model Specs
Scale: 1:50

Production Quantity: 100

Multi-materials including High Def Resin, stainless steel photo etch metal, wire, rubber and other composites.
Mounted inside high quality, custom display case featuring etched stainless steel I.D. nameplate.
Model Dimensions: 7.75"L x 2.5"W x 2.75"T
Display Case Dimensions: 12"L x 6"W x 5.25"T
More About the Scale Model
This Seagrave Rescue Pumper - 2018 Limited Edition scale model is a museum grade replica of a Seagrave Attacker HD® Rescue Pumper. Like all Fire Replicas models, every detail is modeled to perfection and with razor sharp precision. The replica features the specific department configuration and graphics, leaving no detail overlooked. The display case is custom manufactured with high quality acrylic and resin. The stainless steel etched plate features the department and truck name, and department seal. This replica is a treasure to be displayed and admired and is in no way a toy.
Safety Warning
This is not a toy and not suitable for children under the age of 14. This highly detailed scale model contains small, intricate pieces that may present a choking hazard.