Seagrave Rescue Pumper - 2018 Limited Edition



The first museum grade Seagrave Attacker HD Rescue Pumper Stock Unit.
Each individually designed, cast or fabricated part is hand-assembled using tweezers, glue-filled syringes, and a steady hand. Materials are chosen to replicate each feature accurately and include stainless steel, high-def resin, brass, wire, rubber and other composites.



Hand-crafted using over 425 parts.
From the steel cab steps and door hinges, to Seagrave demo graphics, this 1:50 scale replica emulates a real Seagrave Attacker® HD Rescue Pumper. Our goal with each release is that our customers may notice something new each time they view the model.

Razor sharp, stainless steel precision.
The 2018 Limited Edition Rescue Pumper features impeccable detailing and true-to-scale parts that only stainless steel can provide. Fire Replicas has ushered in a new standard in 1:50 scale modeling that is sure to impress the most discriminating collectors.


Extremely limited production for lasting value.
Only 100 units have been produced, making the 2018 Limited Edition Rescue Pumper among our most collectible releases. Fire Replicas are designed with the elite collector in mind, and manufactured in limited quantities to enhance long-term value.

Professionally preserved and ready for display.
The Seagrave Rescue Pumper measures 7.75"L x 2.5"W x 2.75"T and is securely displayed inside a custom case. The case dimensions are 12"L x 6"W x 5.25"T and the platform includes an etched stainless steel nameplate with the Seagrave flame logo, and truck name.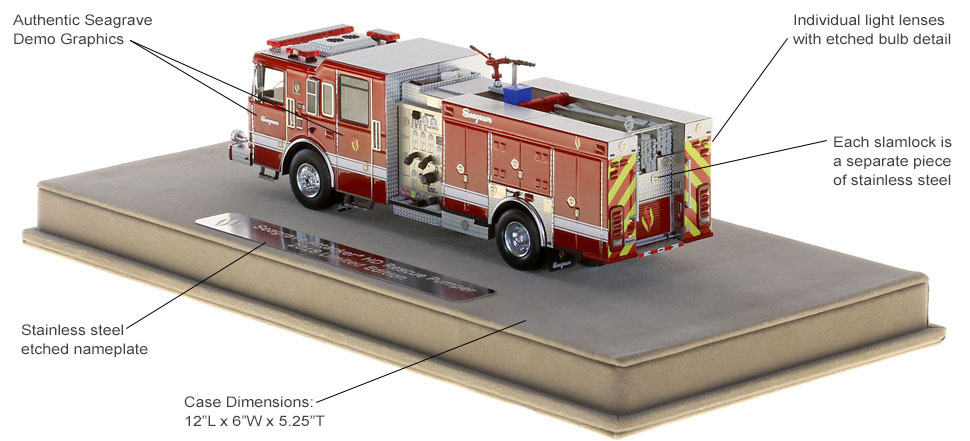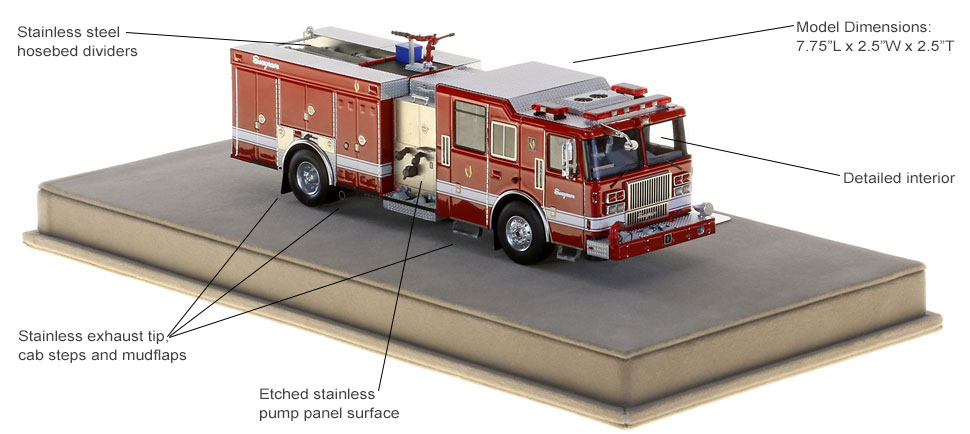 Seagrave Rescue Pumper - 2018 Limited Edition Scale Model Specs
Scale: 1:50

Production Quantity: 100

Multi-materials including High Def Resin, stainless steel photo etch metal, wire, rubber and other composites.
Mounted inside high quality, custom display case featuring etched stainless steel I.D. nameplate.
Model Dimensions: 7.75"L x 2.5"W x 2.75"T
Display Case Dimensions: 12"L x 6"W x 5.25"T
More About the Scale Model
This Seagrave Rescue Pumper - 2018 Limited Edition scale model is a museum grade replica of a Seagrave Attacker HD® Rescue Pumper. Like all Fire Replicas models, every detail is modeled to perfection and with razor sharp precision. The replica features the specific department configuration and graphics, leaving no detail overlooked. The display case is custom manufactured with high quality acrylic and resin. The stainless steel etched plate features the department and truck name, and department seal. This replica is a treasure to be displayed and admired and is in no way a toy.
Safety Warning
This is not a toy and not suitable for children under the age of 14. This highly detailed scale model contains small, intricate pieces that may present a choking hazard.


The model is a based on a Seagrave Attacker Rescue/Engine, the Red paint is amazing on this truck, and the white stripe just pops.

The details on this engine are the same as all other Fire Replicas models, nothing is spared. The front of the engine complete with a Front Suction, a trash line, and a Q-2. The bumper standsout because of the details with the rivets, electronic siren and air horn. The roof lights and A/C are the right amount extras on the truck not over done and what most departments have. The stainless steel pump panels with the highly detailed gauges and looks great with the color red used on the truck. The crows nest has a few foam containers and cones. The details of the deck gun stand out as it rests the water tank. I love how Fire replicas adds the details to the compartment door hinges to make them stand out. The rear of the engine is detailed very well, the chevrons on the outside, and the hose bed nice and neat. The ladders and other tools or hard suctions would be tucked away in compartments that appear at the top.

This truck would be great to add to your collection as is, however whats even better is this truck can have some decals added and you can create a new model. You can simply add some water slide decls from the various sheets available from InQuarters Decals 1/64th scale sheets do work on the fire replicas models, or Micro Scale has a generics fire sheet.


Seagrave Attacker Rescue Pumper

Collectors and kit bashers have been waiting for another stock release and Fire Replicas have knocked it out of the park with this one. Fit and finish is flawless as always. The Seagrave Attacker Rescue Pumper is a great subject with its tall cabinets, stunning pump panel and beautiful red finish (appears to be a perfect match for the Pierce Arrow XT Savage ladder truck). I love the lightbar selection, front bumper treatment and hose bed detail. This model will look great as is, or it is a perfect model to add after-market decals to and make your own creation. The overall appearance of this model is very "clean" with just the right amount of chrome and stainless. They only produced 100 and not all of them will be available to collectors - so you need to act fast.