Seagrave 95' Aerialscope II - 2016 Limited Edition Specifications

Assembled with over 500 hand-crafted parts.
Each individually designed, cast or fabricated part is hand-assembled using tweezers, glue-filled syringes, and a steady hand. Materials are chosen to replicate each feature accurately and include stainless steel, high-def resin, brass, wire, rubber and other composites.



Designed for the discerning.
On the replica complexity scale, Seagrave Aerialsopes are higher than most. Our goal with each release is to improve in every area...so that our customers will notice something new each time they view the model.




Precisely museum grade.
One of our deliverables at Fire Replicas is to honor our OEM's and the brands we represent. Countless hours of design, proofing, and improvements make this replica museum grade, and a worthy representation of the iconic Seagrave brand.


Exclusive...for the Elite Collector.
Production of the Seagrave 95' Aerialscope - 2016 Edition is limited to 100 units. Fire Replicas are designed with the elite collector in mind, and manufactured in limited quantities to enhance future value.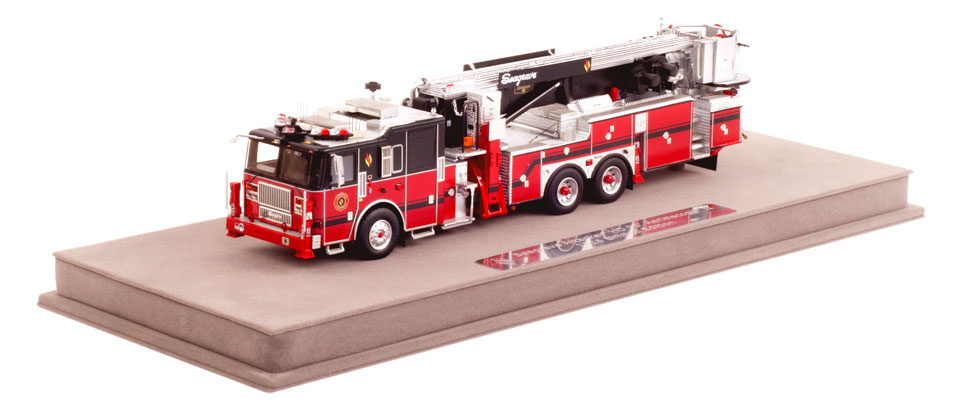 Professional presentation and protection.
The replica measures 11.5"L x 2.5"W x 3"T and is securely displayed inside a custom case. The case dimensions are 15.25"L x 6"W x 5.25"T and the platform includes an etched stainless steel nameplate with the Seagrave flames and truck name.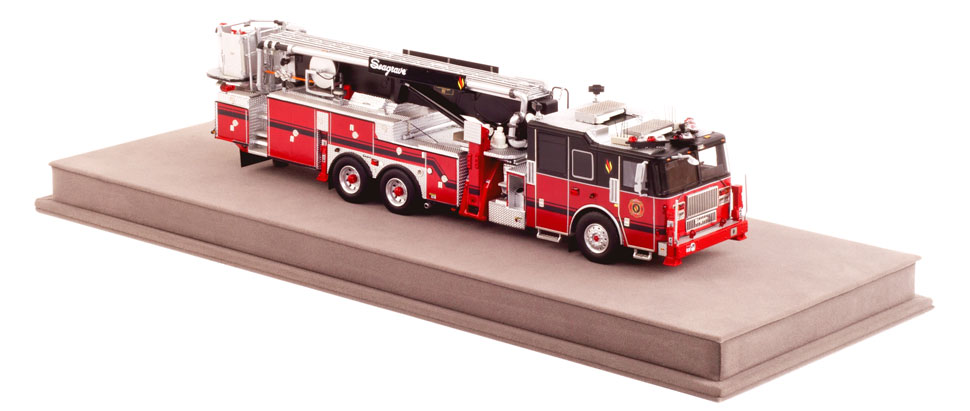 Seagrave 95' Aerialscope II - 2016 Limited Edition Scale Model Specs
Scale: 1:50

Production Quantity: 100

Multi-materials including High Def Resin, stainless steel photo etch metal, wire, rubber and other composites.
Mounted inside high quality, custom display case featuring etched stainless steel I.D. nameplate.
Model Dimensions: 11.5"L x 2.5"W x 3"T (approximate)
Display Case Dimensions: 15.25"L x 6"W x 5.25"T (approximate)
More about the Scale Model
This Seagrave 95' Aerialscope II - 2016 Limited Edition on an Attacker chassis is a museum grade replica. Like all Fire Replicas models, every detail is modeled to perfection and with razor sharp precision. The replica features the specific department configuration and graphics, leaving no detail overlooked. The display case is custom manufactured with high quality acrylic and resin. The stainless steel etched plate features the department and truck name, and department seal. This replica is a treasure to be displayed and admired and is in no way a toy.
About Seagrave Fire Apparatus
The FWD Seagrave team is dedicated to providing highly engineered heavy duty vehicles, cabs, chassis, bodies, aerial ladders and other products with superior lifetime value for our customers by concentrating on innovation and continuous process improvements.
As a single source manufacturer, we integrate design, construction and assembly under one roof. The result is an apparatus built for best lifetime value that operates under the most severe conditions. One of our unique manufacturing distinctions is our life-saving "safety cage" cab design, which has earned us an unmatched reputation for dependability under the toughest of conditions. The cab's cage design is the hallmark of occupant safety.
Safety Warning
This is not a toy and not suitable for children under the age of 14. This highly detailed scale model contains small, intricate pieces that may present a choking hazard.
For many years The Ellington Volunteer Fire Department Inc. has purchased die cast collectables as one of the raffle prizes for our members at our annual Awards Banquet. This was chosen due to it being a special edition and the quality of the item. I was not disappointed when I opened it for display at the Banquet. We will be purchasing further items in upcoming years.

Just had to have this rig after seeing its paint scheme and the phenomenal detail. It was between the 2016 or the 2017 Seagrave Aerialscopes...they both won, had to have them both. And with the display stands and cases just adds the icing on the cake...or better yet adds prestige. Great idea who thought of the display case...adds so much to the model. The models are second to none...you've gone all out in all that you've done. You've secured a customer here, thank you for your efforts and the service you provide to collectors of model firetrucks.

Love the details on a demo model, sometimes not having a specific fire department is a great idea. The color on this truck is great with the black over red. I was able to kitbash the model to a truce department with ease.I do like the idea of manufactures truck and hope to see a few more down the road.

I've been collecting and building Fire Apparatus collectibles for many years. Finally, I can have an intricately detailed model without spending countless hours building it myself. Plus the scale would be hard to replicate with the precision these have. I look forward to collecting many of the different Manufacturers and Companies in the future.

I am thrilled with the quality and detail in this iconic fire truck. I would rate it amongst the best in my collection which includes some of the best models from around the world.

This Seagrave Tower Ladder looks great in the black over red paint scheme. The model is brilliantly cast, finished and detailed. Another stunning model from Fire Replicas. This 95' Aerialscope II is a big rig and Fire Replicas have captured it well. Only 100 of these were produced, so you better pick yours up soon. Plenty of detail and a first class display case. Well done Fire Replicas!!!

This truck is very realistic! I'm very impress with the details! It's looks better than imagined. Looking forward to my next purchase.