Seagrave 75' Aerialscope II - 2017 Limited Edition Specifications

Over 500 hand-crafted parts.
Each individually designed, cast or fabricated part is hand-assembled using tweezers, glue-filled syringes, and a steady hand. Materials are chosen to replicate each feature accurately and include stainless steel, high-def resin, brass, wire, rubber and other composites.



Designed for the discerning.
On the replica complexity scale, Seagrave Aerialsopes are higher than most. Our goal with each release is to improve in every area...so that our customers will notice something new each time they view the model.




Museum grade precision.
One of our deliverables at Fire Replicas is to honor our OEM's and the brands we represent. Countless hours of design, proofing, and improvements make this replica museum grade, and a worthy representation of the iconic Seagrave brand.



Exclusively limited to 100 units.
Production of the Seagrave 75' Aerialscope - 2017 Edition is limited to 100 units. Fire Replicas are designed with the elite collector in mind, and manufactured in limited quantities to enhance future value.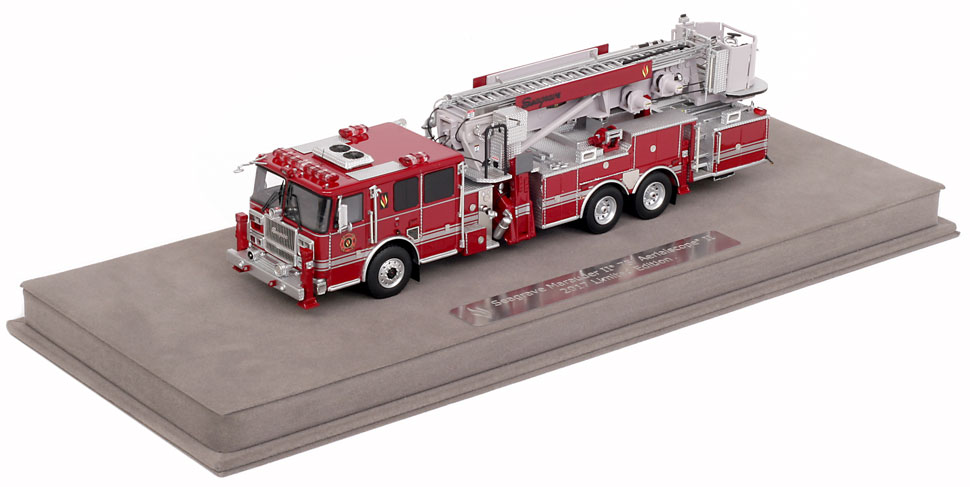 Fully custom presentation.
This Aerialscope replica measures 10.5"L x 2.5"W x 2.75"T and is securely displayed inside a custom case. The case dimensions are 15.25"L x 6"W x 5.25"T and the platform includes an etched stainless steel nameplate with the Seagrave flame logo and truck name.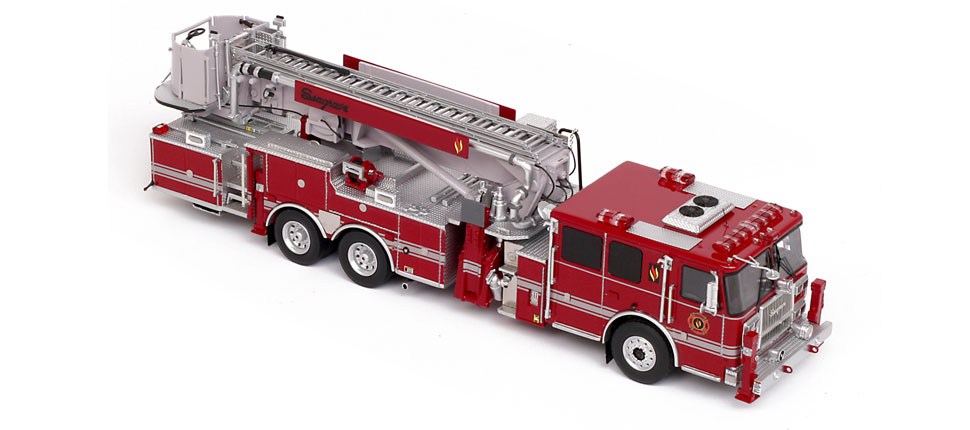 Order online or call 1.800.481.2450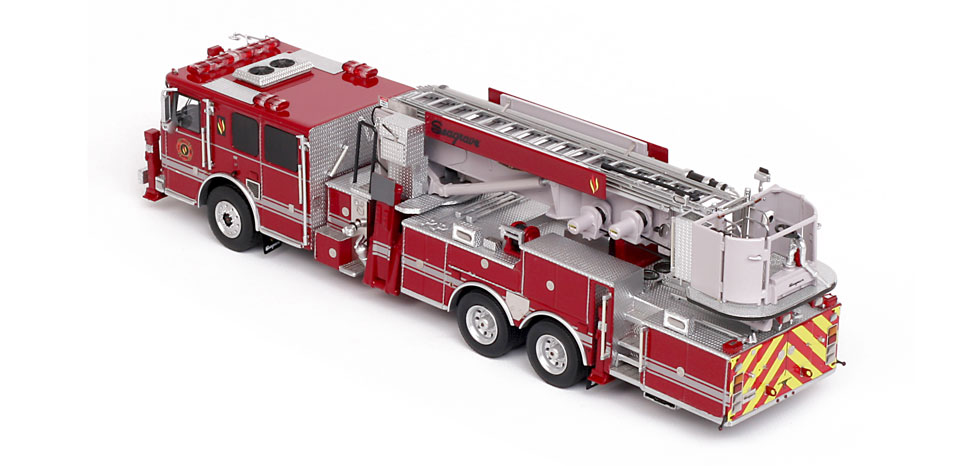 Seagrave 75' Aerialscope II - 2017 Limited Edition Scale Model Specs
Scale: 1:50

Production Quantity: 100

Multi-materials including High Def Resin, stainless steel photo etch metal, wire, rubber and other composites.
Mounted inside high quality, custom display case featuring etched stainless steel I.D. nameplate.
Model Dimensions: 10.5"L x 2.5"W x 2.75"T
Display Case Dimensions: 15.25"L x 6"W x 5.25"T
Safety Warning
This is not a toy and not suitable for children under the age of 14. This highly detailed scale model contains small, intricate pieces that may present a choking hazard.
About the Scale Model
This Seagrave 75' Aerialscope II - 2017 Limited Edition scale model is a museum grade replica. Like all Fire Replicas models, every detail is modeled to perfection and with razor sharp precision. The replica features the specific department configuration and graphics, leaving no detail overlooked. The display case is custom manufactured with high quality acrylic and resin. The stainless steel etched plate features the department and truck name, and department seal. This replica is a treasure to be displayed and admired and is in no way a toy.
About Seagrave Fire Apparatus
The FWD Seagrave team is dedicated to providing highly engineered heavy duty vehicles, cabs, chassis, bodies, aerial ladders and other products with superior lifetime value for our customers by concentrating on innovation and continuous process improvements.
As a single source manufacturer, we integrate design, construction and assembly under one roof. The result is an apparatus built for best lifetime value that operates under the most severe conditions. One of our unique manufacturing distinctions is our life-saving "safety cage" cab design, which has earned us an unmatched reputation for dependability under the toughest of conditions. The cab's cage design is the hallmark of occupant safety.



This is a beautiful rig - looks great in solid red. The tower and platform basket are superbly detailed and the outriggers are accurate-to-scale. The graphics and emergency light detail are spectacular. It is great that Fire Replicas has produced a number of units in generic configuration - perfect for kit bashing. Plus, how can you go wrong with a Seagrave Aerialscope!!!

Out of the park smash hit!

I am a kitbasher/modeler. I, for one applaud Fire Replica for take a bold move in our hobby to start producing blank model releases. I love Taking a blank canvas and making it a true "One-of-a-kind) model for my collection. These blank release scream to be decaled and made to be whatever the purchaser wants them to be. The only short fall I see is a decal sheet with the blank releases for generic patches logos and a few different color numbers. This model is truly sitting front and center in my collection. Keep up the great work Nic. I'm waiting with baited breath for your next blank release. Thank you. I'm a very happy modeler.

Very Beautiful rig, nicely done and put together. Only suggestion would be to make it easier to remove from the mount. So one could actually hold the item, I look forward to seeing more Seagrave models in the future. The older K cabs and anniversary models.

About time someone got serious

I purchased the 2017 Seagrave Aerialscope...I like the use of the red without interruptions. It's one huge machine and in die cast form there's just so much to it. After seeing this I just had to have and did buy the 2016 Seagrave Aerialscope, loved that paint scheme too. Then...bought the Miami-Dade 9/11 special engine, next is the FDNY 150th piece. There's no stopping. Like a kid in a candy store. Looking forward to a very long retail relationship...thank you.

Holy cow this truck is AWESOME

I was able to get the Seagrave 75 foot scope, this truck is super looking, I love the fact it's just plain red. The details really stand out. I like the idea of the plain manufactories trucks. I now have all three of the Seagrave rigs in my collection. When you first remove it from the box the color just jumps out at you, the Seagrave decals simple. The details of the sirens are just fantastic. This is one of my many favorites.