Kentland Engine 331 Scale Model


Authentic to Kentland's "Old School" Seagrave Commander II Pumper.
Known to be the last J-Cab produced by Seagrave, Engine 331 is quite significant. To honor this special rig, our goal is to engineer an impressive level of detail into every area...so that our customers will notice something new each time they view the model.



Hand-crafted using over 500 intricately detailed parts.
Each individually designed, cast or fabricated part is hand-assembled using tweezers, glue-filled syringes, and a steady hand. Materials are chosen to replicate each feature accurately and include stainless steel, high-def resin, brass, wire, rubber and other composites.


Museum grade precision.
When it comes to preserving a rig, it is critical to capture every detail with extreme precision. Countless hours of design, proofing, and improvements make this replica museum grade.


Limited Production for the elite collector.
Only 175 units of Kentland Engine 331 have been produced. Fire Replicas are designed with the elite collector in mind, and manufactured in limited quantities to enhance future value.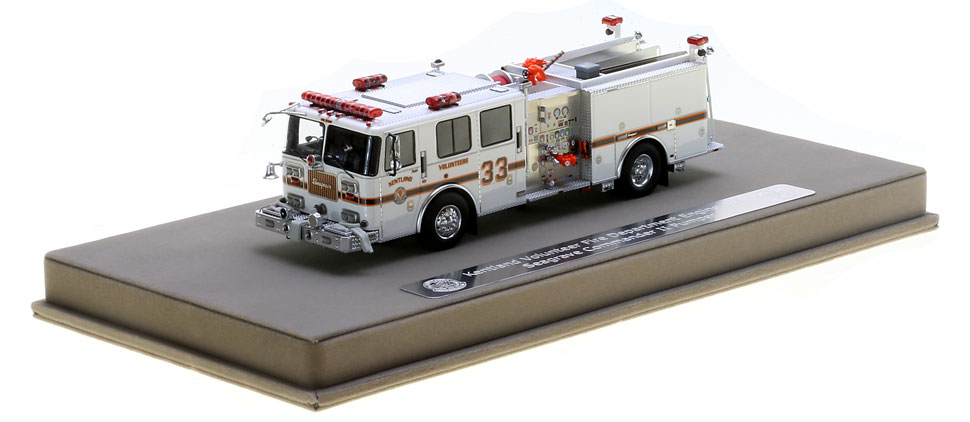 Thoughtfully protected and display ready.
Engine 331 measures 7.5"L x 2.5"W x 2.25"T and is securely displayed inside a custom case. The case dimensions are 12"L x 6"W x 5.25"T and the platform includes an etched stainless steel nameplate with the Kentland seal, department and truck name.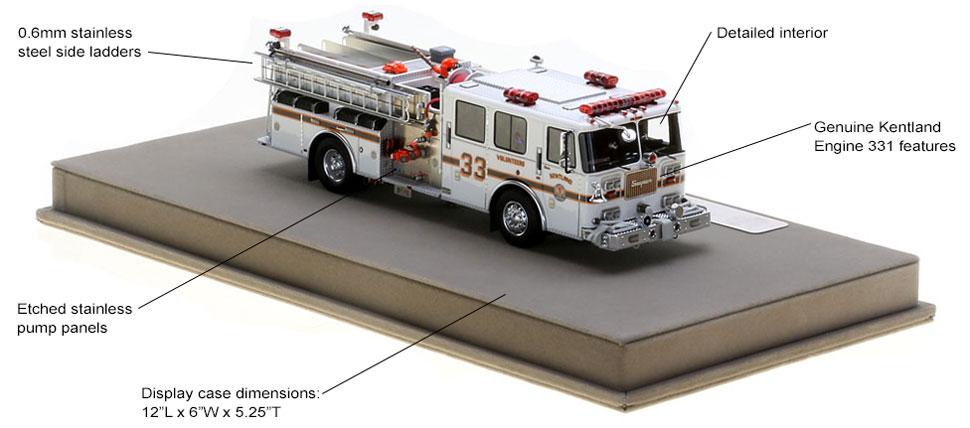 Kentland Engine 331 Scale Model Specs
Scale: 1:50

Production Quantity: 175

Multi-materials including High Def Resin, stainless steel photo etch metal, wire, rubber and other composites.
Mounted inside high quality, custom display case featuring etched stainless steel I.D. nameplate.
Model Dimensions: 7.5"L x 2.5"W x 2.25"T
Display Case Dimensions: 12"L x 6"W x 5.25"T
About the Scale Model
This Kentland Volunteer Fire Department Engine 331 scale model is a museum grade replica. Like all Fire Replicas models, every detail is modeled to perfection and with razor sharp precision. The replica features the specific department configuration and graphics, leaving no detail overlooked. The display case is custom manufactured with high quality acrylic and resin. The stainless steel etched plate features the department and truck name, and department seal. This replica is a treasure to be displayed and admired and is in no way a toy.
Department and Community Overview
The KVFD provides a superior level of service through a unique membership. Our members manage a response burden unsurpassed by most volunteer departments, and provide a level of service equal to the most highly- resourced departments in the nation. The KVFD covers a large response area, with a first due area of 19 square miles, and a box alarm area of 52.2 square miles. We protect a variety of critical infrastructure resources in our primary response area, including FedEx Field, the 92,000 seat stadium of the Washington Redskins, the Fire/EMS Department headquarters, the Health Department headquarters, a US Secret Service office building, and the US Treasury Department's main storage facility for the ink used to print US currency. The first due also has several demographic variables associated with increased fire and EMS demand, including a poverty rate over 25% and an unemployment rate over twice the national average. The needs of the response area place a significant burden upon the members of KVFD: the members of the all volunteer department responded to thousands of calls per year, including over 100 working fires. To provide unparalleled service to the community, the members of KVFD provide three services: a Class A engine, a Tower ladder, and a Rescue Engine equipped for fire suppression, technical rescue, and vehicular rescue/extrication operations. The KVFD is one of only two stations in Prince Georges County to provide all three services.

The rescue response area of the Kentland VFD includes 21.4 miles of highway, where high speeds and heavy traffic volume increase the potential for serious accidents that often leave the victims pinned in their vehicles. Three major interstate highways (US Rt. 50, Interstate 495/95, and Rt. 295, the Baltimore-Washington Pkwy) are a part of Rescue Engine 33's response area of about 45 square miles. KVFD is located adjacent to Washington, DC in Prince George's County, one of the fastest growing Maryland counties, with a 2010 population of 865,271. The Washington Post deemed the section of I-495/95 in our area the "Deadliest Stretch" of highway in the state. In 2013, the KVFD responded to 5280 calls, a number that surpasses many fire departments, and 943 of those calls were for motor vehicle accidents.
History of Kentland Volunteer Fire Department
The Kentland Volunteer Fire Department was founded in February of 1951 when 10 neighbors met around Bob Baeschlin's kitchen table and decided there wasn't adequate fire protection in their neighborhood. The men put up their own money, took out loans, and bought a fire truck that sat in front of Bob's house for the next two years. In 1953, with more of their own money, loans, second mortgages, and expertise from the West Brothers Brick Company, the members built the first station by hand, instilling a sense of pride in the department that still shines through today. In the early 1950's, firehouse 33 was totaling 230 runs a year; by the mid 1960's, that number jumped into the 900's. With the increase in calls, the Department started its "Live-In" tradition by allowing 4 firemen to live at the firehouse rent-free. The Department also paid a driver to sleep in at night and hired a mechanic to service the rigs and drive them during the day, eventually leading to 3 paid men during the day.

In 1970, Prince George's County switched to a charter form of government and the paid men at 33 were absorbed as County workers. Kentland was staffed by 4 career firefighters from 7 AM to 3 PM, and exclusively by volunteers on nights and weekends. In 1995 the last Landover Farm, continuously operated by the Wilson Family since 1752, was developed into Jack Kent Cooke Stadium, home of the Washington Redskins. Today the 91,000 seat stadium now called FedEx Field occupies the South Eastern 288 acres of the First Due. Woody Wilson is currently an active life member of the Department. On May 25, 1995, the career staff was removed by the County Fire Department and Kentland Volunteers have staffed Firehouse 33 for the last 20 years, averaging 110 fires and 4800 runs per year, never failing to respond and never responding understaffed. Presently, there are 75 active volunteers, three Chief Officers, four Captains, four Lieutenants, and four Sergeants; 23 of these men are live-in members.
Safety Warning
This is not a toy and not suitable for children under the age of 14. This highly detailed scale model contains small, intricate pieces that may present a choking hazard.