Meriden Fire Department Engine 3 Specifications

Over 350 hand-crafted parts.
Each individually designed, cast or fabricated part is hand-assembled using tweezers, glue-filled syringes, and a steady hand. Materials are chosen to replicate each feature accurately and include stainless steel, high-def resin, brass, wire, rubber and other composites.



A unique treasure for the Silver City.
As with most firetrucks, Meriden's Engine 3 is fully customized for the job...and each distinct feature is showcased on the scale model. From the stenciled lettering on the safety cones, to the uniquely painted fittings and graphics, the replica is true to the original.




Museum grade precision.
Meriden's Engine 3 replica is the fruit of an 18-month focus on the details. The joy is in the journey...and countless hours of design, proofing, and improvements make this replica museum grade.


Production limited to 150 units.
MFD Engine 3 is our first Seagrave Marauder II release and quite exclusive. Fire Replicas are designed with the elite collector in mind, and manufactured in limited quantities to enhance future value.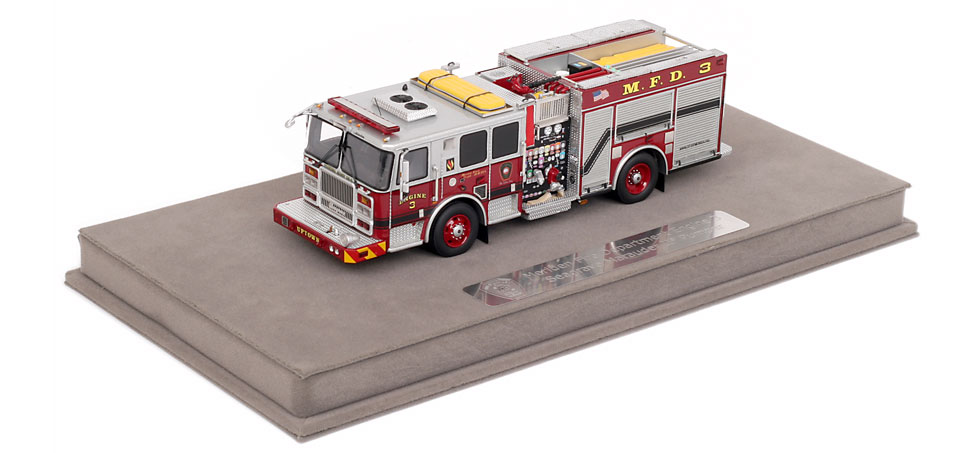 High quality, custom case.
MFD Engine 3 measures 8"L x 2.5"W x 2.75"T and is securely displayed inside a custom case. The case dimensions are 12"L x 6"W x 5.25"T and the platform includes an etched stainless steel nameplate with the Meriden seal, department and truck name.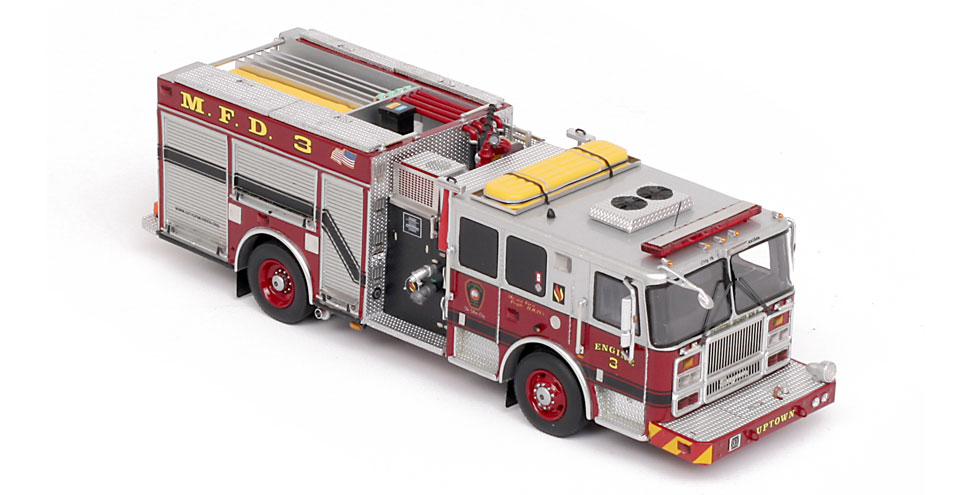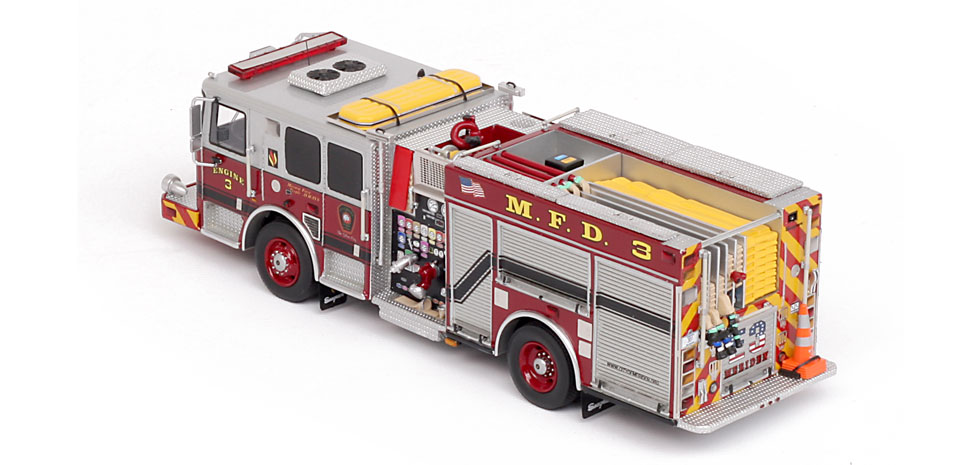 Meriden Engine 3 Scale Model Specs
Scale: 1:50

Production Quantity: 150

Multi-materials including High Def Resin, photo etch metal, wire, stainless steel, rubber and other composites.
Mounted inside high quality, custom display case featuring etched stainless steel I.D. nameplate.
Model Dimensions: 8"L x 2.5"W x 2.75"T
Display Case Dimensions: 12"L x 6"W x 5.25"T
Safety Warning
This is not a toy and not suitable for children under the age of 14. This highly detailed scale model contains small, intricate pieces that may present a choking hazard.
About the Scale Model
This Meriden Fire Department Engine 3 Seagrave Marauder II Pumper scale model is a museum grade replica. Like all Fire Replicas models, every detail is modeled to perfection and with razor sharp precision. The replica features the specific department configuration and graphics, leaving no detail overlooked. The display case is custom manufactured with high quality acrylic and resin. The stainless steel etched plate features the department and truck name, and department seal. This replica is a treasure to be displayed and admired and is in no way a toy.
About the Community, Department, and Truck
The City of Meriden was founded in 1806 and is located in the center of Connecticut, half an hour to the south of Hartford and half an hour to the north of New Haven. Located in New Haven County, Meriden has a land area of 23.79 square miles, a water area of .36 square miles and a population of nearly 61,000 residents. Meriden became known as "The Silver City" in the early 1900s as more silver was manufactured here than in any other community in the United States. The International Silver Company was the largest manufacturer, with several factories operating in Meriden until it closed its doors in the early 1990s. Because of the city's substantial war-time manufacturing efforts, Meriden was named "The Nation's Ideal War Community" in 1944. Like many manufacturing communities in the Northeast, Meriden has seen its traditional industries leave in favor of new businesses such as technology, pharmaceuticals, and retail establishments.
Meriden is surrounded by hills and traversed by Interstates 91, 691 and Route 15, also known as the Wilbur Cross and Merritt Parkways. One of its best known landmarks is Castle Craig, a stone tower which was constructed in 1900 and proudly overlooks Hubbard Park and the City from high atop East Peak. Hubbard Park is itself a gem, and each year plays host to the Annual Daffodil Festival, an outdoor craft, music and food event which celebrates the over 600,000 daffodils that are planted in the park and bloom each spring.
The Silver City is protected by the career Meriden Fire Department and the volunteer South Meriden Fire Department. The Meriden Fire Department is commanded by Kenneth E. Morgan, who was named the 20th Chief of the Department in 2013. Chief Morgan came to Meriden after retiring as Deputy Chief of Operations for the Clark County (Nevada) Fire Department in 2011. Assisting Chief Morgan are Deputy Chief David Bowen, Assistant Chiefs Louis DiGennaro, Mark Finnegan, Robert Burdick, and Russell Donovan, and Training Division Chief Ryan Dunn. The department has 98 members and operates out of five fire stations, which house five engine companies and one truck company. Staffing is divided into four groups, with a minimum of 21 firefighters on duty at any time, and each company is assigned one captain and three lieutenants. Engines 1, 3, 4 and 5 respond with an officer and two firefighters, Engine 2 responds with an officer and three firefighters, and Truck 1 responds with an officer and three or four firefighters. The department is a first responder for medical emergencies and averages 10,000 runs per year, with approximately 60% being medical calls and 40% being fires and other non-medical emergency calls.
Engine Company 3 was established in 1869 as the Parker Hose Company and moved to its current station on Broad Street in 1889. At 125 years old, it is believed that this building is the oldest continuously operating station house in Connecticut. In 1996 the station underwent a major renovation which included the construction of an additional apparatus bay designed to house the larger engines of today, new living quarters for the crews of Engine 3, and the relocation of the Department's Headquarters to the renovated existing part of the building. The original apparatus bays retain much of their original character, and hoof marks from when horse-drawn apparatus responded can still be seen on parts of the floor in the former horse stall area on the building. Engine 3 currently operates with a 2010 Seagrave Marauder II pumper with a 1250 GPM pump and 500 gallon water tank; this was the first apparatus to be painted in the City's new silver over dark red paint scheme. Engine 3 covers an area known as Uptown Meriden, which includes the southwest corner of Meriden down to the Wallingford town line.
Since 2010, Meriden has played host to the Silver City Fire Fest. Now entering its sixth year, the Fire Fest is an annual event geared towards fire buffs, children, and anyone interested in emergency services and features model emergency vehicle displays, photography and video displays, vendors selling fire related books, magazines, clothing, models, helmets and other items, as well as an outdoor display of in-service and collector-owned emergency vehicles from around the area. The event is open to all branches of emergency services and is sponsored by the Connecticut Fire Photographers Association, Southern Connecticut Antique Fire Apparatus Collectors, and the Meriden Firefighters Benevolent Society.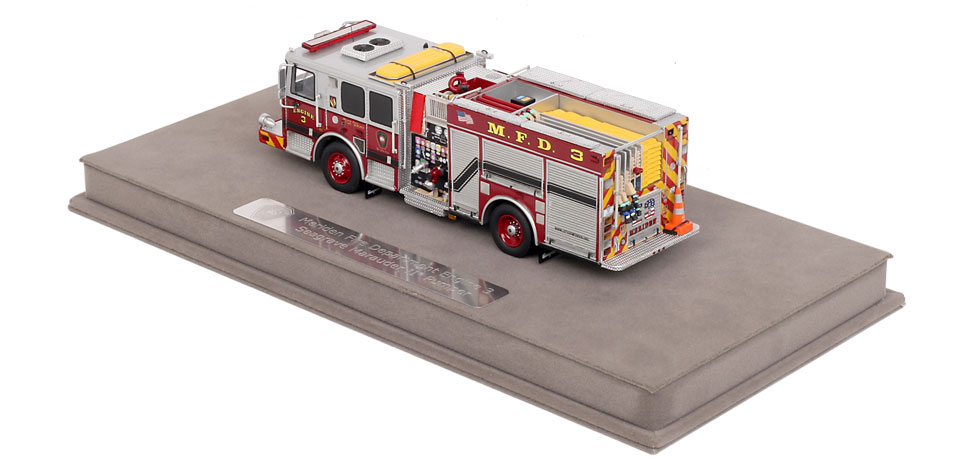 I recently added the model of Meriden Engine 3 to my expanding Fire Replicas collection and from previous experience I knew this would be a good model. I had also seen the prototype model at FDIC in Indianapolis in 2016.
The detail on this model is outstanding, even the nozzles on the hose bed have been coloured accurately. Attention has been paid to every detail from front to back.

I like this model
the Seagrave cab with interior design; pre-connect attack lines
A little less for the pump panel and this graphic

My second model from Fire Replicas. Excellent quality in workmanship and graphics. I grew up in Central Connecticut and worked in EMS for ten years, glad to see a local CT department getting some love in the creation of Engine 3. I have it displayed prominently in my office on my desk for all to see.

I received my Meriden Seagrave pumper as a Christmas present. Visiting Meriden several years back, I had the opportunity to see the prototype rig up close and it immediately became a favorite of mine. Little did I know that it would be accurately recreated in miniature at a future time.
As with all of the Fire Replicas scale model apparatus, the Meriden pumper includes finite detail as far as equipment, fittings and other parts. I am particularly impressed with the various media used in the paint finishes including enhancement of detail of parts up to the overall accuracy of the silver over red finish. I must say, flawless!

this was a "just because" gift to my son-in-law, a retired firefighter in Meriden, who loves the replica and is displaying it in his "man cave"

thanks for a great job, Nicholas!

Looks just like the real one!

I am impressed with the detail the has been put into this model. I have the real Engine 3 down stairs and it is as near as exact that scale modeling can do. I am very impressed with the outcome.

Meriden E3 Seagrave is a winner!

On February 3, 2015, I emailed a new model company called Fire Replicas and pitched the idea of them producing a model of Meriden, CT's Engine 3, a 2010 Seagrave Marauder II pumper. This is one of my hometown fire department's newest rigs, and one that is near and dear to my heart as I had played a very small role in the process of purchasing this rig, am an honorary member of their company, and am fortunate enough to have my name on the dedication plaque on the rig. Having worked with the now defunct Code 3 Collectibles, I had a pretty good idea of the process of creating a model, and was hopeful that this new company would like Engine 3 enough to think it worthy of inclusion in their line-up. Nicholas Neumann immediately got back to me with interest in producing this model and we set out to obtain licensing from Seagrave, which was easily received. I provided him with over 300 photographs of every visible part of the rig, 45 different Pantone color references, the actual plans from Seagrave, and 22 months later it is finally available.

So how did they do? In a word - OUTSTANDING!!! Admittedly I am extremely biased, but Fire Replicas did not miss a trick and captured every detail of Engine 3 with pinpoint accuracy. I never got any sense that any shortcut would be taken and I was not wrong. If it's on the real Engine 3 then it's on this model, from the Seagrave Dark Red and Silver Blue paint down to the tiniest details on the pump panel, it's all there.

I am very proud of this model and extremely grateful to Nicholas for putting it into production. The pre-production model was even featured in our local newspaper, and several city residents who've never purchased any type of scale model before bought this one because of the pride they have in their city and the affinity they have for our fire department. This is one of seven Fire Replicas models that I have purchased and each one is a testament to what can be produced when a company takes no shortcuts and captures every detail. Their models are worth every penny of their cost and I hope Engine 3 sells well enough so that other Meriden and/or Connecticut apparatus models are considered for future production. My camera is ready!

Each Fire Replica model that comes out is better then the one before it and the Meriden engine is no exception. Every time I get a new model i look at it for ever admiring the detail. I love the display case that comes with each model they really add to each model. If you haven't bought one of these yet get one now before they're gone.

Another Outstanding Fire Replicas Model

Every time I look at this model of Meriden Engine 3, I find a detail I had not noticed previously. The level of detail and the accuracy of that detail is absolutely outstanding. Take the pump panel for example, if you use a magnifying glass you can see details in the controls and gauges that are not visible to the human eye! Best I can determine, if it is on the pump panel of the actual truck, it is on the panel of the model. Every little detail found on the actual Meriden truck is accurately represented on this model. I am sure that if I get a stronger magnifying glass I will find even more details that I have not yet noticed. With each purchase I have made from Fire Replicas, I have to say that Nicholas has taken model fire truck making to a whole new level, none of us could have imagined a few years ago.