Hand-crafted using over 445 individual parts.
Each individually designed, cast or fabricated part is hand-assembled using tweezers, glue-filled syringes, and a steady hand. Materials are chosen to replicate each feature accurately and include stainless steel, high-def resin, brass, wire, rubber and other composites.



A tribute to the Pride - Courage - Honor - Tradition.
From the split front mudflaps to the CFD headrest logos, each 1:50 scale replica is built to the exact specifications of Engine 123. Our goal with each release is that our customers may notice something new each time they view the model.


Museum grade accuracy.
Countless hours of design, proofing, and improvements make this replica museum grade. Hundreds of individual, razor sharp stainless steel components create realism never before seen in a fire truck scale model.


Extremely limited availability.
Production of CFD Engine 123 is limited to 100 units. Fire Replicas are designed with the elite collector in mind, and manufactured in limited quantities to enhance future value.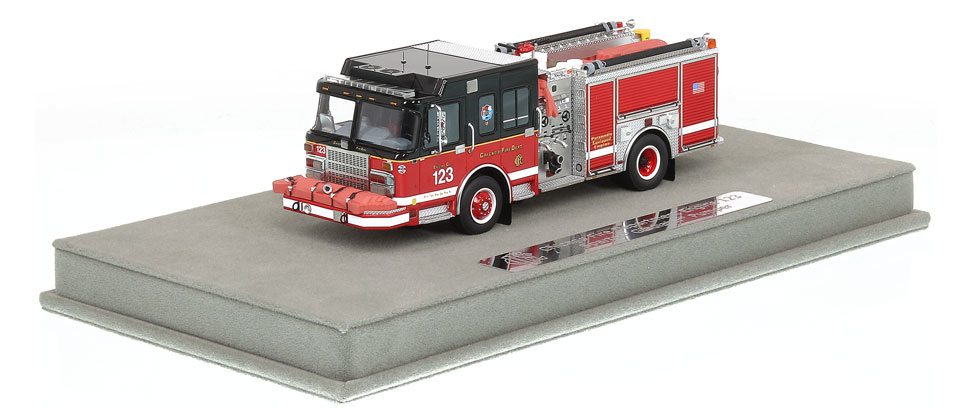 Fully custom presentation.
Chicago Fire Department Engine 123 measures 7.5"L x 2.5"W x 2.5"T and is securely displayed inside a custom case. The case dimensions are 12"L x 6"W x 5.25"T and the platform includes an etched stainless steel nameplate with the Chicago seal, department and truck name.
Chicago Fire Department Spartan Engine 123 Scale Model Specs
Scale: 1:50

Production Quantity: 100

Multi-materials including High Def Resin, stainless steel photo etch metal, wire, rubber and other composites.
Mounted inside high quality, custom display case featuring etched stainless steel I.D. nameplate.
Model Dimensions: 7.5"L x 2.5"W x 2.5"T
Display Case Dimensions: 12"L x 6"W x 5.25"T
More About the Scale Model
This Chicago Fire Department Spartan Engine 123 scale model is a museum grade replica. Like all Fire Replicas models, every detail is modeled to perfection and with razor sharp precision. The replica features the specific department configuration and graphics, leaving no detail overlooked. The display case is custom manufactured with high quality acrylic and resin. The stainless steel etched plate features the department and truck name, and department seal. This replica is a treasure to be displayed and admired and is in no way a toy.
Safety Warning
This is not a toy and not suitable for children under the age of 14. This highly detailed scale model contains small, intricate pieces that may present a choking hazard.


I had a tough time deciding which of the three I wanted to buy, but it was the uniqueness of the wheels on Engine 123 that ultimately won out. With the success of the "Chicago Fire" television series, interest in the CFD has probably never been higher. I'm glad that we've finally gotten a Spartan Gladiator in scale, and even happier that Fire Replicas has created such an accurate version from such a popular department. This piece is a great compliment to the previously released Autocar squad, and really brings home how much apparatus has changed in 60 years. I'm definitely looking forward to future CFD releases from Fire Replicas!

The detail is amazing, cant wait for the next CFD models coming in the future!!

Another fantastic model by Fire Replicas. I recently retired after nearly 31 years service as a firefighter in Britain but for the last 16 years I've been visiting the USA each year and spending time with numerous depts.
In 2004 I spent a night ridding with Engine 123 in Chicago so this model was a must have.

Product is excellent. Great graphics

The detail to the Engine 123 replica is amazing. I'm totally happy with it and will display it proudly! The Company Decal and the Herbert T Johnson memorial sticker was a plus. I was a fireman on Engine 123 and am currently still assigned to that house. All we need now is the Tower Ladder 39 replica.

Chicago Engine 123 is my sixth purchase from Fire Replicas and once again I am amazed at the attention to detail and scale and the quality of workmanship that goes into each and every model that comes out of the FR factory. These are truly "museum quality" collectibles and worth every penny of the price. Looking forward to what may be coming from FR in the future.



Yet another great model from Fire Replicas. Authentic, accurate, and detailed from end to end. The graphics are beautiful making this a another great addition to my collection.

Love my CFD Eng 123. On the Chicago Fire Dept for 20 plus yrs. I'm one of the engineer on 123. This replica of 123 is perfect.
Thank you again,
Mike Zielinski

All 3 of the Chicago engines are awesome.

All 3 of the Chicago engines are awesome. Great added detail with the company logos. The trucks really add to my collection. I am glad to see the Chicago program continued after the old Squads.