Hand-crafted using over 445 individual parts.
Each individually designed, cast or fabricated part is hand-assembled using tweezers, glue-filled syringes, and a steady hand. Materials are chosen to replicate each feature accurately and include stainless steel, high-def resin, brass, wire, rubber and other composites.



W. Chicago Avenue authenticity.
From the split front mudflaps to the CFD headrest logos, each 1:50 scale replica is built to the exact specifications of Engine 117. Our goal with each release is that our customers may notice something new each time they view the model.


Museum grade accuracy.
Countless hours of design, proofing, and improvements make this replica museum grade. Hundreds of individual, razor sharp stainless steel components create realism never before seen in a fire truck scale model.


Extremely limited availability.
Production of CFD Engine 117 is limited to 100 units. Fire Replicas are designed with the elite collector in mind, and manufactured in limited quantities to enhance future value.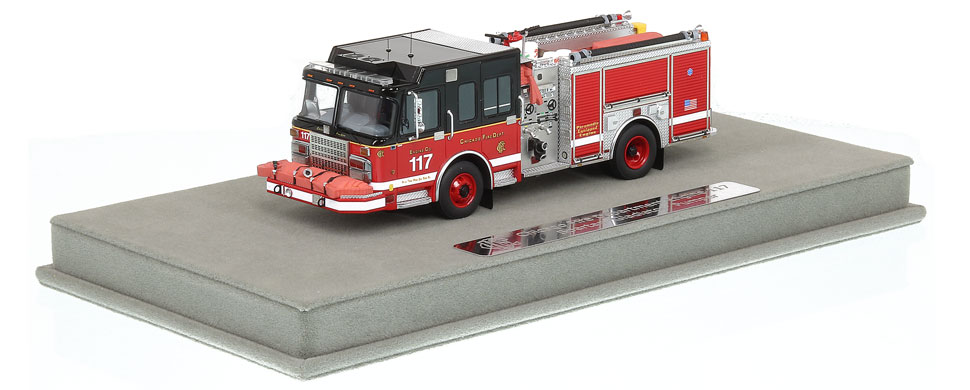 Fully custom presentation.
Chicago Fire Department Engine 117 measures 7.5"L x 2.5"W x 2.5"T and is securely displayed inside a custom case. The case dimensions are 12"L x 6"W x 5.25"T and the platform includes an etched stainless steel nameplate with the Chicago seal, department and truck name.
Chicago Fire Department Spartan Engine 117 Scale Model Specs
Scale: 1:50

Production Quantity: 100

Multi-materials including High Def Resin, stainless steel photo etch metal, wire, rubber and other composites.
Mounted inside high quality, custom display case featuring etched stainless steel I.D. nameplate.
Model Dimensions: 7.5"L x 2.5"W x 2.5"T
Display Case Dimensions: 12"L x 6"W x 5.25"T
More About the Scale Model
This Chicago Fire Department Spartan Engine 117 scale model is a museum grade replica. Like all Fire Replicas models, every detail is modeled to perfection and with razor sharp precision. The replica features the specific department configuration and graphics, leaving no detail overlooked. The display case is custom manufactured with high quality acrylic and resin. The stainless steel etched plate features the department and truck name, and department seal. This replica is a treasure to be displayed and admired and is in no way a toy.
Safety Warning
This is not a toy and not suitable for children under the age of 14. This highly detailed scale model contains small, intricate pieces that may present a choking hazard.


Remarkably detailed model! Even down to the small antenna's on the roof! Looking forward to more great replicas.

First Replica, Great Piece

This is the first replica I have purchased and it is well made and great quality

Very good detail. Lightweight, nice case. Packed very well and one thing I noticed that is awesome is it has arrows pointing in the direction of left or right like the real rig

Another great model. This is the second one I have purchased. I wish I had more money to buy others because each one is magnificent. I am holding out for a fire boat! C'mon guys replicate a boat!!!!



I can almost hear it pumping into a Toweer Ladder

Great detail work on this rig.

Received my 5th model from Fire Replicas. It matches all of the previous models as far as quality is concerned. Fire Replicas is finally a company that gets it right for fire truck model collecting enthusiasts. The Chicago Spartan engine is perfect and contains every little detail that a real Chicago engine has.

Beautiful rig. BUT the display case is too large. Takes up too much room on shelf. I'm running out of shelf space.

Man I am so very impressed with this model. Another awesome! replica of a beautiful rig from the second largest fire dept. in the USA Chicago Fire Dept!! Chicago has the distinct color scheme of black over red and you know its the CFD. Great dept. Fire Replicas has once again pulled out all the stops on this replica, the detail to the rig shows perfection to the cab from the front fascia with the headlight bezels, grill, windshield, steal front bumper with the preconnected hose atop, color scheme & badgeing, to the body, hose bed and tailboard just incredible.

The CFD engine 117 Spartan Crimson is truly replicated to a museum 1/50 scale life like replica with outstanding diecast quality. This one model itself takes front stage in my collection, beautiful piece. Thank you again Fire Replicas keep em coming! looking forward to future replicas that are planned.


I have just about every Fire Replicas release to date...and this one is the best. The details are incredibly sharp.