Ashburn Volunteer Fire-Rescue Department Engine 606 Specifications


Over 400 hand-crafted parts.
Each individually designed, cast or fabricated part is hand-assembled using tweezers, glue-filled syringes, and a steady hand. Materials are chosen to replicate each feature accurately and include stainless steel, high-def resin, brass, wire, rubber and other composites.



Authentic to War Wagon E606.
Ashburn Volunteer Fire Department Engine 606, also known as "War Wagon" is sister to "Rt. 7 Express", Engine 622. Both are painted in the striking black over yellow scheme...the first apparatus of the AVFRD fleet to feature these colors.




Museum grade precision.
Over a year of development has been invested in the Ashburn Ferrara Igniter Engine scale models. Countless hours of design, proofing, and improvements make these replicas museum grade.


Extremely limited to 150 units.
Production of AVFRD Engine 606 is limited to 150 units. Fire Replicas are designed with the elite collector in mind, and manufactured in limited quantities to enhance future value.

Fully custom presentation.
Each AVFRD Engine measures 8"L x 2.5"W x 2.75"T and is securely displayed inside a custom case. The case dimensions are 12"L x 6"W x 5.25"T and the platform includes an etched stainless steel nameplate with the both the AVFRD and War Wagon seals, department and truck name.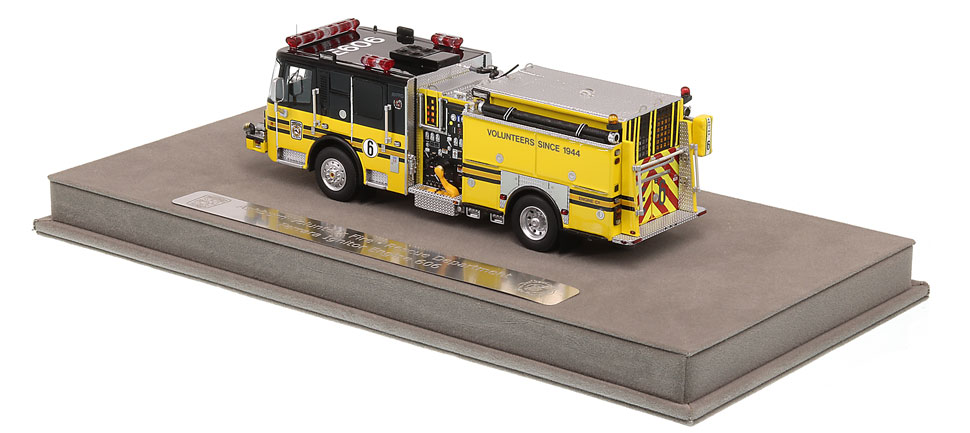 Order online or call 1.800.481.2450
Ashburn Volunteer Fire-Rescue Department Engine 606 Scale Model Specifications
Scale: 1:50

Production Quantity: 150

Multi-materials including High-Def Resin, stainless steel photo etch metal, wire, rubber and other composites.
Mounted inside high quality, custom display case featuring etched stainless steel I.D. nameplate.
Model Dimensions: 8"L x 2.5"W x 2.75"T
Display Case Dimensions: 12"L x 6"W x 5.25"T
About the Scale Model
This Ashburn Volunteer Fire-Rescue Department Engine 606 scale model is a museum grade replica. Like all Fire Replicas models, every detail is modeled to perfection and with razor sharp precision. The replica features the specific department configuration and graphics, leaving no detail overlooked. The display case is custom manufactured with high quality acrylic and resin. The stainless steel etched plate features the department and truck name, and department seal. This replica is a treasure to be displayed and admired and is in no way a toy.
About the Community, Department, and Truck
Ashburn, Virginia is located in Loudoun County thirty miles northwest of Washington D.C. and is part of the Washington Metropolitan area. Numerous subdivisions, businesses, and busy roadways provide ample fire and rescue emergency calls (4,500 calls a year) for the members of the Ashburn Volunteer Fire and Rescue Department (AVFRD).
AVFRD operates from two stations. Organized in 1944, Station 6 is located in "old town" Ashburn and houses three engines, two ladder trucks, three ambulances, and a variety of support vehicles. Over the years, Loudoun County has experienced tremendous growth. To keep up with this growth, AVFRD opened Station 22 in the Lansdowne area which houses two engines and two ambulances. AVFRD members are well trained and ready to respond at a moment's notice to the 4,500 annual emergency calls AVFRD receives.
The AVFRD apparatus fleet consists of a variety of trucks built by Ferrara Fire Apparatus. In late 2014, the volunteers at AVFRD took delivery of two Ferrara Ignitor fire trucks and assigned them to Engine 606 ("War Wagon") in Ashburn and Engine 622 ("Rt. 7 Express") at the Lansdowne station. These new Ferrara engines came with some unique characteristics when compared to the other trucks in the fleet. The new engines were designed and built as "city engines", better equipped to handle a busy area. In addition, the new Ferrara's were painted in a unique and striking black over yellow, the first apparatus of the AVFRD fleet to be painted in the new colors.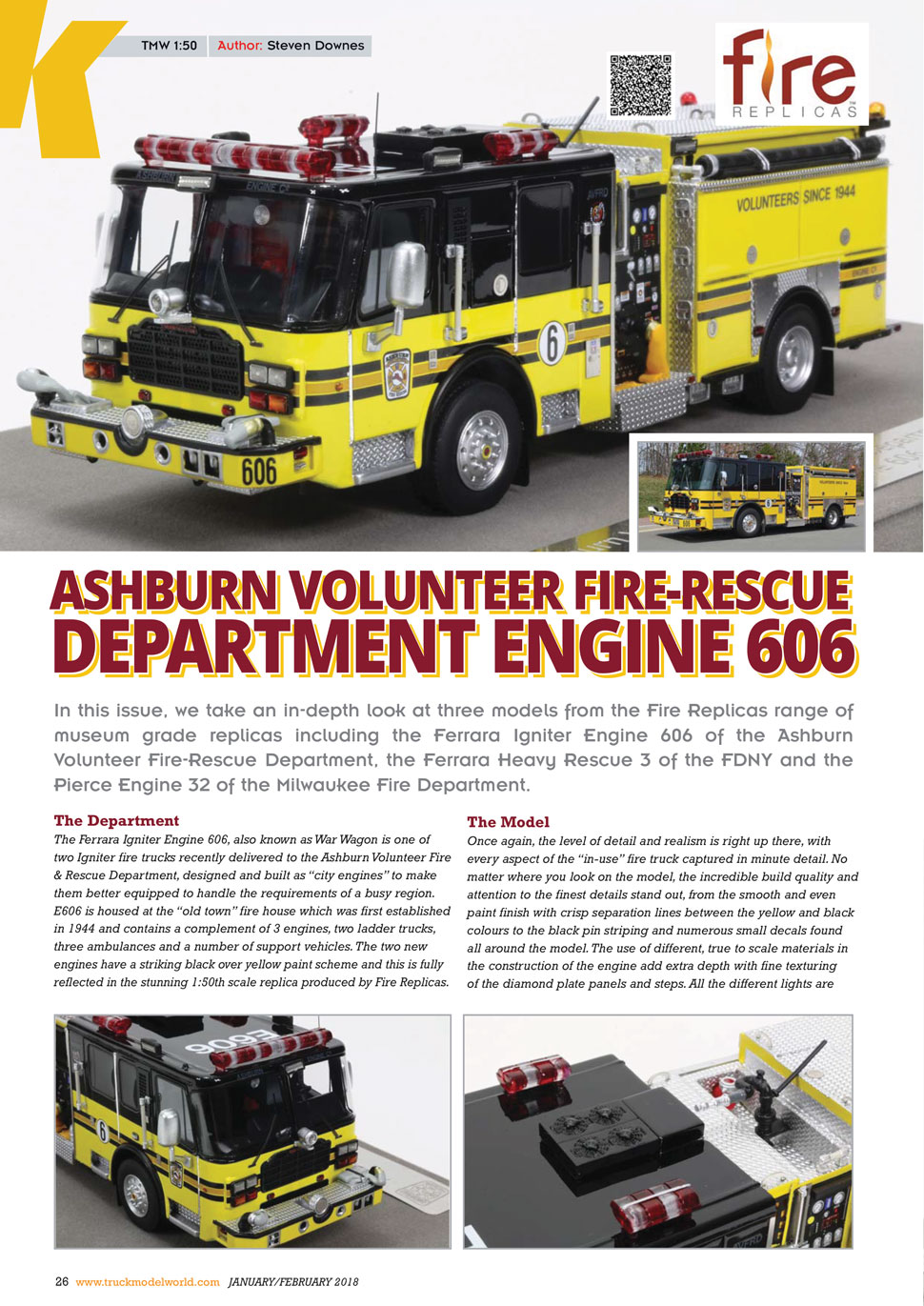 Safety Warning
This is not a toy and not suitable for children under the age of 14. This highly detailed scale model contains small, intricate pieces that may present a choking hazard.
It seems as though collecting fire replica style apparatus has become an art to enjoy that's brought back today than it once did yesterday. The ideas several years ago were vague although well intended and the die cast industry grew as a vast rate, as in several thousand pieces made per one apparatus. Now the industry, or we, as we have Fire Replicas to make up for the absence of those that weren't strong enough to make the cut, those that were too week and overpopulated the collectors market yet allows new room for freshly new and low mintage items. That's a collectors tool, the limited availability of an available item that can exist and stay that way, holds its perfection and an item that will hold its value. Fire Replicas offers these characteristics which enhances future items being manufactured. I already have a few SOLD OUT units and some that are to soon to become sold out. The Ashburn E-606 was a head turner at Christmas time as is the recently released Savage VFC Truck 6. It's good to focus on one style and manufacturer. I am anxiously awaiting the announcement and introduction of new Fire Replica products.

Love the collection.

love the yellow and black, awesome truck! goes great with my other fire replicas I have. I will be back for more!

Just like the rest of the rigs, another beauty to add to the shelf.

This model is the six model I have purchased from Fire Replicas. They keep getting better and better. The quality could not be better, down to the last detail. All of the models that I have received including the Ashburn engine are exact to the last bolt. I would highly recommend any fire truck enthusiast to look into purchasing from them.

I started collecting this units from Fire Replicas just a few months ago the quality and craftsmanship is remarkable. My latest purchase of the Ashburn Volunteer Fire-Rescue Department Engine 606 is extremely well detailed as any other unit they have produced. I look forward to expanding my collection.

I had the opportunity to provide some help with the Ashburn Ferrara models, and will admit, I was a little nervous on how the projects for both Engine 606 and 622 would turn out. That nervousness became less and less as I obtained several other Fire Replica models and was very much impressed with the quality and attention to detail. When my Engines 606 and 622 arrived, I was amazed. It has been said in other reviews and I agree......it is like a miniature version of the real truck in every way. I really like the small personal items about the engine. For example, Engine 606 is named "War Wagon" and Engine 22 "Rt. 7 Express". Those small details on the Fire Replica models show how quality minded Fire Replicas wants these models to be. Highly recommend Engine 606 (since Engine 622 is sold out).

Ferrara Ignitor ' 606 War Wagon'

I love this replica!
Ferrara's 'isometric' Igniter series pumpers are unique in appearance; compact and capable, with perhaps, a touch of European flare. The abundant photo etch detail, bomb lines on the front bumper and pre-connected attack lines stored in their respective exterior side wells, speak well of the research invested into this model. Ashburn's black over yellow livery is stunning-popping the engine top and center of any collection. AVFRD Engine 6 'War Wagon' is another masterfully built replica from Fire Replicas.
D. Townsend


Fire Replicas strikes again

This is a beautiful engine with many detailed parts. The inside of the cab has dual windshield fans and an orange flashlight in the middle console. The exterior is exquisite with to many details to name off. The pump panel is very detailed with all of the proper gauges. It has the deck monitor on top along with the ac ventilation system above the cab. All of the appropriate warning lights are there throughout, along with proper decals. The front of the engine has the scale windshield wipers which I think is an awesome touch since the started assembling and applying them separately. On the officers side there is a small extinguisher which adds to the detail. The real life ferrara has the historic large cab with high viability windows....which this model mirrors. There is also a radio antenna on tbe cab.

All in all it appears to me this company gets more detailed with each release. You could take any of their scale models.....take a photo of it the appropriate way...and you would think it was the real engine. I hope they continue with the little details inside the cab even if it's just for a couple things because to me it makes such a difference. I own several of their models and each one astounds me in thier own special way. If you have ever hesitated on ordering one....try one out. You won't be disappointed.