Over 385 hand-crafted parts.
Each individually designed, cast or fabricated part is hand-assembled using tweezers, glue-filled syringes, and a steady hand. Materials are chosen to replicate each feature accurately and include stainless steel, high-def resin, brass, wire, rubber and other composites.



Authentic Pierce Arrow XT Rescue.
From the design to the graphics, the 1:50 scale replica is built to the exact specifications of the real Pierce Arrow XT heavy rescue. Our goal with each release is that our customers may notice something new each time they view the model.


Museum grade accuracy.
Over a year and a half of development has been invested in the Milwaukee Rescue 2 scale model. Countless hours of design, proofing, and improvements make this replica museum grade.


Extremely limited availability.
Production of MFD Rescue 2 is limited to 200 units. Fire Replicas are designed with the elite collector in mind, and manufactured in limited quantities to enhance future value.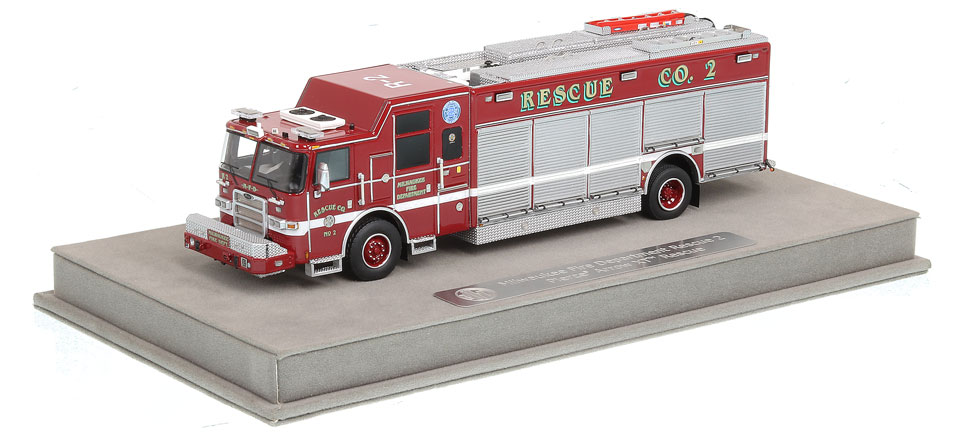 Fully custom presentation.
The Milwaukee Fire Department Rescue 2 measures 9.6"L x 2.5"W x 3"T and is securely displayed inside a custom case. The case dimensions are 12"L x 6"W x 5.25"T and the platform includes an etched stainless steel nameplate with the Milwaukee seal, department and truck name.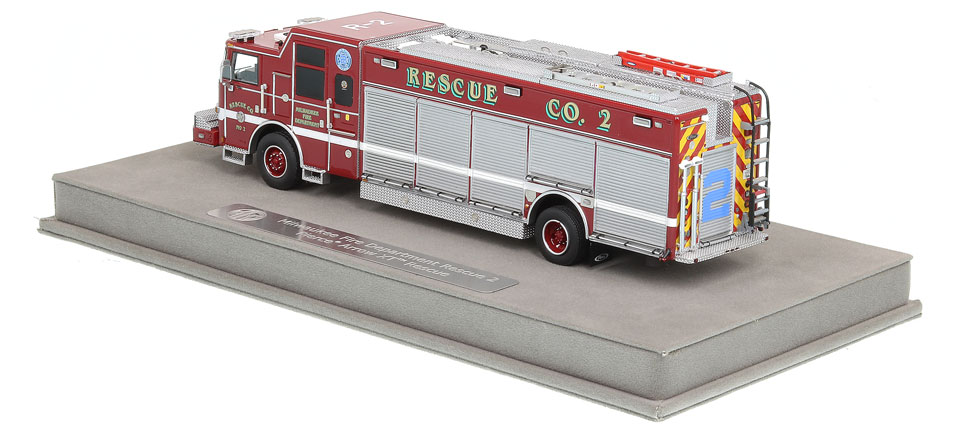 Milwaukee Fire Department Rescue 2 Scale Model Specs
Scale: 1:50

Production Quantity: 200

Multi-materials including High Def Resin, stainless steel photo etch metal, wire, rubber and other composites.
Mounted inside high quality, custom display case featuring etched stainless steel I.D. nameplate.
Model Dimensions: 9.6"L x 2.5"W x 3"T
Display Case Dimensions: 12"L x 6"W x 5.25"T
More About the Scale Model
This Milwaukee Fire Department Rescue 2 scale model is a museum grade replica. Like all Fire Replicas models, every detail is modeled to perfection and with razor sharp precision. The replica features the specific department configuration and graphics, leaving no detail overlooked. The display case is custom manufactured with high quality acrylic and resin. The stainless steel etched plate features the department and truck name, and department seal. This replica is a treasure to be displayed and admired and is in no way a toy.
Safety Warning
This is not a toy and not suitable for children under the age of 14. This highly detailed scale model contains small, intricate pieces that may present a choking hazard.


I experienced customer service that went above and beyond! THANK YOU for the incredible, outstanding service in not only accommodating my special request, but going above and beyond to make my husband's replica a truly unique, remarkable display.

Excellent Rescue Truck! It is a beautiful machine and represents Milwaukee well. I just ordered Milwaukee Engine 26 and Engine 32 to complete this trio. Photographs do not show the true truck.

The first thing you notice about this model is how looooong it is - perhaps the longest two axle wheelbase I've ever seen on a fire apparatus. In typical Fire Replicas fashion, every detail is there - from the accurate paint and graphics to all of the exposed equipment on top of the rescue body - nothing has been missed! Get this one before it's gone.

This model like the other models Fire Replicas produced, has a great deal of detail! It is like the real Rescue 2 only shrunk down!

For the first rescue by Fire Replicas they did a fantastic job. Again everything from the real truck is captured perfectly. The time and effort in reproducing the the 1/50th replica is 2nd to none. Keep up the great work. Very glad to see a truck from Milwaukee.

R2 is an exact replica of the real thing even down to the smallest detail. It is a must have for collectors.

This rig is beautiful. Meticulously crafted with all of the details perfectly recreated down to even the smallest parts

This was a gift for my husband and he loves it. Absolutely loves it. It is currently on display on our mantle. He is in high hopes you replicate MFD engine 30.

Milwaukee Fire Department Rescue 2

Beautiful replica of the Rescue 2 Truck. Great detail and paint. Super quality workmanship throughout the entire model. I would like to see some fire trucks modeled after the Pirsch line. I would like to see some Pirsch pumpers, hook and ladders, and rescue trucks from the 1950's.I am looking forward to purchasing the 2 Milwaukee Pumpers.