Interested in the Savage Truck 6 scale model and want to participate in a great fundraiser? Contact Michael Hitt at savagevfc@gmail.com or by phone at 240.565.4464. Or you can fill out the Contact Form and include your shipping address. A member of Savage VFC will connect with you regarding ordering instructions. Payment can be made directly to Savage Volunteer Fire Company with a check, PayPal or credit card.
Savage Volunteer Fire Company Truck 6 Specifications


Howard County's first museum grade Pierce Arrow XT 105' Aerial.
From the stunning dark grey stainless steel ladder, to the individual bulb detail within each light, Savage Volunteer Truck 6 is a museum grade masterpiece. It is exactly what you would expect when you start with a beautiful rig and invest countless hours into design, proofing, and improving a replica.


Hand-crafted using over 700 intricately detailed parts.
As with each Fire Replicas model, every individually designed, cast or fabricated part on Truck 6 is assembled using tweezers, glue-filled syringes, and a steady hand.


Industry first, true-to-scale, 0.6mm stainless steel ladder.
A critical component of museum grade precision is a commitment to true-to-scale parts. The razor sharp precision of Savage's stainless steel ladder sets it apart from others and makes for a great first impression.

Extremely limited production of 250 units.
Total production of Savage Volunteer's Truck 6 is limited to 250 units. Fire Replicas are designed with the elite collector in mind, and manufactured in limited quantities to enhance future value.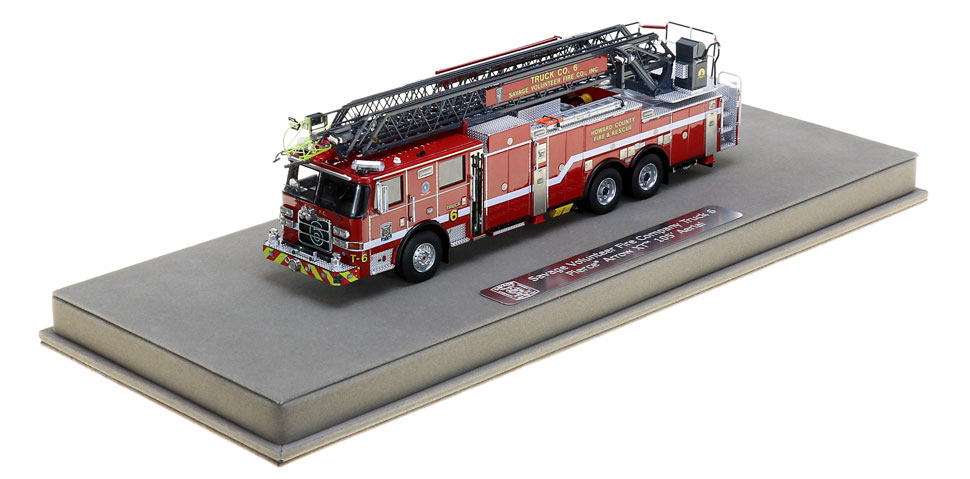 Truck 6...protected and preserved in a high-quality case.
The replica measures 10"L x 2.5"W x 2.75"T and is securely displayed inside a custom case. The case dimensions are 15.25"L x 6"W x 5.25"T and the platform includes an etched stainless steel nameplate with the Savage Volunteer Fire Company seal, department and truck name.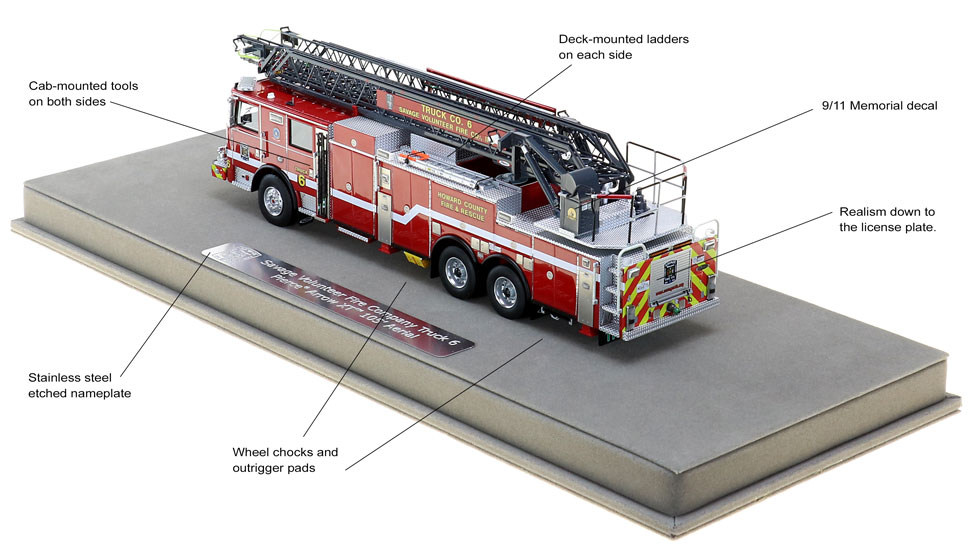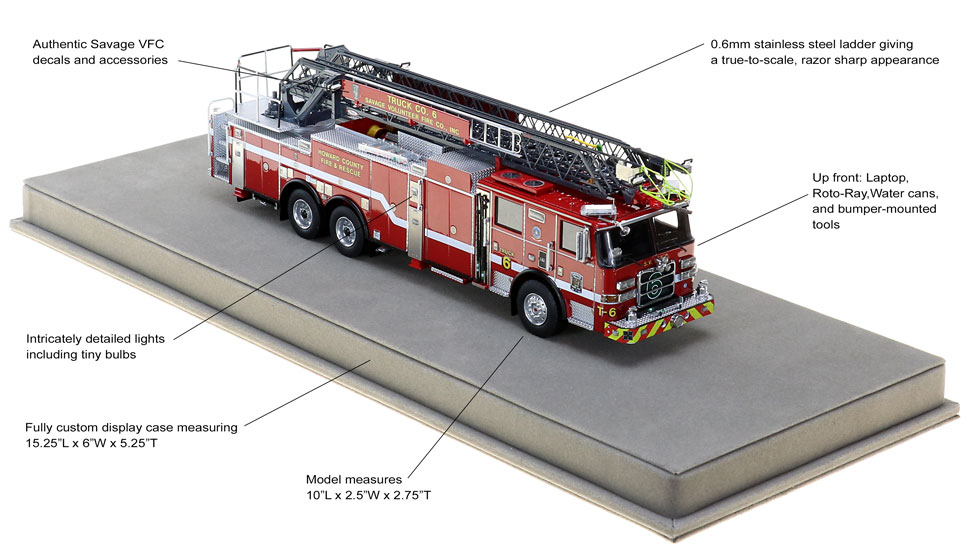 Savage Volunteer Fire Company Truck 6 Specifications
Scale: 1:50

Final Production Quantity: 250

Multi-materials including High Def Resin, stainless steel photo etch metal, wire, rubber and other composites.
Mounted inside high quality, custom display case featuring etched stainless steel I.D. nameplate.
Model Dimensions: 10"L x 2.5"W x 2.75"T
Display Case Dimensions: 15.25"L x 6"W x 5"T
About the Savage Volunteer Fire Company Scale Model
This Savage Volunteer Fire Company Truck 6 scale model is a museum grade replica. Like all Fire Replicas models, every detail is modeled to perfection and with razor sharp precision. The replica features the specific department configuration and graphics, leaving no detail overlooked. The display case is custom manufactured with high quality acrylic and resin. The stainless steel etched plate features the department and truck name, and department seal. This replica is a treasure to be displayed and admired and is in no way a toy.
Safety Warning
This is not a toy and not suitable for children under the age of 14. This highly detailed scale model contains small, intricate pieces that may present a choking hazard.
Again a very detailed and fantastic ladder. I hope it will get more of such exciting die cast fire trucks in future.

Savage Volunteer Fire Co, Truck 6.

My first Fire Replicas models, but not the last. This model is stunning & the detail is awesome.

Just got my Salvage Pierce Ladder, this truck is awesome, the craftsmanship is great. The details of the real truck are truly captured with the Replica. It was great to see another Pierce ladder added to the Fire Replicas offerings, and a rear mount stick was a great choice. Fire Replicas just keeps producing great replicas.

Outstanding work once again Fire Replicas!

This reproduction of the Salvage Ladder is a marvel
I particularly like the colors and harmony of the ensemble
the quality of the reproduction of the details complies with the highest quality standard to which we have been accustomed Fire replicas

Outstanding model, the attention to detail and the quality is amazing. Words can't do justice to how pleased I am with this and every piece I have purchased, 3 to date.


I recently got into purchasing these models a several months ago and after being at Pierce and seeing a couple models on display I want to do one for our Department, but the cost was a driving factor. A few later we went back to Pierce to have Ladder Truck redone and I decided then along a few other people we would try and make this happen as a fundraiser for our department.

Several months later I contacted Nicholas and from there we where off to the races. Being on the committee for the actual rig and being around almost everyday, I can tell the detail here is remarkably detailed to the finest image and craftsmanship.

From start to finish following this truck through the process is pretty close to being at the factory and going through an engineering conference to build the truck, it is simply remarkable how both units are identical.

Great piece, glad we pushed through and decided to do this and I'm hopeful we will do out engine soon.

Mike Hitt
Savage VFC

The new Pierce Arrow XT105 Howard County Savage Volunteer aerial is my new favorite among all of the FR models. I love Pierce and love rear mount aerials and Fire Replicas has faithfully reproduced an outstanding model. Unlike most companies, Fire Replicas actual products look better than the photos. The photos simply do not do this model justice. The model feature the usual: great fit and finish and a pile of detail. As you start looking over the model you come across: the awesome water cans built into the front bumper, a to-scale dark gray aerial, ground ladders, roto-ray, tools and an accurate decal package. Toss in the large 6 on the radiator and Truck CO. 6 on the rear mud flap and you have one authentic rig. Only a small number are available to the public so act fast!