Prince George's County Fire/EMS Department "Courage" Engine 805 Specifications

379 individual, hand-crafted parts.
Each individually designed, cast or fabricated part is hand-assembled using tweezers, glue-filled syringes, and a steady hand. Materials are chosen to replicate each feature accurately and include stainless steel, high-def resin, brass, wire, rubber and other composites.



Designed for the discerning.
Our goal with each release is to improve in every area...so that our customers will notice something new each time they view the model. From the cab QR code to the Maryland flag grill graphics, Engine 805 is a visual masterpiece.




Precisely accurate to Courage E805.
To honor the message of Courage, this Pierce Velocity engine reflects extreme quality and detail. Countless hours of design, proofing, and improvements make this replica museum grade.


Limited to only 250 units.
Production of Courage Engine 805 is limited to 250 units. Fire Replicas are designed with the elite collector in mind, and manufactured in limited quantities to enhance future value.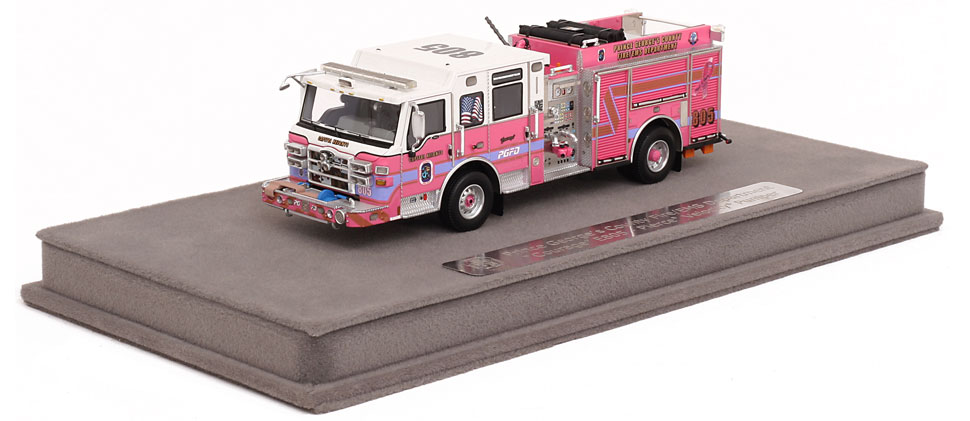 Fully custom presentation.
Engine 805 measures 8"L x 2.5"W x 2.75"T and is securely displayed inside a custom case. The case dimensions are 12"L x 6"W x 5.25"T and the platform includes an etched stainless steel nameplate with the PGFD seal, department and truck name.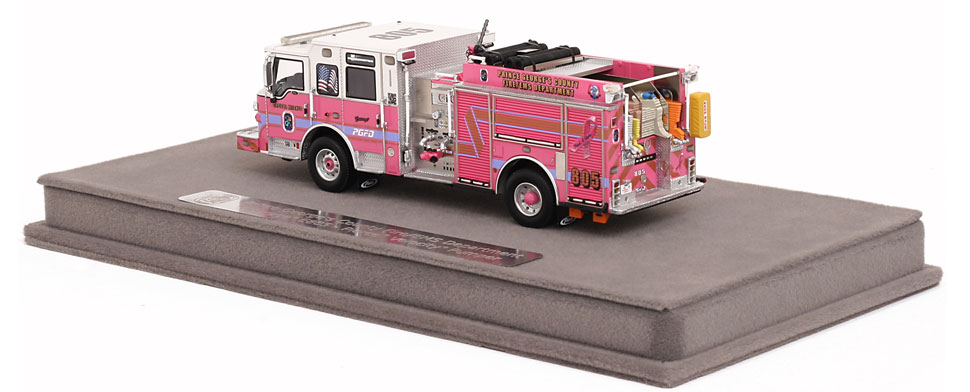 Order online or call 1.800.481.2450



PGFD "Courage" E805 Scale Model Specs
Scale: 1:50

Production Quantity: 250


Number of Individual Parts: 379

Multi-materials including Stainless steel, photo etch metal, High Def Resin, wire, rubber and other composites.
Mounted inside high quality, custom display case featuring etched stainless steel I.D. nameplate.
Model Dimensions: 8"L x 2.5"W x 2.75"T
Display Case Dimensions: 12"L x 6"W x 5.25"T
More About the Scale Model
This Prince George's County Fire/EMS Department "Courage" E805 Pierce Velocity Pumper scale model is a museum grade replica. Like all Fire Replicas models, every detail is modeled to perfection and with razor sharp precision. The replica features the specific department configuration and graphics, leaving no detail overlooked. The display case is custom manufactured with high quality acrylic and resin. The stainless steel etched plate features the department and truck name and department seal. This replica is a treasure to be displayed and admired and is in no way a toy.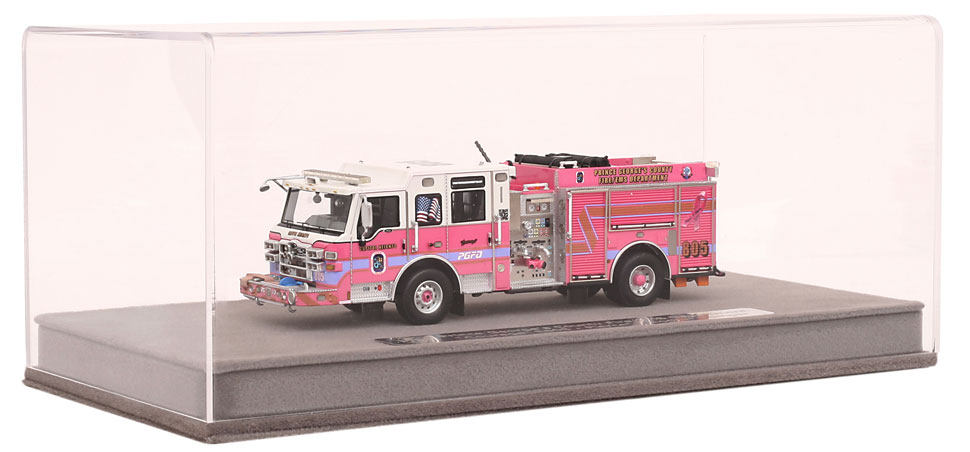 Magazine Review
As seen in Truck Model World Magazine, U.K, May/June 2016 Edition, by Steven Downes. www.truckmodelworld.com
In the last issue, I introduced Fire Replicas as a company producing true museum quality replicas of fire equipment and I now take a more detailed look at one of their first model releases, the Pierce Velocity pumper in the striking "Courage" E805 decoration from the Prince George's County Fire/EMS Department. Just opening the box gives an impression of the quality and precision of the model, with custom packaging consisting of a fully lined base and clear Perspex cover protecting the model. A stainless steel etched plate fixed to the base features the department and truck name and department seal.
The model itself can truly by considered a museum grade replica, cleverly constructed from 379 parts including quality resin, stainless steel, photo-etch, rubber and composite parts which are replicated to perfection, capturing every single facet of the original fire truck. The quality of the paint finish and graphics throughout are truly stunning, considering the tiny dimensions of the graphics. The model is affixed to the base and while it is possible to remove it by peeling back the bottom panel and removing the fixing screws, due to the fragile nature of the model, this should be avoided.
Everywhere you look on the model; tiny details are observed, especially with the pump control panel which is fully decorated with all the various dials and controls. The upper rear body is populated with various colours of flattened hose reels which really look impressive while the opposite side of the body has an extension ladder complete with accurate scale rungs which really do look amazing. The body sides have simulated roller doors and even here; all the ridges are transposed onto the model with silver used to highlight the frames and handles. Above the pump housing is a water gun which has an exceptionally thin and realistic control handle
Glimpses of the modelled interior are afforded by looking through the clear glazed windows where the driver and officer's seating is clearly defined. The front grill is again expertly finished with graphics capturing every line and highlight from the full sized truck. Chrome parts are used to good effect with diamond plate texturing added for authenticity on all standing areas and all the light housings are finished with tinted and clear plastic lenses.
Anyone who owns any of the TWH range of fire apparatus models will know how detailed and exacting those replicas were, and this new range of models from Fire Replicas go one step further with true to scale replication throughout. Because of this, the models are static in nature although this is no bad thing and the exacting finish keeps the collector looking again and again, each time spotting details they had missed the first time. The "Courage" E805 is truly a museum grade replica.

Why Pink?
The Courage E805 came about due to the tireless work of a group of dedicated and caring firefighters and medics who sold pink t-shirts for Breast Cancer Awareness. A vehicle wrapping company discussed a concept of wrapping a piece of apparatus and "Pinky" was born. The overwhelming response from the community resulted in the unit being at numerous awareness functions and events and the popularity resulted in the arrival of a second pink vehicle, a medic unit named "Hope". While the pink units are front line trucks, their popularity resulted in a third joining the ranks. The new engine would be painted pink and a lavender stripe representing all cancers was added. After another social media campaign to name the unit, "Courage" was placed in service.

About the Community, Department, and Truck
Several years ago a group of dedicated and caring firefighter/medics organized an effort to sell pink t-shirts. They received permission from the Fire Chief to allow personnel to wear their pink t-shirts in lieu of their regular work uniform shirt during the month of October which is Breast Cancer Awareness Month. The effort was fully endorsed by the membership and hundreds of pink t-shirts were sold with profits distributed to breast cancer awareness and research groups.

A business that "wraps" vehicles discussed this pink concept with a member of the Fire/EMS Department. The business owner had lost members of his family to breast cancer and said he would be honored to wrap an entire fire engine. Again, the Fire Chief fully endorsed the idea and within a few months the Prince George's County Fire/EMS Department had its first pink piece of fire apparatus. The response from the community was overwhelming. The PGFD PINKY was requested at numerous awareness functions, walks and runs. The pink engine attracted the most people for photo ops than any other display. Lines would form to see the pink engine and have a picture taken while standing on the side board. It meant so much to so many people to be a part of this unique piece.

As years went on the Department continued to sell a record number of pink tee shirts, we placed a pink medic unit, nicknamed "Hope" after a social media contest, in service providing much needed relief for Pinky. Remember, these pink units are front line pieces of apparatus that respond to fire and emergency medical calls every day. A high number of requests continued to be received and a third pink unit, an engine, was ordered. The new engine would be painted pink and a lavender stripe representing all cancers was added. After another social media campaign to name the unit, "Courage" was placed in service.

None of this would have been possible without the enthusiastic support of the community and cancer awareness groups across the National Capital Region. The small group of firefighter/medics that sold t-shirts remained dedicated and a driving force in expanding our fleet of pink fire/EMS units and remain the pulse of the "Proud to Wear Pink" project. The small addition of a replica "Courage" will be a huge welcome addition. Community members, cancer awareness advocates and the Fire/EMS service in general will proudly display "Courage" as a part of our on-going campaign of cancer awareness and early detection.
Safety Warning
This is not a toy and not suitable for children under the age of 14. This highly detailed scale model contains small, intricate pieces that may present a choking hazard.
Another copy of Code 3 JUNK. No details a generic chassis & huge display box. Why? I am not impressed with this Engine. Oh yes a lot of heavy paint & outrageous price. Be a nice retirement gift for somebody. As a Builder of Scale Model Fire Apparatus. This does not fit into my collection. No shelf is big enough to display it with the rest of my collection. Sure I don't go into the detail that this replica does. But I can take my scale models down & see the Engine & Chassis details. Plus my models can be displayed with opening doors Cab removes to show Engine. The working features. Yes it looks nice, but don't fit in with my collection.

Prince George Pierce pumper.

The Prince George Pierce Impel pumper is outstanding, the attention to detail is superior, Fire Replicas models are truly museum quality replicas. I can't wait for others coming this year like the Milwaukie Pierce pumpers & Rescue.

The attention to detail is flawless. I love it.

A museum quality model but...

Yes, this model is 100%dead on but, there are a few things that just don't hit it out of the park for me. I know using the resin medium is a little limiting but, opening doors, rolling tires, Ladders raising, and tilting cabs just may put this over the top. Plus, the availability to take the model off it's stand for some collectors would be great for the collector that needs the space. For me, there are a little pricey for a very static model that I can pose in the manner that I choose. Please don't get me wrong. These models are outstanding! Just a few minor things, to me, that just don't hit a home run.

Pierce Prince George's "Courage" E805

My first purchase from Fire Replicas was extremely gratifying. E805 was a superbly finished diecast model which replicated the original to the smallest details. The graphics were stunning. My only criticism, is that I have a display case for my other models, and the case from Fire Replicas, while providing a professional case does not allow for easy removal to display the model in other settings.

I've already placed my second order....extremely satisfied collector.

I received this truck after getting some others that were on the top of my list. This truck does have a lots of bells and whistle on it. I love the the cause it represents great choice Fire Replicas. The details are great. Can't wait for the next new trucks

Engine 805 Scores a 10 out of 10

Just like every other one of Fire Replica's releases, this model is stunning. The pink is accurate and really pops. As with all of their models, the casting and finishing is crisp and well done. The details such as the pump panel, roto-ray and ladder are spectacular. As I have mentioned multiple times - these are the best scale fire apparatus ever produced - well worth the money! I cannot wait for the Rosenbauer Miami-Dade units and the FDNY Seagrave TL's.

Fire Replicas has done it again, awesome detail and craftsmanship on this model. I was thrilled when I received it and it was well packaged, it even had a personal note from Nicholas thanking me for the purchase. Thank you to you Nicholas and also your dedicated team if it wasn't for you we wouldn't have these fine models in our collections.

This is my First Truck, I mainly bought it because my wife had Breast Cancer, I said "mainly" cause she's been cancer free for two yrs. I am a dealer in diecast and I used to handle TWH, I like that your models come with their own display case, which is a big factor (also it didn't cost anymore compared to TWH price). The detail of your models is beyond Excellent. The graphics are sharp, paint is flawless. I also like the fact that you take the time to include a welcome note and other info with your models. That right there tells me that you take pride in your craft. The packing for shipping is beyond standards.