FDNY Ladder 6 Scale Model

The first museum grade FDNY Tiller for the Chinatown Dragonfighters.
From the officer side stokes basket and Ladder 6 gear to the 3 cab-mounted bronze dragons, this 1:50 scale replica is authentic to Ladder 6.



Hand-crafted using over 920 intricately detailed parts.
Each individually designed, cast or fabricated part is hand-assembled using tweezers, glue-filled syringes, and a steady hand.



Razor sharp, 0.6mm stainless steel ladder.
Ladder 6 features impeccable detailing and true-to-scale parts that only stainless steel can provide. Fire Replicas has ushered in a new standard in 1:50 scale modeling that is sure to impress the most discriminating collectors.


Limited production for lasting value.
Only 125 units of FDNY Ladder 6 have been produced. Fire Replicas are designed with the elite collector in mind, and manufactured in limited quantities to enhance long-term value.

Fully protected and display-ready.
The FDNY Ladder 6 measures 14"L x 2.5"W x 2.75"T and is securely displayed inside a custom case. The case dimensions are 18"L x 6"W x 5.25"T and the platform includes an etched stainless steel nameplate with the FDNY seal, department and truck name.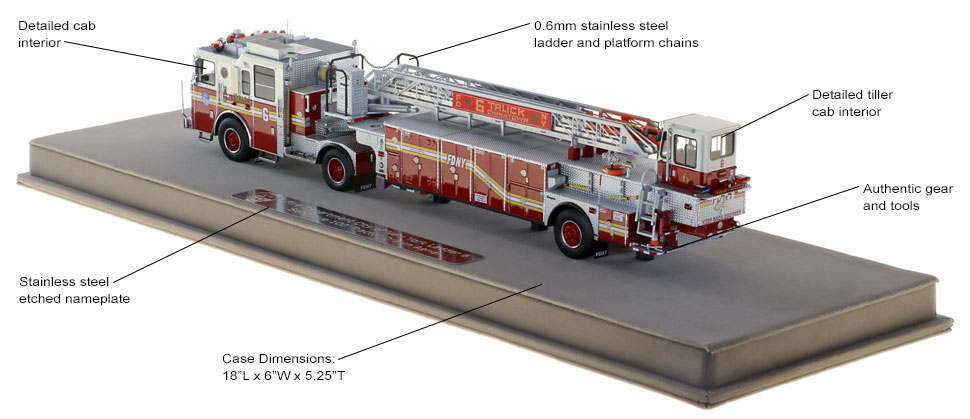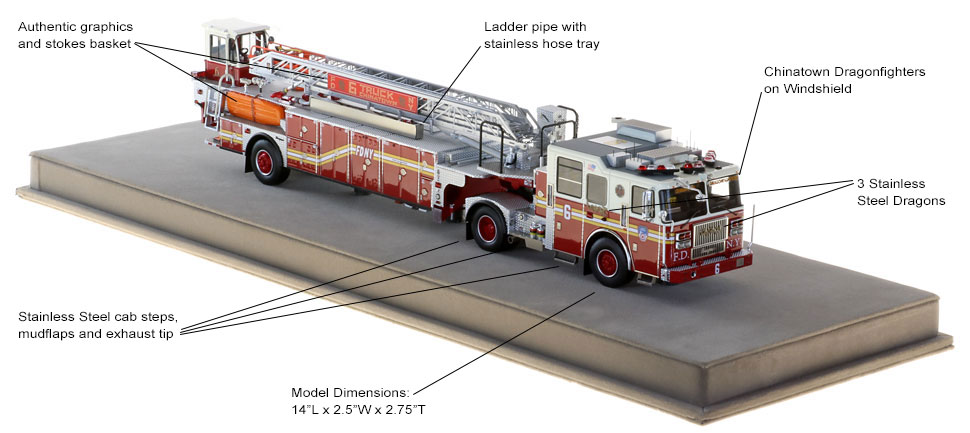 FDNY Ladder 6 Scale Model Specs
Scale: 1:50
Production Quantity: 125
Multi-materials including High Def Resin, stainless steel photo etch metal, wire, rubber and other composites.
Mounted inside high quality, custom display case featuring etched stainless steel I.D. nameplate.
Model Dimensions: 14"L x 2.5"W x 2.75"T
Display Case Dimensions: 18"L x 6"W x 5.25"T

More about the scale model
This FDNY Ladder 6, a 100' Tractor-Drawn Aerial on an Attacker chassis is a museum grade replica. Like all Fire Replicas models, every detail is modeled to perfection and with razor sharp precision. The replica features the specific department configuration and graphics, leaving no detail overlooked. The display case is custom manufactured with high quality acrylic and resin. The stainless steel etched plate features the department and truck name, and department seal. This replica is a treasure to be displayed and admired and is in no way a toy.
About Seagrave Fire Apparatus
The FWD Seagrave team is dedicated to providing highly engineered heavy duty vehicles, cabs, chassis, bodies, aerial ladders and other products with superior lifetime value for our customers by concentrating on innovation and continuous process improvements.
As a single source manufacturer, we integrate design, construction and assembly under one roof. The result is an apparatus built for best lifetime value that operates under the most severe conditions. One of our unique manufacturing distinctions is our life-saving "safety cage" cab design, which has earned us an unmatched reputation for dependability under the toughest of conditions. The cab's cage design is the hallmark of occupant safety.
Safety Warning
This is not a toy and not suitable for children under the age of 14. This highly detailed scale model contains small, intricate pieces that may present a choking hazard.