Industry first 1:50 scale Rosenbauer Commander ACP-55 and Custom Rescue.
New apparatus, new tech, and new relationships...preserved and memorialized in these replicas. We insist on building them in a way that our customers may notice something new each time they observe the scale model.

Each CFD Squad is hand-crafted using over 400 individual parts.
Each individually designed, cast or fabricated part is hand-assembled using tweezers, glue-filled syringes, and a steady hand. Materials are chosen to replicate each feature accurately and include stainless steel, high-def resin, brass, wire, rubber and other composites.

Extremely limited production of 200 sets.
Production of CFD Squad 7/7A set is limited to 200 units. Fire Replicas are designed with the elite collector in mind, and manufactured in limited quantities to enhance future value.

Museum grade precision.
Countless hours of design, proofing, and improvements make this replica museum grade. Hundreds of individual, razor sharp stainless steel components create realism never before seen in a fire truck scale model.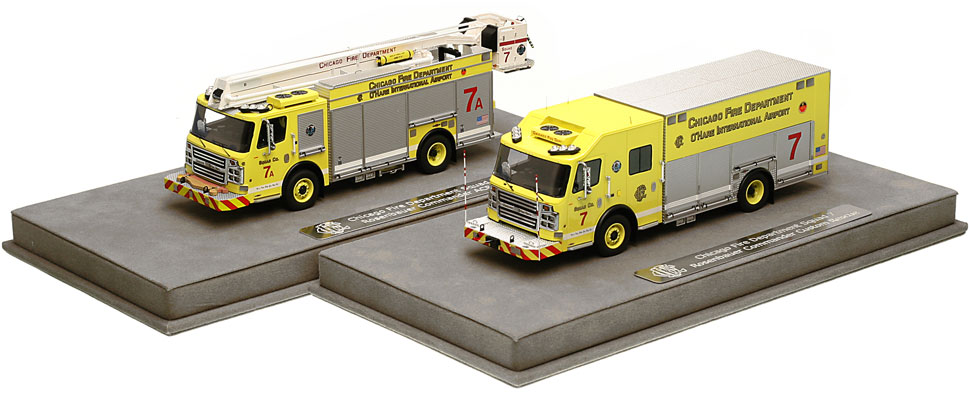 Fully custom presentation.
Each Chicago Fire Department Squad measures approximately 8.5"L x 2.5"W x 2.75"T and is securely displayed inside a custom case. The case dimensions are 15.5"L x 6"W x 5.25"T and the platform includes an etched stainless steel nameplate with the Chicago seal, department and truck name.

Chicago Fire Department Squad 7 and 7A Set Specifications
Scale: 1:50

Production Quantity: 200 sets

Multi-materials including High Def Resin, stainless steel photo etch metal, wire, rubber and other composites.
Each replica mounted inside high quality, custom display case featuring etched stainless steel I.D. nameplate.
Model Dimensions: Squad 7 = 8.25"L x 2.5"W x 2.5"T, Squad 7A = 8.5"L x 2.5"W x 2.75"T
Each Display Case Dimensions: 15.5"L x 6"W x 5.25"T
Note: Pre-Production Prototypes Shown. Design subject to change.
More About the Scale Models
This Chicago Fire Department Rosenbauer Squads are museum grade replicas. Like all Fire Replicas models, every detail is modeled to perfection and with razor sharp precision. The replicas feature the specific department configuration and graphics, leaving no detail overlooked. The display cases are custom manufactured with high quality acrylic and resin. The stainless steel etched plates feature the department and truck name, and department seal. This replicas are a treasure to be displayed and admired and are in no way toys.
Safety Warning
These are not toys and not suitable for children under the age of 14. These highly detailed scale models contains small, intricate pieces that may present a choking hazard.
I got my first sight of my Chicago O'Hare Squad 7 set the very same day that I flew in to O'Hare from the UK and got to see and photograph the real trucks.
The models are outstanding, amazing replica's of the real trucks down to the very finest detail. Once again Fire Replica's have done an incredible job in creating these fantastic models. Totally impressed.

Beside squad 5 and 5A I decided to buy these amazing looking O'Hare squads. On the yellow body the details are even looking better. Great job !

The Chicago Rosenbauer Squad 7 set is awesome, the airport colors make this rig stand out in my display cabinet. I have to be honest my favorite of the 2 pieces is the snorkel The boom is outstanding, the basket details are great, nothing was missed with the complex waterway, oxygen supply, I could go on. Hopefully we will see another O'Hare rig down the road.

Squads are a perfect addition to the Chicago series. Details are perfect and you won't be disappointed. These will sell out quick.

Outstanding quality and excellent craftsmanship. Details are fantastic. For my second purchase of the Squads I chose the yellow for O'Hare Airport.

Not very often that O'Hare units are modeled, details are amazing, and the color match, perfect!

Very impressed!!

Chicago FD Rosenbauer Squads 7 & 7A

This review is based on a long look I had at the pre-production prototypes of these models. The actual production units will be even better (though I am not sure how!). These Chicago Rosenbauer Squad sets have been highly requested by us and Fire Replicas did not disappoint. Squad 7 is brilliantly executed. Chicago O'Hare airport colors are replicated accurately. All decal markings are accurate and the paint finish is flawless. Emergency lighting, grab handles, compartment doors, antennas, mirrors and everything else is replicated brilliantly. Squad 7A has all of these features plus a spectacular snorkel apparatus including accurate water piping, oxygen supply, platform and monitor. The tire and wheel assemblies are faithfully reproduced and the assembly and fit are perfect. As always, I cannot say enough about these models. We, as collectors, are fortunate that Nicholas Neumann and Fire Replicas has personally resurrected this hobby. I hope we see more airport (specifically O'Hare) apparatus in the future.