Chicago Fire Department E-One Engine 71 scale model

Hand-crafted using over 450 individual parts.
Each individually designed, cast or fabricated part is hand-assembled using tweezers, glue-filled syringes, and a steady hand. Materials are chosen to replicate each feature accurately and include stainless steel, high-def resin, brass, wire, rubber and other composites.



A tribute to the Pirates of the Past.
From the chrome wheel caps to the unique graphics, Engine 71's replica is built to the exact specifications of the West Rogers Park engine. Our goal with each release is that our customers may notice something new each time they view the model.


Museum grade precision and accuracy.
Countless hours of design, proofing, and improvements make this replica museum grade. Hundreds of individual, razor sharp stainless steel components create realism never before seen in a fire truck scale model.


Extremely limited production.
Production of CFD Engine 71 is limited to 100 units. Fire Replicas are designed with the elite collector in mind, and manufactured in limited quantities to enhance future value.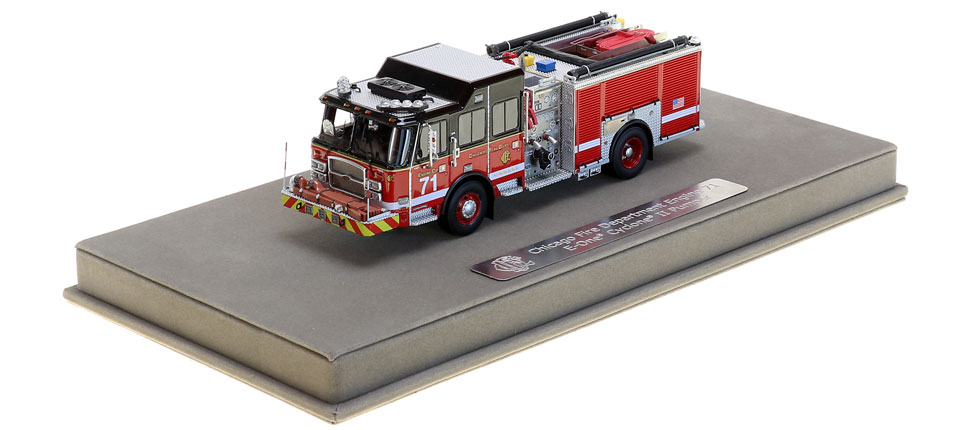 Fully custom presentation.
Chicago Fire Department Engine 71 measures 7.5"L x 2.5"W x 2.5"T and is securely displayed inside a custom case. The case dimensions are 12"L x 6"W x 5.25"T and the platform includes an etched stainless steel nameplate with the Chicago seal, department and truck name.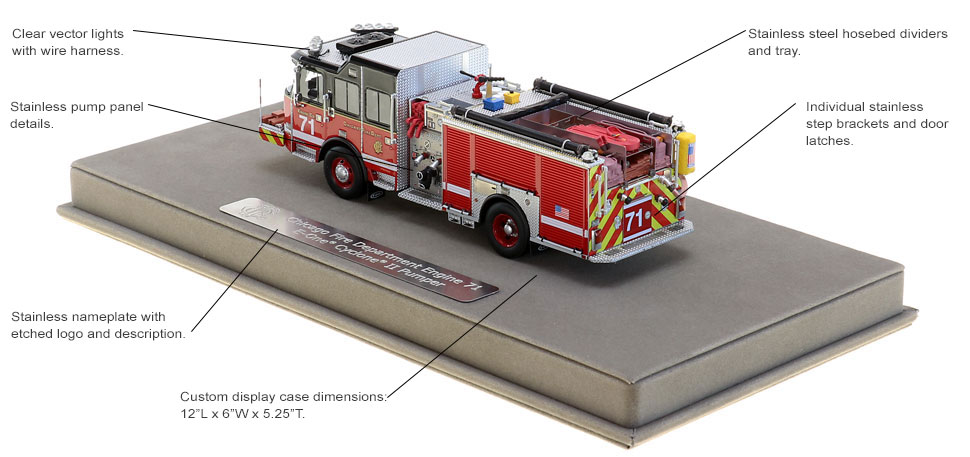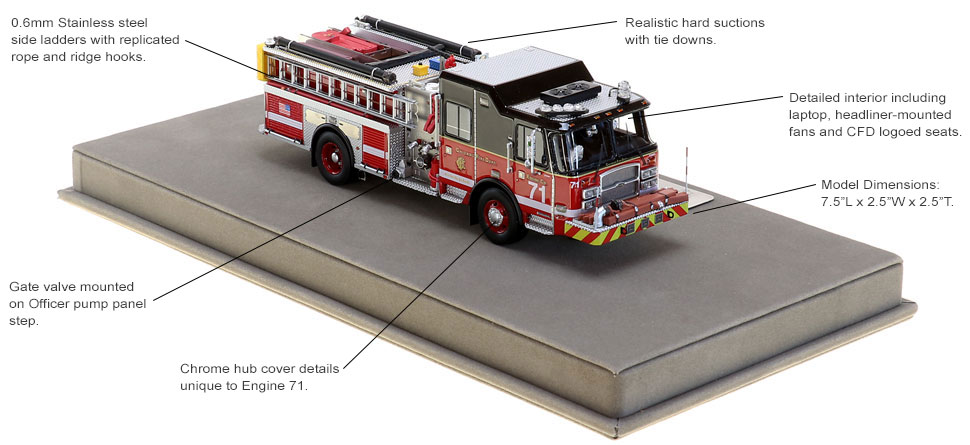 Chicago Fire Department E-One Engine 71 Scale Model Specs
Scale: 1:50

Production Quantity: 100

Multi-materials including High Def Resin, stainless steel photo etch metal, wire, rubber and other composites.
Mounted inside high quality, custom display case featuring etched stainless steel I.D. nameplate.
Model Dimensions: 7.5"L x 2.5"W x 2.5"T
Display Case Dimensions: 12"L x 6"W x 5.25"T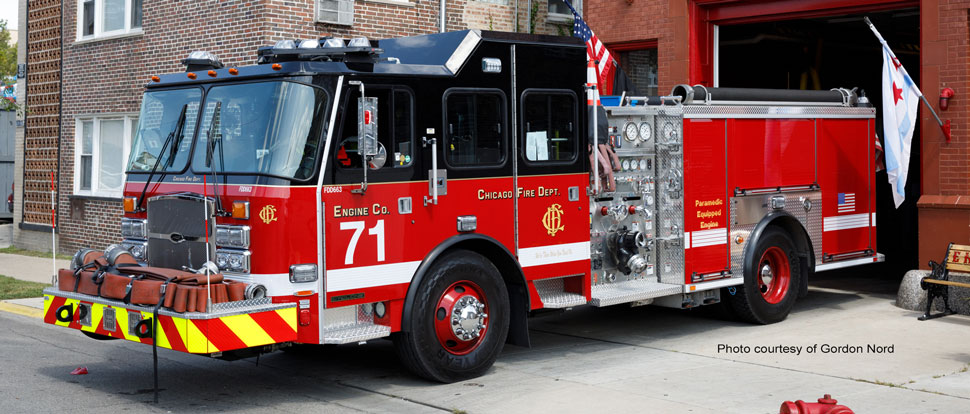 More About the Scale Model
This Chicago Fire Department E-One Engine 71 scale model is a museum grade replica. Like all Fire Replicas models, every detail is modeled to perfection and with razor sharp precision. The replica features the specific department configuration and graphics, leaving no detail overlooked. The display case is custom manufactured with high quality acrylic and resin. The stainless steel etched plate features the department and truck name, and department seal. This replica is a treasure to be displayed and admired and is in no way a toy.
Safety Warning
This is not a toy and not suitable for children under the age of 14. This highly detailed scale model contains small, intricate pieces that may present a choking hazard.


Beautifully done

This model, another crowning achievement for your company, is particularly precious to me because Eng. 71 was my "home guard" back in the '60's, operating with a 1923 Seagrave pumper. My, how she's changed!

Having toured the E-One plant in FL, I was really excited to receive E71 from Chicago Fire Dept. Fire Replicas really did an outstanding job on this piece. The attention to detail is amazing as are the colors and graphics. This is my eighth piece and Fire Replicas keep getting better.

Received my Chicago engine 71 E-one pumper. Once again the attention to detail is just outstanding. Fire Replicas captures every authentic aspect of the real rig, E-one cabs have a lot of fine lines and contoured bends to the nose of the cab and roof angles, this model replicates every feature of this E-one cab and chassis. Further features as to the paint and finish are 100% spot on accurate to the real rig, Chicago Fire Dept. stands out among other dept's being known for the color scheme of black over red and this model is an incredibly razor sharp replication in 1/50 scale. Fire Replicas has once again produced a true museum top shelf grade fire apparatus replica!!

What an extraordinary reproduction a new engine of Chicago even more detailed that comes to wonderfully complete the models on Spartan chassis

This review is based on a long look I had at the pre-production prototype. I may sound like a broken record, but Fire Replicas has another winner here. To help fill out the Chicago FD collection, here is a great model of the most recent pumpers added to the windy city – the E-One Cyclone II pumpers. I love the Chicago black over red paint scheme and Fire Replicas has executed it perfectly. All markings are authentic and look great. We have the normal excellent fit and finish that we have come to expect from Fire Replicas. Especially well done is the pump panel, hose bed detail, ground ladders and water can. The front bumper markings and pre-plumbed hose look perfect as do the hard suction hoses. The use of etched trim looks great and on E71 you even get chrome hub covers, just like the actual unit. This is a great model and is likely to sell out quickly. Remember the earlier Spartan engines from Fire Replicas sold out quickly and these may go even faster.