Jack Daniel's Fire Brigade P7 Pumper Specifications



Hand-crafted authenticity.
Jack Daniel's P-7 features 423 individual parts. Each individually designed, cast or fabricated part is hand-assembled using tweezers, glue-filled syringes, and a steady hand. Materials are chosen to replicate each feature accurately and include stainless steel, high-def resin, brass, wire, rubber and other composites.


Genuinely Jack Daniel's.
Jack Daniel's Pierce Velocity Pumper is one of the largest on the market and specifically designed to protect the distillery, Lynchburg, TN, and outlying communities. Each detail, including the impressive pump panels, has been carefully replicated.




Museum grade precision.
The collaboration between Fire Replicas and Jack Daniel's Fire Brigade began immediately as the P-7 real truck entered service. Countless hours of design, proofing, and improvements make this replica museum grade.


A special reserve of 600 units.
Production of the P-7 Pumper is limited to 600 units. Fire Replicas are designed with the elite collector in mind, and manufactured in limited quantities to enhance future value.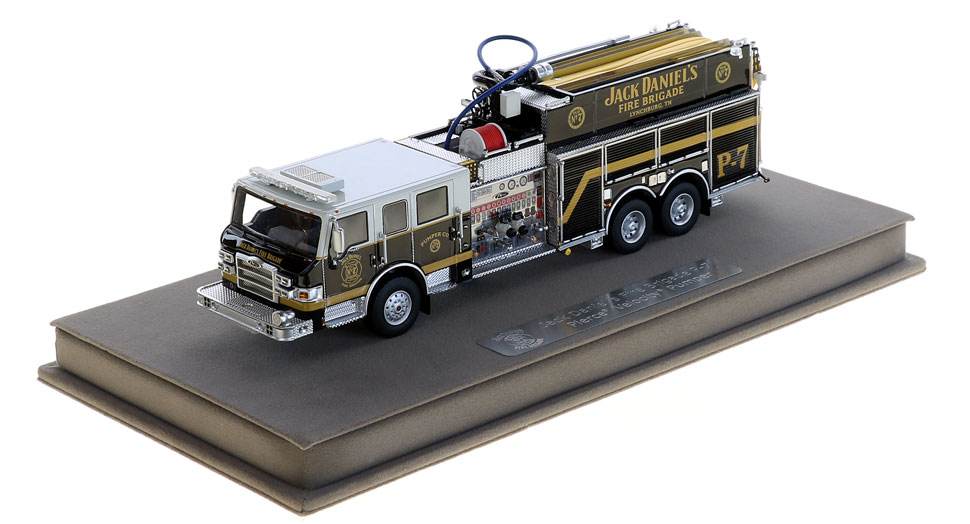 Custom presentation of an iconic brand.
P-7 measures 10"L x 2.5"W x 3"T and is securely displayed inside a custom case. The case dimensions are 12"L x 6"W x 5.25"T and the platform includes an etched stainless steel nameplate with the Jack Daniel's Fire Brigade seal, department and truck name.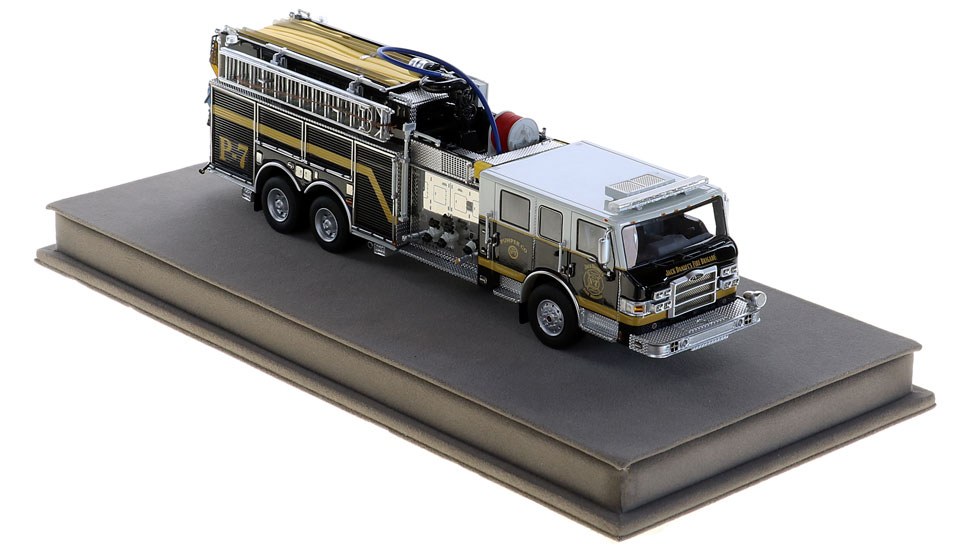 Order online or call 1.800.481.2450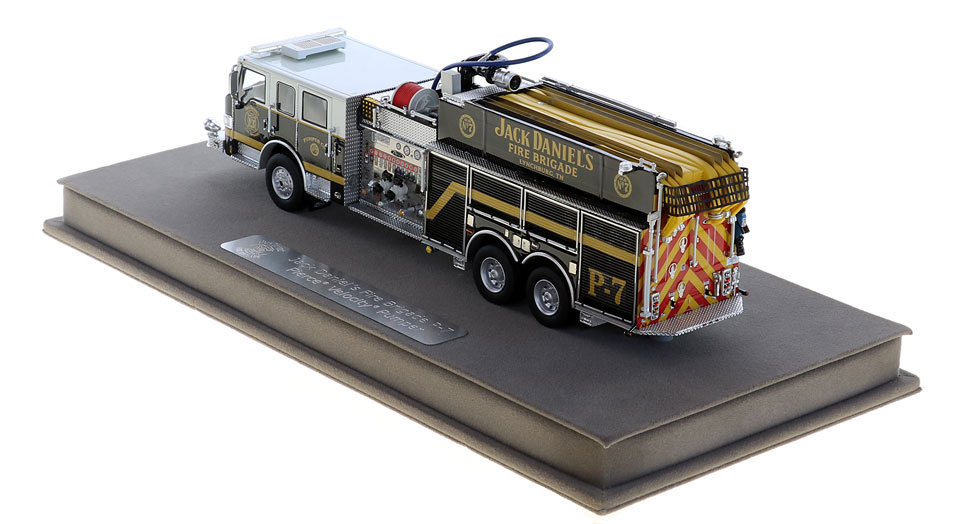 Geographic Availability
Jack Daniel's Fire Brigade scale models are ONLY available to ship to customers in the following countries: United States, Canada, Australia, New Zealand, United Kingdom, Germany, Belgium, Holland, Austria, Greece, Bulgaria, Denmark, Sweden, and Luxemburg. Unfortunately there are no exceptions.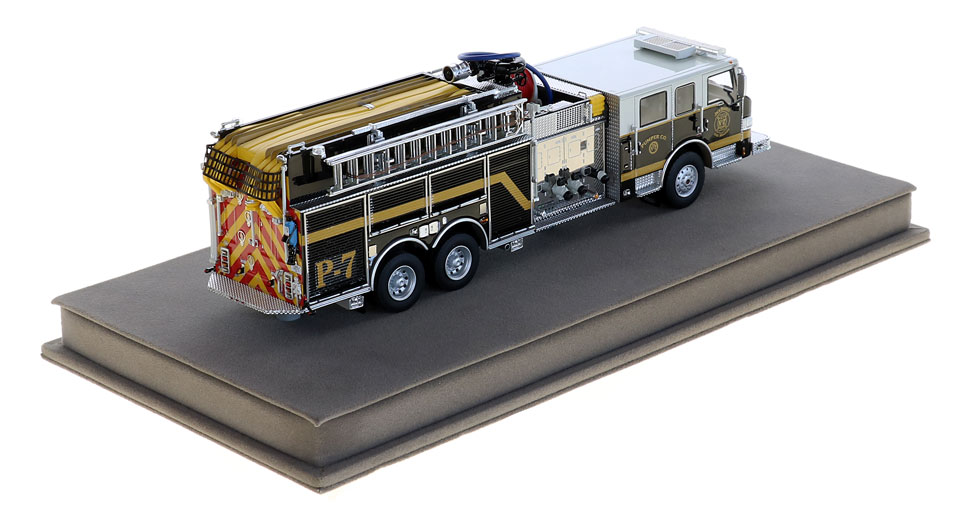 Jack Daniel's P-7 Pumper Scale Model Specs
Scale: 1:50

Production Quantity: 600

Multi-materials including Stainless steel, photo etch metal, High Def Resin, wire, rubber and other composites.
Mounted inside high quality, custom display case featuring etched stainless steel I.D. nameplate.
Functionality includes rolling rubber tires
Model Dimensions: 10"L x 2.5"W x 3"T
Display Case Dimensions: 12"L x 6"W x 5.25"T
More About the Scale Model
This Jack Daniel's Fire Brigade P7 Pierce® Velocity® Pumper scale model is a museum grade replica. Like all Fire Replicas models, every detail is modeled to perfection and with razor sharp precision. The replica features the specific department configuration and graphics, leaving no detail overlooked. The display case is custom manufactured with high quality acrylic and resin. The stainless steel etched plate features the department and truck name and department seal. This replica is a treasure to be displayed and admired and is in no way a toy.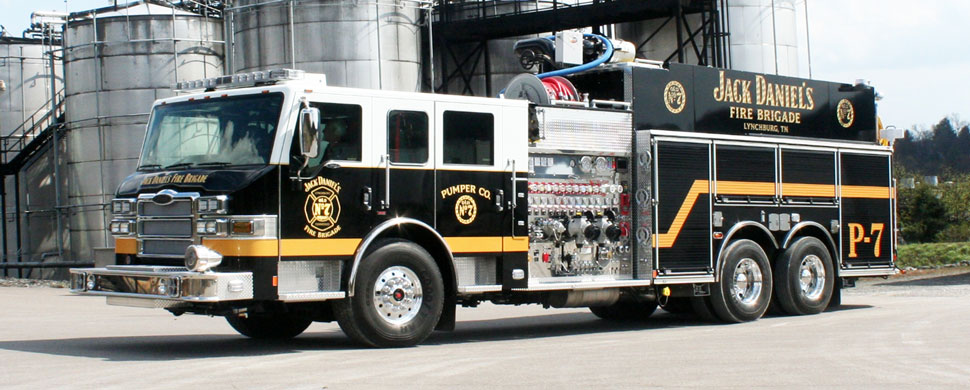 Magazine Review
As seen in Truck Model World Magazine, U.K. Sept/Oct 2016 Edition, by Steven Downes. www.truckmodelworld.com
Once again, Fire Replicas has released a stunning museum grade replica of the Pierce® Velocity® pumper in the distinctive Jack Daniel's Fire Brigade decoration, designated the P7, this 3-axle custom built goliath is the ideal solution for fire fighting and rescue applications throughout Lynchburg in Tennessee, specifically configured for the unique fire fighting requirements of the Jack Daniels facility. The Jack Daniel's fire brigade consists of 3 stations and is staffed by 34 members providing aid to the local schools and nursing homes.
Every aspect and facet of the in-use fire truck has been captured to perfection with precision replication of the various markings and insignia, a common sight for anyone who likes a tipple of the old No7 brand whiskey. The oversized dimensions of the pumper provide plenty of storage space for rescue and fire fighting equipment with each roller shutter door accurately modelled, complete with silver pin lines and grab handles. The pump control panel is adorned with tiny dials which really look the part while the large diameter outlet stands allow maximum water transfer.
Throughout the distillery, warehouse and bottling plant runs an elaborate network of standpipes which interface with the rear discharge outlets of the pumper while the central 3000 gallons per minute pump, Husky 300 foam system with 2000 gallon onboard foam tank and 500 gallon water tank allow for all eventualities. Additional fire fighting capabilities include the 2000 pound dry chemical system and imposing 8" Hydro-Chem deluge gun and nozzle which are prominently replicated on the upper area.
Upper storage space is used for the lines of flat hose which is coloured yellow while the side of the body houses an extension ladder created from true-to-scale stainless steel and photo-etch components for a life-like feel. The rear of the body has a full height red and yellow safety chevron finish with plastic nets retaining the hoses. Even here, tiny photo-etch parts increase the visual appeal of the model with grab handles, stored hose nozzle and floodlights all adding to the realism.
The cabin features a fully finished interior with a light grey dashboard and driver's station clearly visible through the front windscreen while the photo-etch grille and prolonged front bumper have a chrome finish, as do the light housings. On the roof, a full length light bar and air conditioning unit are fitted.
As with the other models in the range, the custom packaging consists of a fully lined base with Perspex cover and photo-etched name plate depicting the department and truck name while the outer cardboard box is finished in black with the familiar iconic Jack Daniel's branding.
About Fairfax County Fire and Rescue Department
The Fairfax County Fire and Rescue Department trains firefighters and paramedics to provide a full complement of fire suppression, technical rescue, swift water rescue, hazardous materials, and emergency medical services, including basic and advanced life support and emergency medical transportation–it is a career and volunteer all-hazards department. Since its humble beginning in July 1949, the Fairfax County Fire and Rescue Department has evolved from ten skilled "drivers" to a complex agency responsible for meeting the emergency needs of over one million residents. Today, more than 1,330 uniformed men and women operate from 38 fire and rescue stations strategically positioned throughout Fairfax County. Additionally, about 170 full-time civilians provide key support functions from headquarters and other locations. The Fairfax County Fire and Rescue Department operates on three separate 24-hour rotation shifts. Each shift is led by a Deputy Fire Operations Chief. The county is separated geographically into seven battalions, each managed by a battalion management team of a Battalion Fire Chief and EMS Captain. Fire suppression personnel and paramedics work in tandem to ensure the highest level of safety and care possible for the residents of Fairfax County.
Tysons Corner or Tysons is a census-designated place and unincorporated community in Fairfax County, Virginia, United States. Located in Northern Virginia between the community of McLean and the town of Vienna along the Capital Beltway, it lies within the Washington Metropolitan Area. Home to two super-regional shopping malls—Tysons Corner Center and Tysons Galleria—and the corporate headquarters of numerous companies, Tysons is Fairfax County's central business district and a regional commercial center. It has been characterized as a quintessential example of an edge city. The population was 19,627 as of the 2010 census.
About the Community, Department, and Truck
Jack Daniel's is the best-selling American whiskey brand in the world, and is produced in Lynchburg, Tennessee by the Jack Daniel Distillery (a part of the Brown-Forman Corporation since 1956). The Jack Daniel's Fire Brigade consists of 34 members, and operates three fire stations. The Brigade provides automatic aid for Lynchburg area schools, nursing homes, and the public square, as well as mutual aid response with outlying communities.
The apparatus is built on the renowned Pierce Velocity chassis with a 600 horsepower engine. It sports six 2.5-inch rear discharges that interface with an elaborate standpipe system installed throughout the Jack Daniel distillery, bottling facilities, and warehousing area. The vehicle's firefighting system also features a 3,000-gpm pump, a Husky® 300 foam system, a 2,000-gallon foam tank, a 500-gallon water tank, a 2,000-pound dry chemical system, and an eight-inch Hydro-Chem deluge gun and nozzle.
Safety Warning
This is not a toy and not suitable for children under the age of 21. This highly detailed scale model contains small, intricate pieces that may present a choking hazard.