Jack Daniel's Fire Brigade P7 Pumper Specifications

Hand-crafted authenticity.
Jack Daniel's P-7 features 423 individual parts. Each individually designed, cast or fabricated part is hand-assembled using tweezers, glue-filled syringes, and a steady hand. Materials are chosen to replicate each feature accurately and include stainless steel, high-def resin, brass, wire, rubber and other composites.
Genuinely Jack Daniel's.
Jack Daniel's Pierce Velocity Pumper is one of the largest on the market and specifically designed to protect the distillery, Lynchburg, TN, and outlying communities. Each detail, including the impressive pump panels, has been carefully replicated.


Museum grade precision.
The collaboration between Fire Replicas and Jack Daniel's Fire Brigade began immediately as the P-7 real truck entered service. Countless hours of design, proofing, and improvements make this replica museum grade.


A special reserve of 600 units.
Production of the P-7 Pumper is limited to 600 units. Fire Replicas are designed with the elite collector in mind, and manufactured in limited quantities to enhance future value.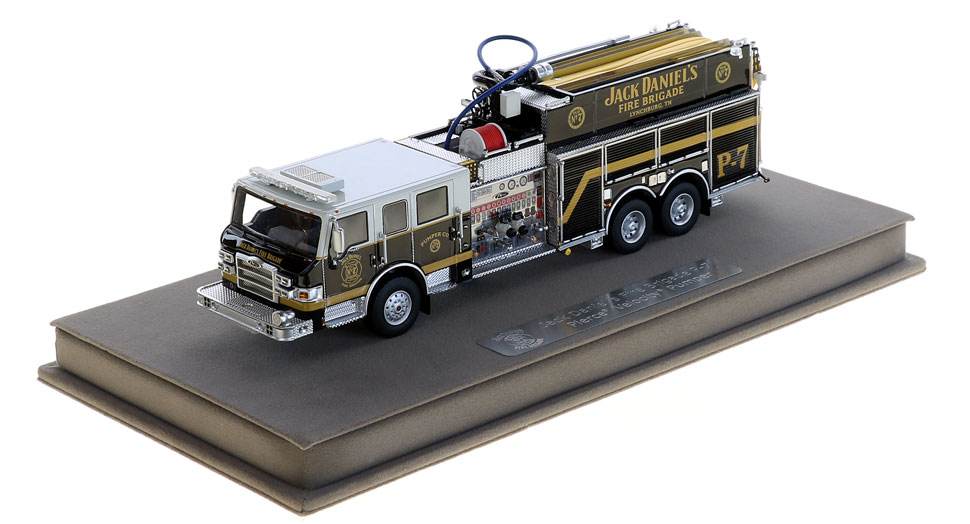 Custom presentation of an iconic brand.
P-7 measures 10"L x 2.5"W x 3"T and is securely displayed inside a custom case. The case dimensions are 12"L x 6"W x 5.25"T and the platform includes an etched stainless steel nameplate with the Jack Daniel's Fire Brigade seal, department and truck name.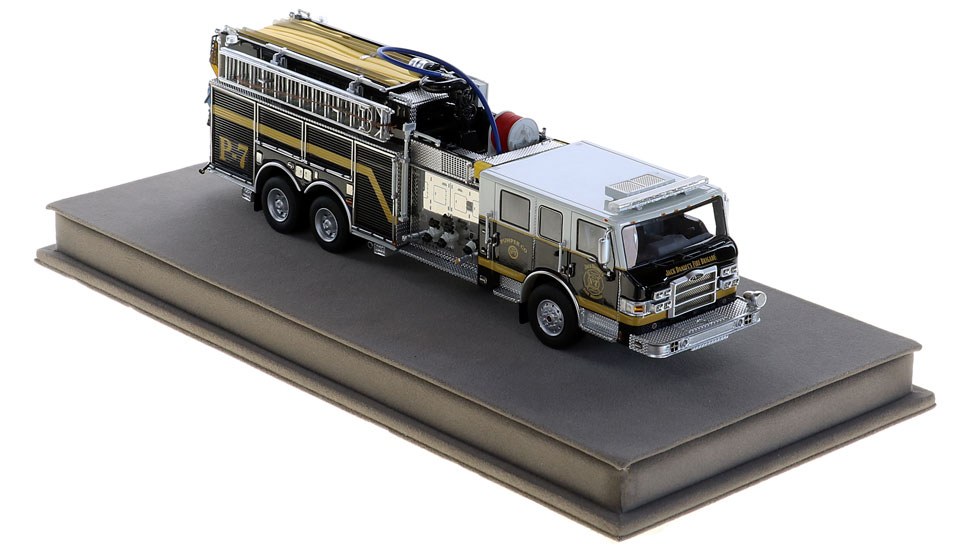 Jack Daniel's P-7 Pumper Scale Model Specs
Scale: 1:50

Production Quantity: 600

Multi-materials including Stainless steel, photo etch metal, High Def Resin, wire, rubber and other composites.
Mounted inside high quality, custom display case featuring etched stainless steel I.D. nameplate.
Functionality includes rolling rubber tires
Model Dimensions: 10"L x 2.5"W x 3"T
Display Case Dimensions: 12"L x 6"W x 5.25"T
More About the Scale Model
This Jack Daniel's Fire Brigade P7 Pierce® Velocity® Pumper scale model is a museum grade replica. Like all Fire Replicas models, every detail is modeled to perfection and with razor sharp precision. The replica features the specific department configuration and graphics, leaving no detail overlooked. The display case is custom manufactured with high quality acrylic and resin. The stainless steel etched plate features the department and truck name and department seal. This replica is a treasure to be displayed and admired and is in no way a toy.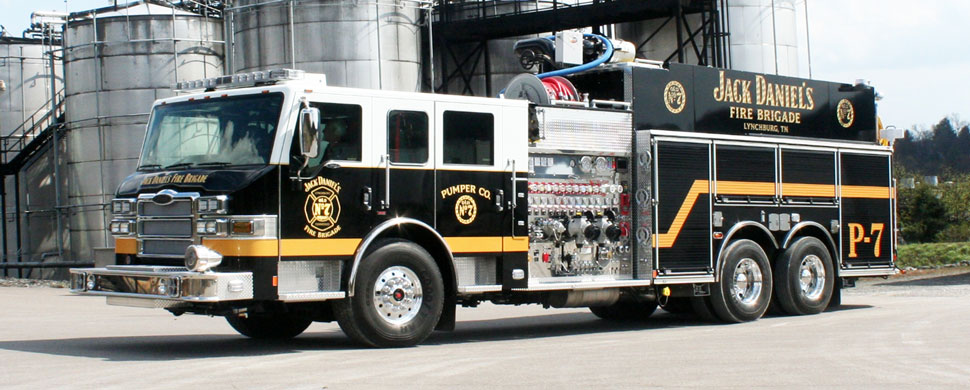 About the Community, Department, and Truck
Jack Daniel's is the best-selling American whiskey brand in the world, and is produced in Lynchburg, Tennessee by the Jack Daniel Distillery (a part of the Brown-Forman Corporation since 1956). The Jack Daniel's Fire Brigade consists of 34 members, and operates three fire stations. The Brigade provides automatic aid for Lynchburg area schools, nursing homes, and the public square, as well as mutual aid response with outlying communities.
The apparatus is built on the renowned Pierce Velocity chassis with a 600 horsepower engine. It sports six 2.5-inch rear discharges that interface with an elaborate standpipe system installed throughout the Jack Daniel distillery, bottling facilities, and warehousing area. The vehicle's firefighting system also features a 3,000-gpm pump, a Husky® 300 foam system, a 2,000-gallon foam tank, a 500-gallon water tank, a 2,000-pound dry chemical system, and an eight-inch Hydro-Chem deluge gun and nozzle.
Safety Warning
This is not a toy and not suitable for children under the age of 21. This highly detailed scale model contains small, intricate pieces that may present a choking hazard.