Fire Department of New York Tower Ladder 58 Specifications

FDNY's first museum grade Tower Ladder replica.
Each individually designed, cast or fabricated part is hand-assembled using tweezers, glue-filled syringes, and a steady hand. Materials are chosen to replicate each feature accurately and include stainless steel, high-def resin, brass, wire, rubber and other composites.



Hand-crafted using over 500 intricate, true-to-scale parts.
From the stainless steel "58" on the grill to the Ladder 58 patches, this 1:50 scale replica emulates Tower Ladder 58. Our goal with each release is that our customers may notice something new each time they view the model.


Razor sharp, stainless steel precision.
Tower Ladder 58 features impeccable detailing and true-to-scale parts that only stainless steel can provide. Fire Replicas has ushered in a new standard in 1:50 scale modeling that is sure to impress the most discriminating collectors.


Extremely limited production for lasting value.
Only 150 units of Tower Ladder 58 have been produced. Fire Replicas are designed with the elite collector in mind, and manufactured in limited quantities to enhance long-term value.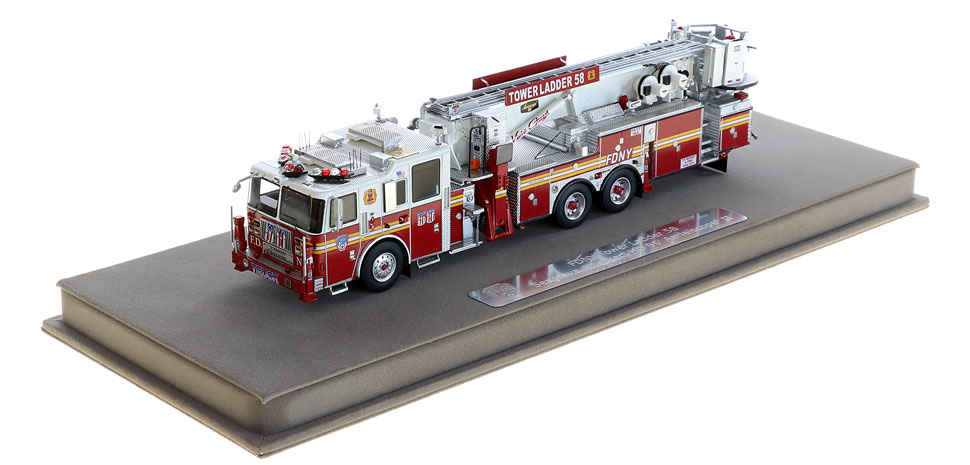 FDNY...preserved with pride and professionalism.
The FDNY TL58 measures 11.5"L x 2.5"W x 3"T and is securely displayed inside a custom case. The case dimensions are 15.25"L x 6"W x 5.25"T and the platform includes an etched stainless steel nameplate with the FDNY seal, department and truck name.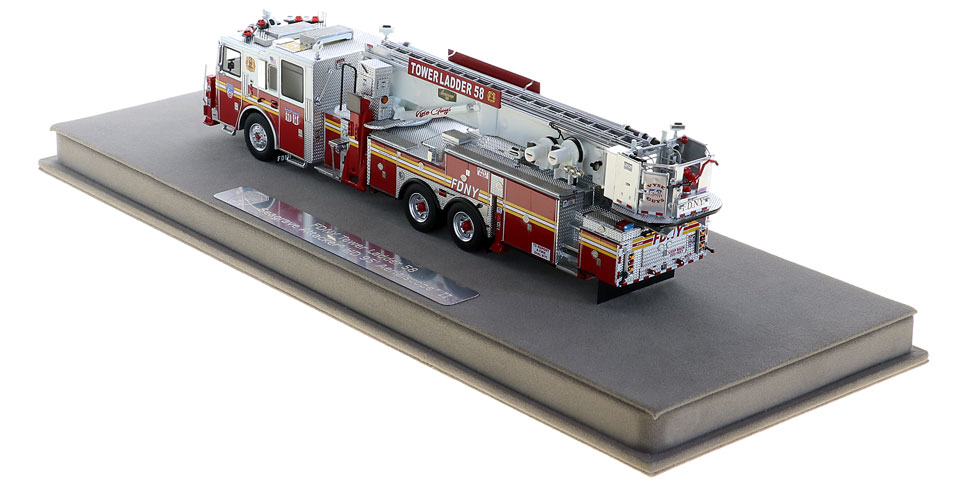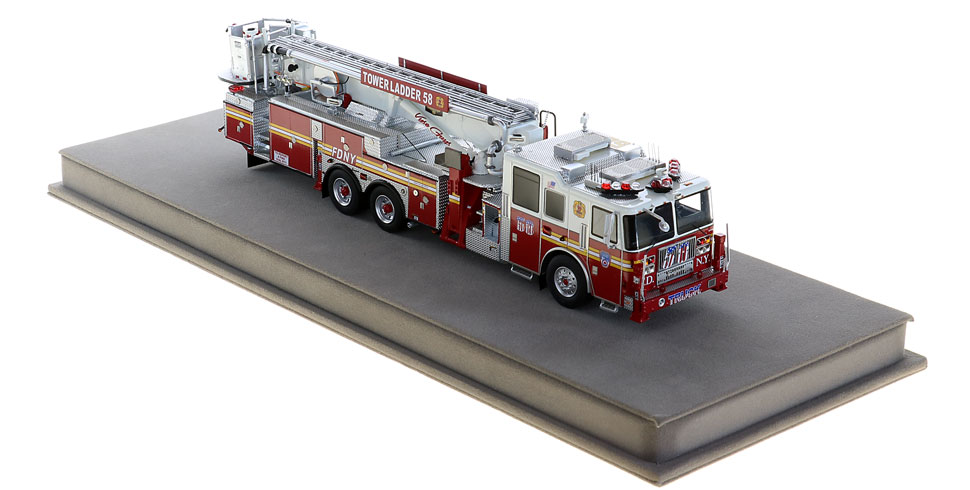 FDNY Tower Ladder 58 Scale Model Specs
Scale: 1:50
Production Quantity: 150
Multi-materials including High Def Resin, stainless steel photo etch metal, wire, rubber and other composites.
Mounted inside high quality, custom display case featuring etched stainless steel I.D. nameplate.
Model Dimensions: 11.25"L x 2.5"W x 2.75"T
Display Case Dimensions: 15.25"L x 6"W x 5.25"T
More About the Scale Model
This FDNY Tower Ladder 58, a 95' Aerialscope II on an Attacker chassis is a museum grade replica. Like all Fire Replicas models, every detail is modeled to perfection and with razor sharp precision. The replica features the specific department configuration and graphics, leaving no detail overlooked. The display case is custom manufactured with high quality acrylic and resin. The stainless steel etched plate features the department and truck name, and department seal. This replica is a treasure to be displayed and admired and is in no way a toy.
About Seagrave Fire Apparatus
The FWD Seagrave team is dedicated to providing highly engineered heavy duty vehicles, cabs, chassis, bodies, aerial ladders and other products with superior lifetime value for our customers by concentrating on innovation and continuous process improvements.
As a single source manufacturer, we integrate design, construction and assembly under one roof. The result is an apparatus built for best lifetime value that operates under the most severe conditions. One of our unique manufacturing distinctions is our life-saving "safety cage" cab design, which has earned us an unmatched reputation for dependability under the toughest of conditions. The cab's cage design is the hallmark of occupant safety.
Safety Warning
This is not a toy and not suitable for children under the age of 14. This highly detailed scale model contains small, intricate pieces that may present a choking hazard.




Not a big fan of collecting FDNY trucks, however the detail on this Ladder really stood out. I am always impressed with how Fire Replicas really works to study the trucks and gets the exact details. The color on the FDNY is great looking next to the other FR trucks I have.

One word. EXCELLENT

While it is a fine detailed rig the only thing holding me back from giving it a five star rating is the fact it does not have any of the tools on it l would have looked even better with all the tools on it code3 where able to include all tools etc l hope all future FDNY relases or any other deparements will have all the proper items on it

The model of the FDNY Tower Ladder is fantastic. Those Seagrave Tower Ladders are the mainstay of the FDNY fleet. and the models are right on the money. Fire Replicas is doing a fantastic job with these models with detail that we have never seen before in a model.

This Tower Ladder is a high-light in my FDNY collection and I hope, that some others will follow. Congratulation to the very fine detailed Fire truck.

Great detailed tower ladder

This is the second model I ordered and once again great details and a great service from Fire Replicas. I'm looking forward to seeing more FDNY trucks & engines being produced from Fire Replicas.

FDNY Tower Ladder 58 FDNY is highly recommended for any collector...ready for fire duty in scale. Don't waste time order now.

FDNY TL58 and her other FDNY Seagrave Fire Replica sisters (TL9 and TL119) were the most anticipated models I have ever ordered. The reality of receiving them was even better than any of my expectations. The models are absolutely stunning in every way. Specifically for this model: the colors are an exact match to FDNY red and the graphics are spot on. The overall fit and finish is excellent. The use of photo etch (particularly on the roof mounted AC units) is realistic and spectacular. The diamond plate is true to scale and looks absolutely right. The plumbing and ladders for the tower are awesome and the detail inside of the bucket are accurate and crisply defined. The specific Tower 58 graphics are accurate. This model is well worth the price and you even receive a fantastic professional-grade acrylic case with an etched nameplate. This model is PERFECT!!!