Fire Department of New York Tower Ladder 119 Specifications

FDNY's first museum grade Tower Ladder replica.
Each individually designed, cast or fabricated part is hand-assembled using tweezers, glue-filled syringes, and a steady hand. Materials are chosen to replicate each feature accurately and include stainless steel, high-def resin, brass, wire, rubber and other composites.



Hand-crafted using over 500 intricate, true-to-scale parts.
From the 9/11 memorial decals to the Hooper St. sign, this 1:50 scale replica emulates Tower Ladder 119. Our goal with each release is that our customers may notice something new each time they view the model.


Razor sharp, stainless steel precision.
Tower Ladder 119 features impeccable detailing and true-to-scale parts that only stainless steel can provide. Fire Replicas has ushered in a new standard in 1:50 scale modeling that is sure to impress the most discriminating collectors.


Extremely limited production for lasting value.
Only 150 units of Tower Ladder 119 have been produced. Fire Replicas are designed with the elite collector in mind, and manufactured in limited quantities to enhance long-term value.

FDNY...preserved with pride and professionalism.
The FDNY TL119 measures 11.5"L x 2.5"W x 3"T and is securely displayed inside a custom case. The case dimensions are 15.25"L x 6"W x 5.25"T and the platform includes an etched stainless steel nameplate with the FDNY seal, department and truck name.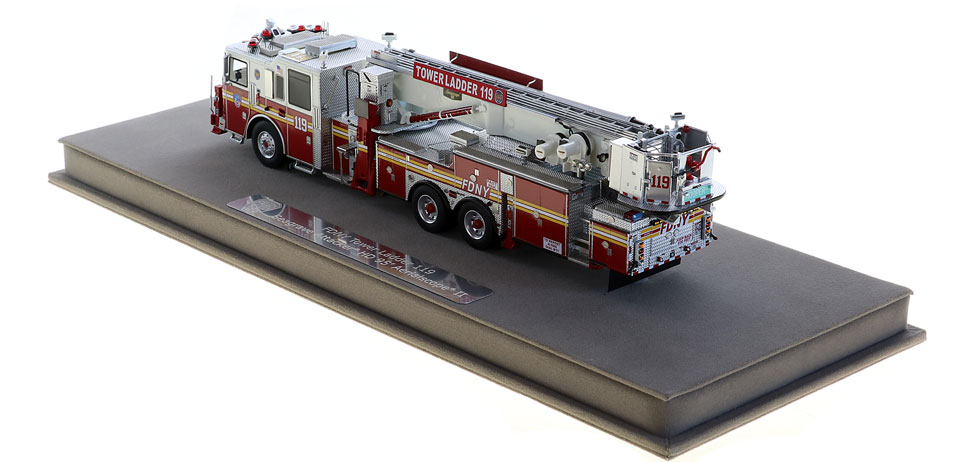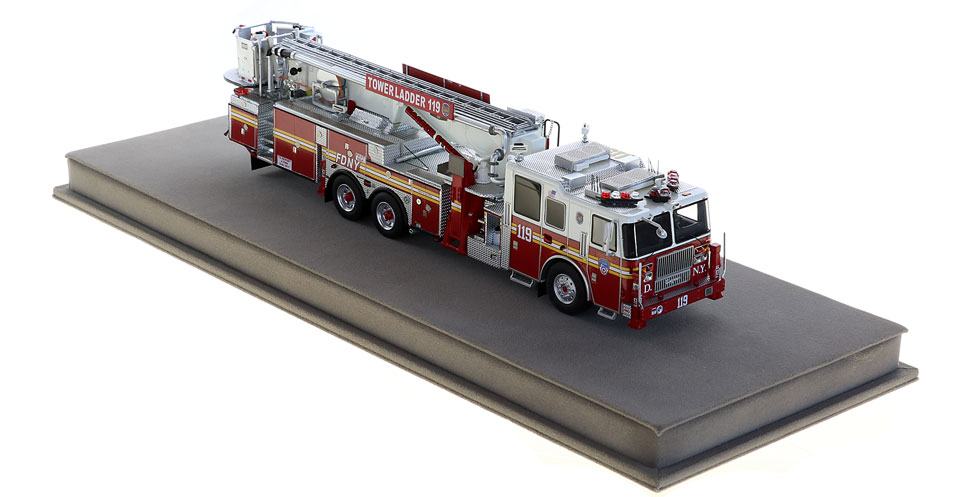 FDNY Tower Ladder 119 Scale Model Specs
Scale: 1:50
Production Quantity: 150
Multi-materials including High Def Resin, stainless steel photo etch metal, wire, rubber and other composites.
Mounted inside high quality, custom display case featuring etched stainless steel I.D. nameplate.
Model Dimensions: 11.25"L x 2.5"W x 2.75"T
Display Case Dimensions: 15.25"L x 6"W x 5.25"T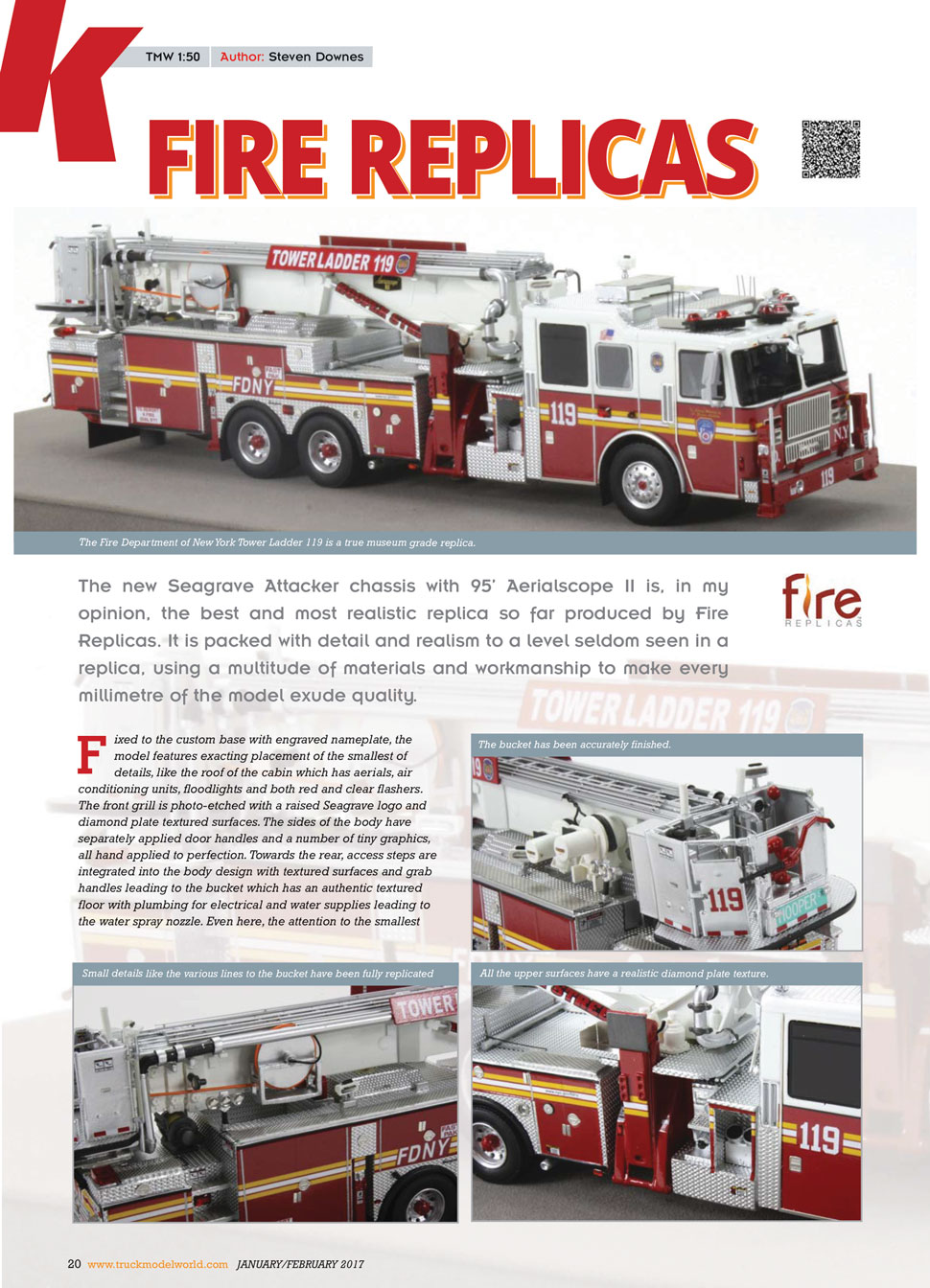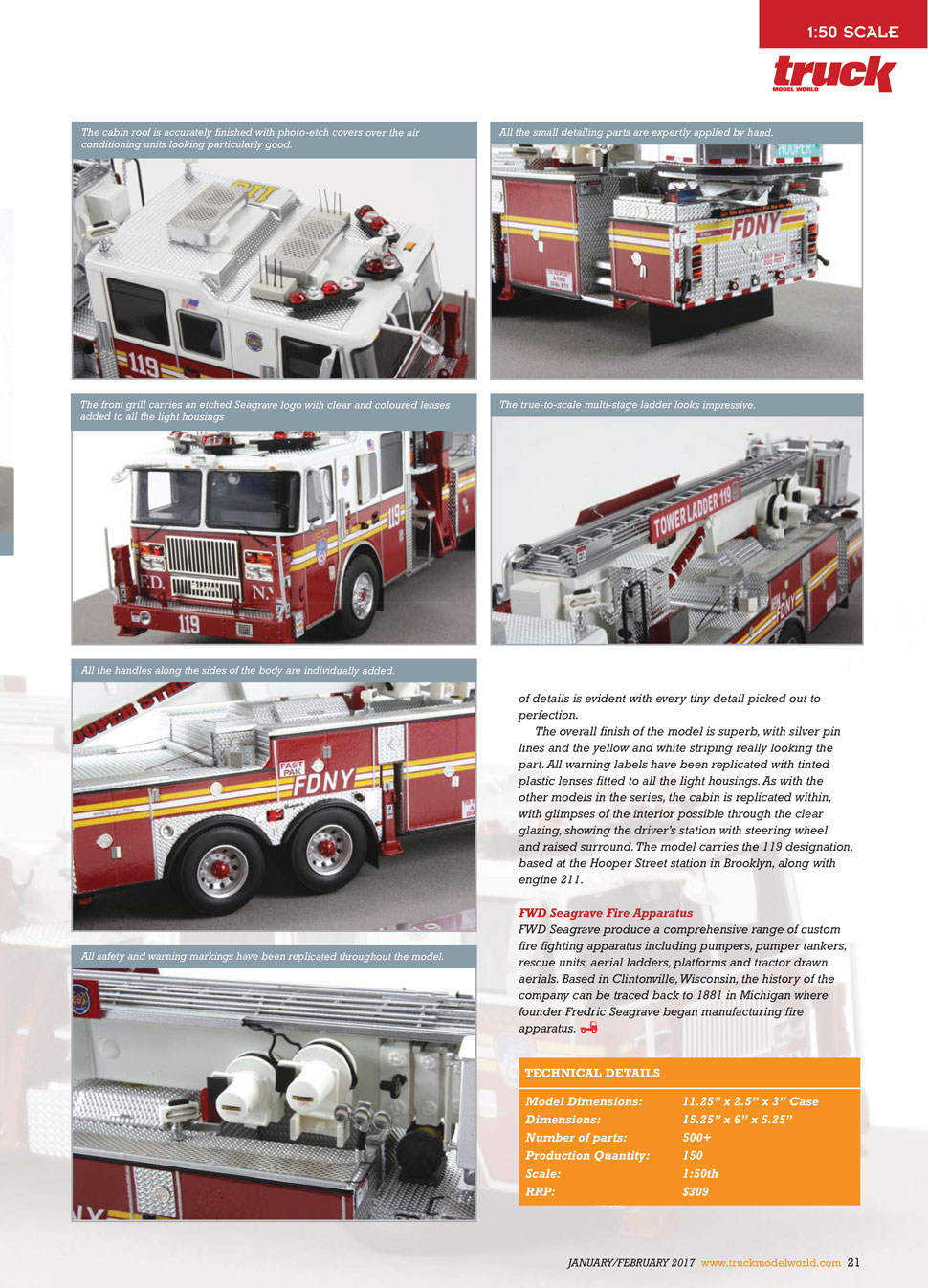 More About the Scale Model
This FDNY Tower Ladder 119, a 95' Aerialscope II on an Attacker chassis is a museum grade replica. Like all Fire Replicas models, every detail is modeled to perfection and with razor sharp precision. The replica features the specific department configuration and graphics, leaving no detail overlooked. The display case is custom manufactured with high quality acrylic and resin. The stainless steel etched plate features the department and truck name, and department seal. This replica is a treasure to be displayed and admired and is in no way a toy.
About Seagrave Fire Apparatus
The FWD Seagrave team is dedicated to providing highly engineered heavy duty vehicles, cabs, chassis, bodies, aerial ladders and other products with superior lifetime value for our customers by concentrating on innovation and continuous process improvements.
As a single source manufacturer, we integrate design, construction and assembly under one roof. The result is an apparatus built for best lifetime value that operates under the most severe conditions. One of our unique manufacturing distinctions is our life-saving "safety cage" cab design, which has earned us an unmatched reputation for dependability under the toughest of conditions. The cab's cage design is the hallmark of occupant safety.
Magazine Review
As seen in Truck Model World Magazine, U.K. - January/February 2017, by Steven Downes. www.truckmodelworld.com
The new Seagrave Attacker chassis with 95' Aerialscope II is, in my opinion, the best and most realistic replica so far produced by Fire Replicas. It is packed with detail and realism to a level seldom seen in a replica, using a multitude of materials and workmanship to make every millimetre of the model exude quality.
Fixed to the custom base with engraved nameplate, the model features exacting placement of the smallest of details, like the roof of the cabin which has aerials, air conditioning units, floodlights and both red and clear flashers. The front grill is photo-etched with a raised Seagrave logo and diamond plate textured surfaces. The sides of the body have separately applied door handles and a number of tiny graphics, all hand applied to perfection. Towards the rear, access steps are integrated into the body design with textured surfaces and grab handles leading to the bucket which has an authentic textured floor with plumbing for electrical and water supplies leading to the water spray nozzle. Even here, the attention to the smallest of details is evident with every tiny detail picked out to perfection.
The overall finish of the model is superb, with silver pin lines and the yellow and white striping really looking the part. All warning labels have been replicated with tinted plastic lenses fitted to all the light housings. As with the other models in the series, the cabin is replicated within, with glimpses of the interior possible through the clear glazing, showing the driver's station with steering wheel and raised surround. The model carries the 119 designation, based at the Hooper Street station in Brooklyn, along with engine 211.
Safety Warning
This is not a toy and not suitable for children under the age of 14. This highly detailed scale model contains small, intricate pieces that may present a choking hazard.




As a European collector, buying an American Firetruck with such amazing details was a must-have! I am totally amazed by all the small pieces that make of this model a real masterpiece!

It is now one of my very best die cast fire models in my collection.

If i lived in the usa i would buy more of this companies models but the exchange rate /post adds to the price.
Very please i ordered this one off. The case /base is a plus too. Now that they are making the older fire trucks i may pay the extra to get one in future. Happy new year for 2017 to all.

I have many replicas and the fact that there are no operating parts on this replica brings down its rating. for the money it's not worth it. Code 3 made much better replicas that have moving parts and more detailed for less money. Simple details like the Stokes basket, water jug and tools not present. I also work at the house with L119

This model is awesome, great details, fantastic look and attention to details.
Other models look like toys, it is a museum quality piece.
It is a great addition to my collection of fire trucks and one that you can look at for a long time.
Great job.

FDNY Tower Ladder 119 is PERFECT

my son works on TL119, and he was quite impressed with the level of detail. I picked this up for him to add to the FDNY 150 truck, and also for myself. Your products are amazing. Great work !!!

Like reviewing the actual rig at Clintonville, Wisconsin

Amazing detail from the eight antennas, to the miniature chain at the turntable pedestal. There is no photo that can compare to actually seeing this miniature model in person. The photo etching is unbelievable. I'm glad I bought FDNY Tower Ladder 119. It looks great next to Miami Dade's Engine 7 Pierce.

The pictures do not do this model any justice. The color and the graphics are spot on and the detail is incredible. It makes any model made by previous manufacturers look like nothing more than a toy. The care that is taken in packaging it for shipping along with the hand written note that accompanies it all show the pride that Fire Replicas has in their products and the appreciation they have for their customers. If you're an FDNY fan, get this one before it sells out. You won't regret it.

FDNY TOWER LADDER 119,THE REAL TRUCK IN A MINIATURE VERSION.

FROM THE ADVERTISING, I WAS EXPECTING A FINE PRODUCT, BUT UPON OPENING THE BOX IT ARRIVED IN, I WAS AWED. THE DETAIL WAS AMAZING AND FAR MORE THEN I HAD HOPED FOR. CHECKING WITH MY PHOTOS ITS LIKE SOMEONE HAD TAKEN THE ACTUAL RIG AND REDUCED TO 1/50TH SIZE. RIGHT FROM THE OPENING OF THE HUGE BOX, I WAS IMPRESSED WITH THE PACKING. A LOT OF CONSIDERATION WENT INTO THE PACKING FOR SHIPPING. I HAVE BEEN COLLECTING FOR OVER 55 YEARS AND THIS IS ONE OF THE BEST MODELS IN MY COLLECTION. I AM PROUD TO OWN IT. I WILL BE WATCHING CLOSELY FOR FUTURE RELEASES.

FDNY TL119 and her other FDNY Seagrave Fire Replica sisters (TL9 and TL58) were the most anticipated models I have ever ordered. The reality of receiving them was even better than any of my expectations. The models are absolutely stunning in every way. Specifically for this model: the colors are an exact match to FDNY red and the graphics are spot on. The overall fit and finish is excellent. The use of photo etch (particularly on the roof mounted AC units) is realistic and spectacular. The diamond plate is true to scale and looks absolutely right. The plumbing and ladders for the tower are awesome and the detail inside of the bucket are accurate and crisply defined. The tire/wheel combination are faithfully modeled. This model is well worth the price and you even receive a fantastic professional-grade acrylic case with an etched nameplate. This model is a Grand Slam and I would rate it 100 out of 100!