"Never Forget"...FDNY Squad Co. 61 museum grade replica.
From the 9/11 Commemorative graphics to the stainless steel "61" on the grill, this 1:50 scale replica emulates the real 2013 Seagrave Attacker® HD Squad 61. Our goal with each release is that our customers may notice something new each time they view the model.
Authentic details replicated using over 450 hand-crafted parts.
Each individually designed, cast or fabricated part is hand-assembled using tweezers, glue-filled syringes, and a steady hand. Materials are chosen to replicate each feature accurately and include stainless steel, high-def resin, brass, wire, rubber and other composites.


Razor sharp, stainless steel precision.
Squad 61 features impeccable detailing and true-to-scale parts that only stainless steel can provide. Fire Replicas has ushered in a new standard in 1:50 scale modeling that is sure to impress the most discriminating collectors.


Extremely limited production for lasting value.
Only 150 units of Squad 61 have been produced. Fire Replicas are designed with the elite collector in mind, and manufactured in limited quantities to enhance long-term value.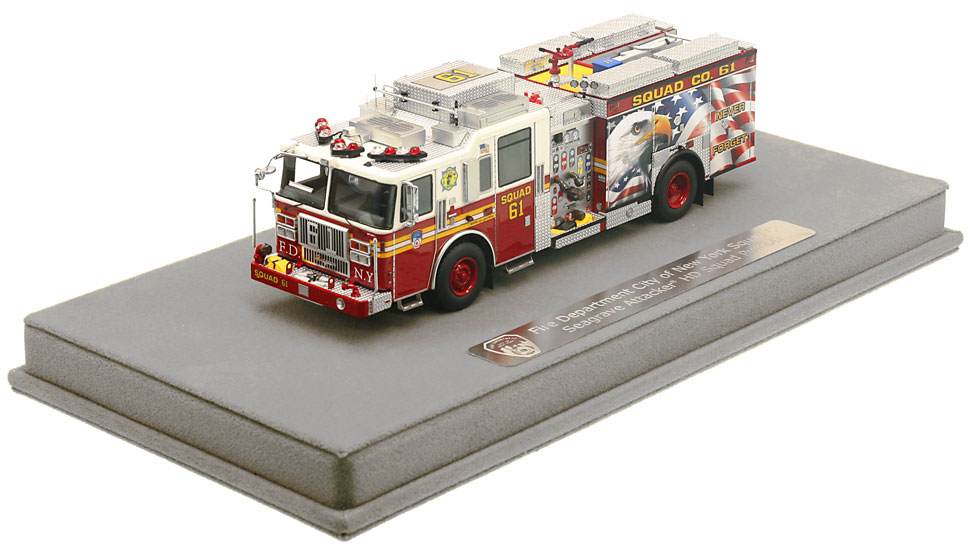 FDNY...preserved with pride and professionalism.
The FDNY Squad 61 measures 7.75"L x 2.5"W x 2.75"T and is securely displayed inside a custom case. The case dimensions are 12"L x 6"W x 5.25"T and the platform includes an etched stainless steel nameplate with the FDNY seal, department and truck name.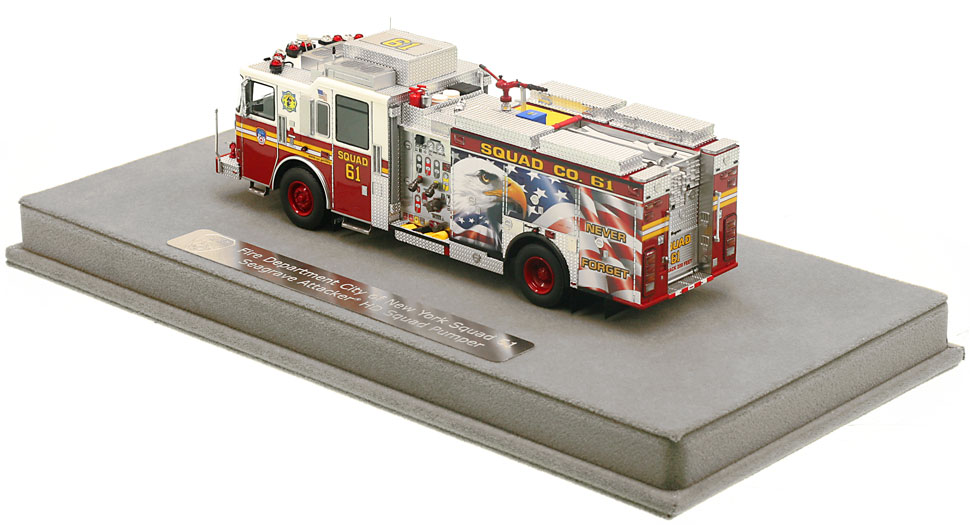 FDNY Squad 61 Scale Model Specs
Scale: 1:50

Production Quantity: 150

Multi-materials including High Def Resin, stainless steel photo etch metal, wire, rubber and other composites.
Mounted inside high quality, custom display case featuring etched stainless steel I.D. nameplate.
Model Dimensions: 7.75"L x 2.5"W x 2.75"T
Display Case Dimensions: 12"L x 6"W x 5.25"T
More About the Scale Model
This FDNY Squad 61 scale model is a museum grade replica of the FDNY Seagrave Attacker HD® Squad Pumper. Like all Fire Replicas models, every detail is modeled to perfection and with razor sharp precision. The replica features the specific department configuration and graphics, leaving no detail overlooked. The display case is custom manufactured with high quality acrylic and resin. The stainless steel etched plate features the department and truck name, and department seal. This replica is a treasure to be displayed and admired and is in no way a toy.
Safety Warning
This is not a toy and not suitable for children under the age of 14. This highly detailed scale model contains small, intricate pieces that may present a choking hazard.
All New York City logos and marks depicted herein are the property of New York City and may not be reproduced without written consent. ©2017. City of New York. All rights reserved.


Wow!!!! The latest addition to my Fire Replicas Collection and just as you think the bar has gone as high as it is going to go, it goes higher. A truly stunning model, unbelievably detailed and now taking pride of place in my display.

Great job of the whole team of Fire Replicas. The Squad 61 FDNY is beautiful.

Beautiful.
Stunning.
Fantastic.
to be cont. in your own thesaurus.....
The Sqd 61 replica is up to/exceeds FireReplicas customary standards. The attention to detail, fidelity of scale is tremendous.
Congratulations and Thanks.

fabulous model with a perfectly reproduced decoration

the squad model that any fan of FDNY must own

Let's hope now that we will also have the reproduction of the ladder 10

This model is truly a piece of art. The detail and accuracy to the actual rig is utterly amazing. There truly aren't too many words that can be used to describe this masterpiece. I will definitely be purchasing more rigs in the future. Hope to see some LA County rigs one day!

Absolutely amazing detail and craftsmanship. Fire Replicas has done their homework and it shows. I highly recommend them and they are more than worth the investment.

as expected very satisfied with the quality of the truck will be already purchasing more apparatus

My favorite things about engines is they have more details that you can see, this rig tops a lot of them . The Squad has several additional area's that had to be replicated, Fire Replicas is spot on. I picked this one because of the never forget. The model is very busy with details from the cab markings to the mirrors. The rear is very busy with the hose bed details and the many lights. Looking at it from the top all of the extra compartments, crows nest, and the water fill and hose bend have precise shapes and curves. Awesome job Fire Replicas!!