Fire Department City of New York Rescue 3 Specifications




The first museum grade FDNY Rescue 3...featuring over 600 hand-crafted parts.
Each individually designed, cast or fabricated part is hand-assembled using tweezers, glue-filled syringes, and a steady hand. Materials are chosen to replicate each feature accurately and include stainless steel, high-def resin, brass, wire, rubber and other composites.



Genuinely Big Blue.
From the design to the graphics, this 1:50 scale replica emulates Rescue 3's Ferrara Heavy Rescue. Our goal with each release is that our customers may notice something new each time they view the model.


Razor sharp, stainless steel precision.
Impeccable detailing and true-to-scale parts that only stainless steel can provide. FDNY Rescue 3 ushers in a new standard in 1:50 scale modeling that is sure to impress the most discriminating collectors.


Limited in production for enhanced value.
Only 200 units of Rescue 3 have been produced. Fire Replicas are designed with the elite collector in mind, and manufactured in limited quantities to enhance future value.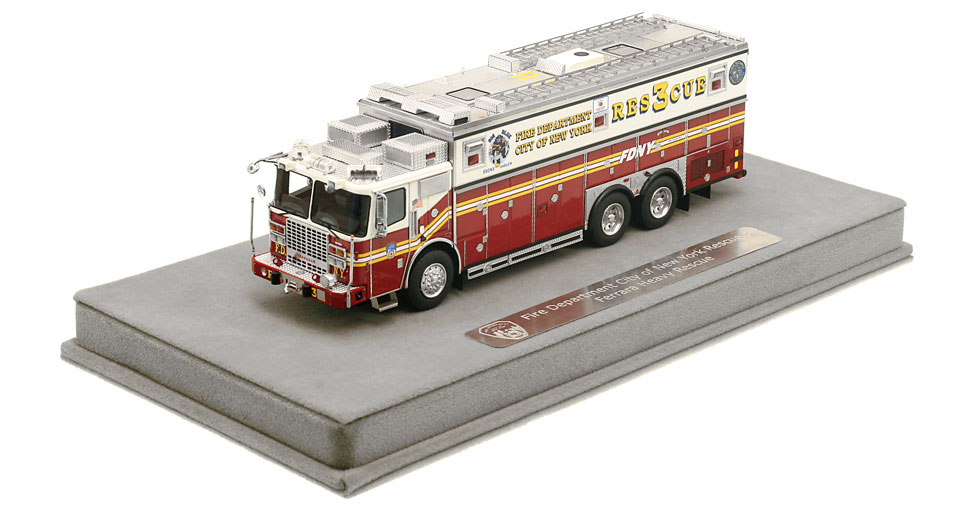 FDNY pride, fully preserved.
The FDNY Rescue 3 measures 9"L x 2.5"W x 3"T and is securely displayed inside a custom case. The case dimensions are 12"L x 6"W x 5.25"T and the platform includes an etched stainless steel nameplate with the FDNY seal, department and truck name.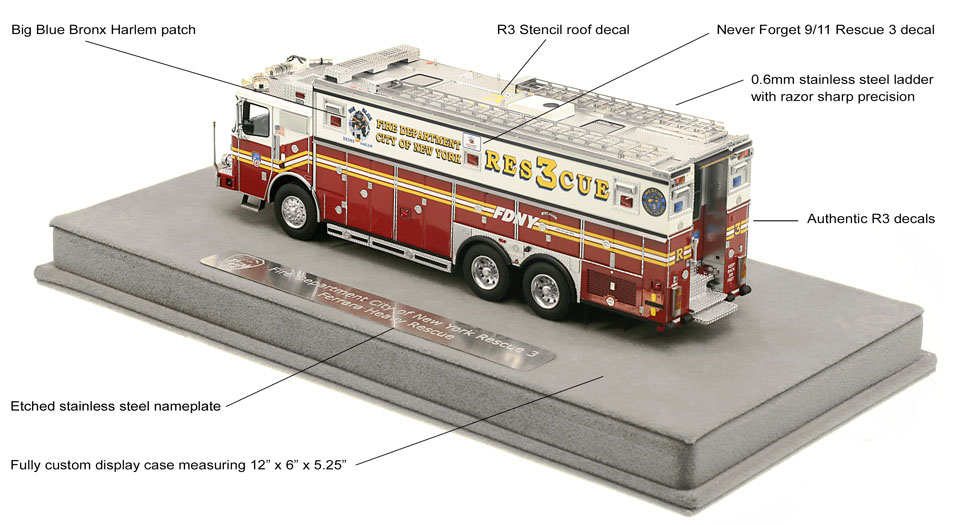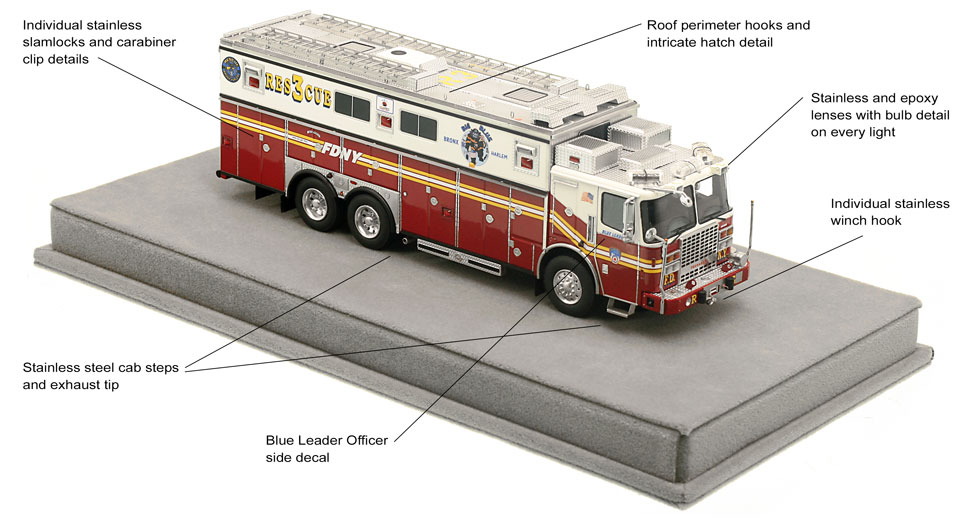 FDNY Rescue 3 Scale Model Specs
Scale: 1:50

Production Quantity: 200

Multi-materials including High Def Resin, stainless steel photo etch metal, wire, rubber and other composites.
Mounted inside high quality, custom display case featuring etched stainless steel I.D. nameplate.
Model Dimensions: 9"L x 2.5"W x 3"T
Display Case Dimensions: 12"L x 6"W x 5.25"T
More About the Scale Model
This FDNY Rescue 3 scale model is a museum grade replica. Like all Fire Replicas models, every detail is modeled to perfection and with razor sharp precision. The replica features the specific department configuration and graphics, leaving no detail overlooked. The display case is custom manufactured with high quality acrylic and resin. The stainless steel etched plate features the department and truck name, and department seal. This replica is a treasure to be displayed and admired and is in no way a toy.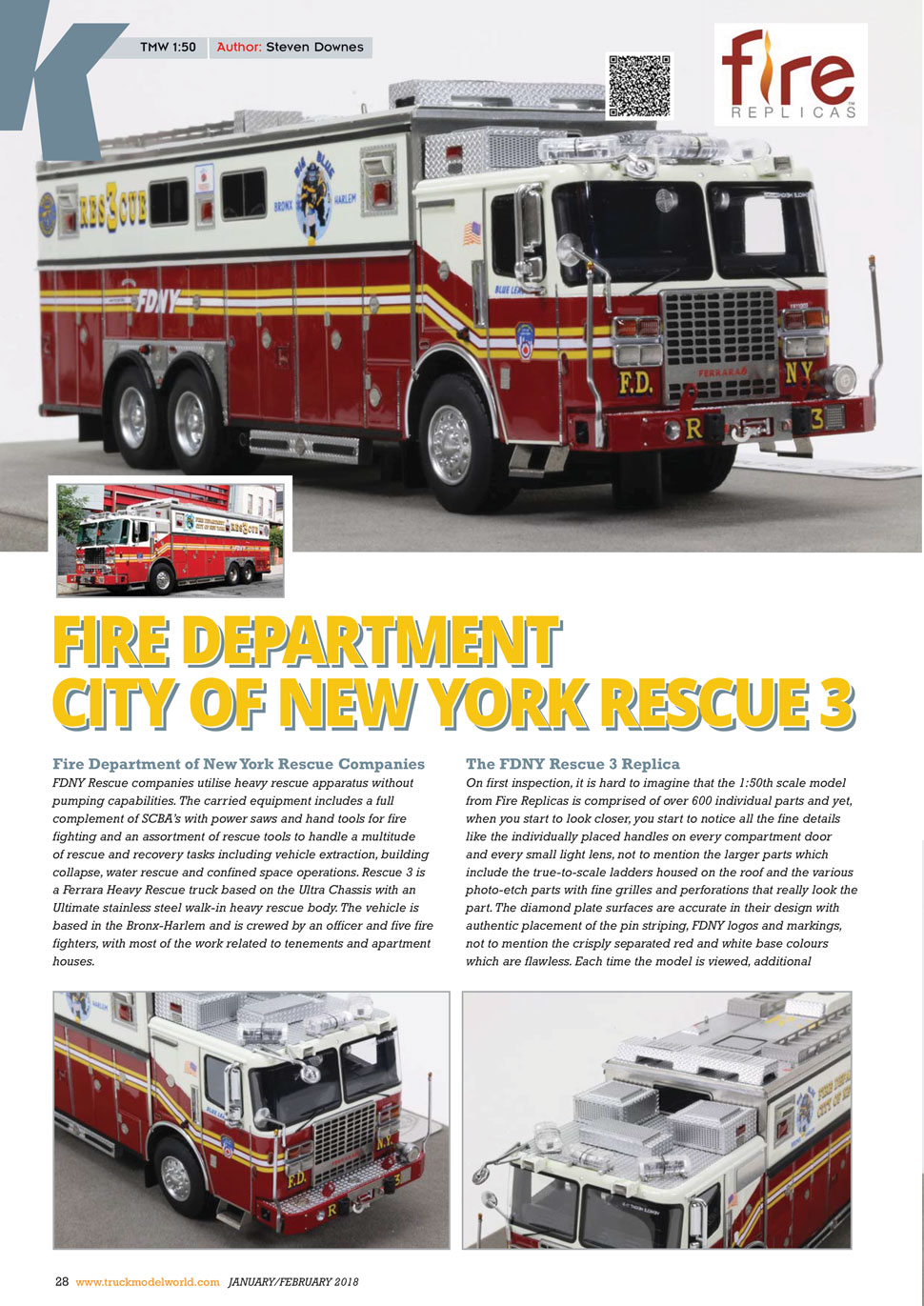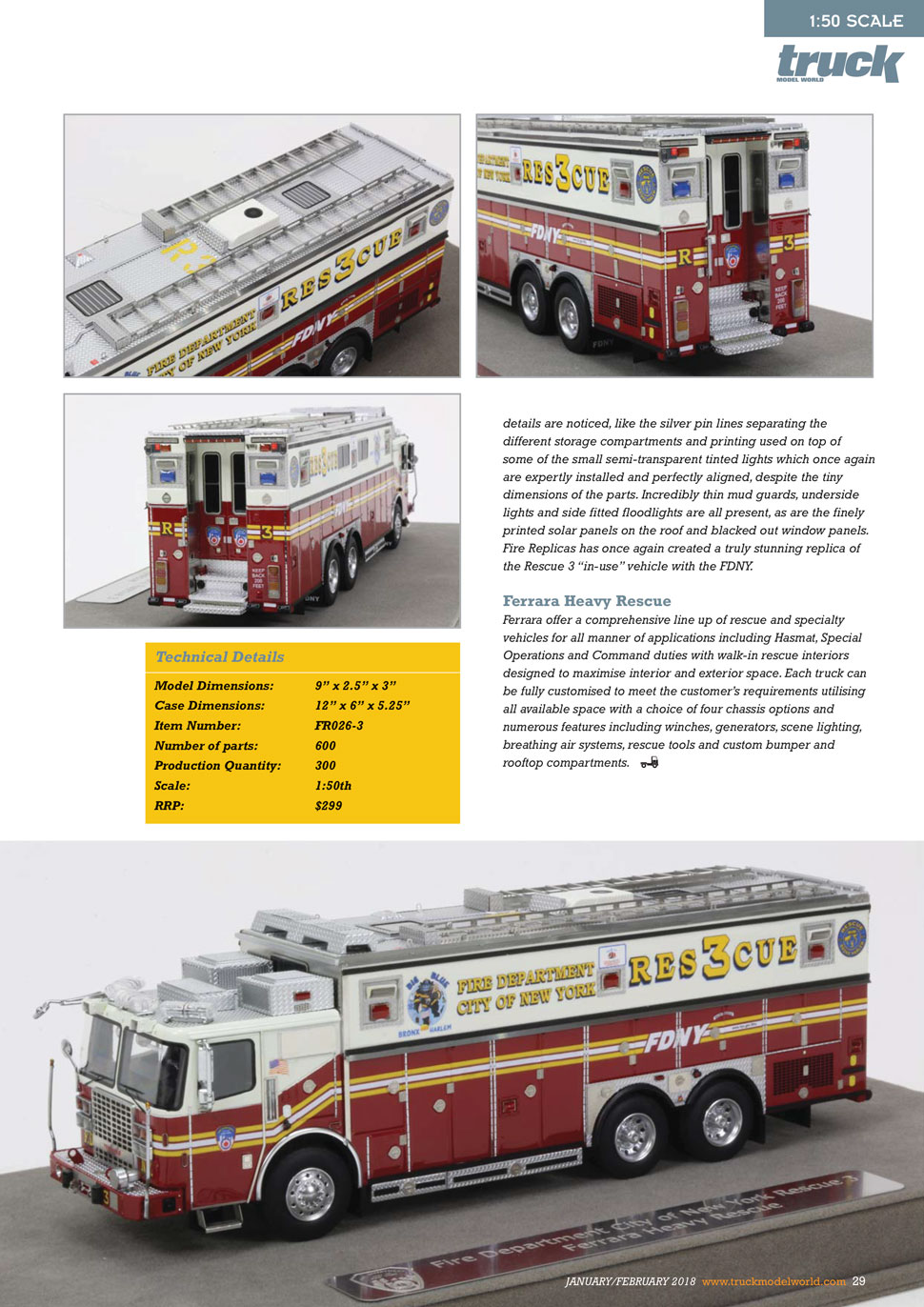 Safety Warning
This is not a toy and not suitable for children under the age of 14. This highly detailed scale model contains small, intricate pieces that may present a choking hazard.
All New York City logos and marks depicted herein are the property of New York City and may not be reproduced without written consent. ©2017. City of New York. All rights reserved.


Another fantastic model. From the paint to the graphics and detail, it's stunning!

Received my FDNY Rescue 3 and well worth the wait! Again the attention to every possible detail on this replica is of amazing level quality. The model looks as though you can just climb aboard and roar down the street's of Brooklyn with the firefighter's assigned to the company. No stone has been left unturned with the exactness of this replica to the real rig. This level of detail & quality shows the model to be of a 100% life like duplication in a 1:50 scale diecast replica. Fire Replica's
continue's to produce amazing "museum" quality fire apparatus replica models! Thank you again Fire Replica's for giving us such high quality museum like fire apparatus replicas! look forward to more FDNY apparatus replica's in 2018.

This model is a masterpiece. It will become a center point in my collection. I cannot find a single missing detail on the model. I believe if photographed n the right setting it would be tough to tell this form the real truck.

This is not my first nor likely my last Fire Replica but it will be tough to beat out as my favorite.

Very nice model, well executed & packaged

Perfect to the smallest details. I am personally familiar with the apparatus this model is based upon. This model is an absolutely faithful reproduction.

FDNY Rescue 3 " Another Home Run From Fire Replicas"

I have to say that with all the replicas I have reviewed for TT&C Magazine, I have never seen such well scaled details as with the Fire Replica models. Comparing Fire Replicas Rescue 3 to the real truck is where you will see the accurate attention to detail. A couple of things that stood out to me were the realistic looking compartment hinges and latches along with the spot on graphics. (Notice the vehicle height lettering on the windshield) Fit and finish is flawless. Museum quality at its finest.

I just received my Rescue 3 model. Excellent job!!!! Your attention to detail is outstanding! Being a member of Rescue 3 for over 15 years this is by far the best model ever made of any of our rigs

FDNY Rescue 3 - "Big Blue" is perfect!!!

Another World beating model from Fire Replicas. Any FDNY or Rescue unit is great. Combine the two with Fire Replica's attention to detail and you have the perfect model. I cannot say enough about these Ferrara rescue models - the fit, finish and look of these models are spot on. Add in unit specific details for each rig, true to scale roof mounted ladders, accurate lighting package, excellent display case and many other features and we may have the best scale fire rigs ever produced! Of course you can say that about most any of the Fire Replicas released to date. They keep getting better!