The first museum grade FDNY Rescue 1...featuring over 600 hand-crafted parts.
Each individually designed, cast or fabricated part is hand-assembled using tweezers, glue-filled syringes, and a steady hand. Materials are chosen to replicate each feature accurately and include stainless steel, high-def resin, brass, wire, rubber and other composites.



Authentic Manhattan muscle.
From the design to the graphics, this 1:50 scale replica emulates the real Ferrara Heavy Rescue. Our goal with each release is that our customers may notice something new each time they view the model.


Razor sharp, stainless steel precision.
Impeccable detailing and true-to-scale parts that only stainless steel can provide. FDNY Rescue 1 ushers in a new standard in 1:50 scale modeling that is sure to impress the most discriminating collectors.


Limited in production for Outstanding value.
A maximum of 300 units of Rescue 1 will be produced. Fire Replicas are designed with the elite collector in mind, and manufactured in limited quantities to enhance future value.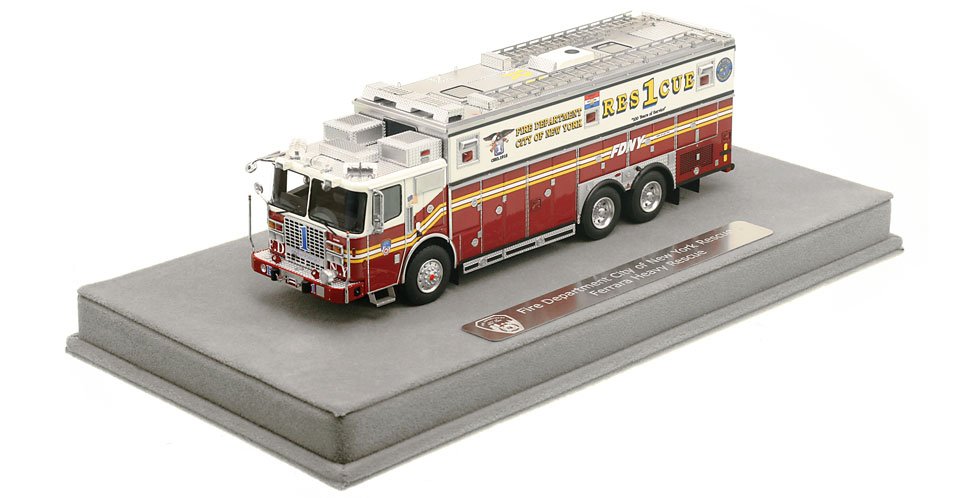 FDNY pride, fully preserved.
The FDNY Rescue 1 measures 9"L x 2.5"W x 3"T and is securely displayed inside a custom case. The case dimensions are 12"L x 6"W x 5.25"T and the platform includes an etched stainless steel nameplate with the FDNY seal, department and truck name.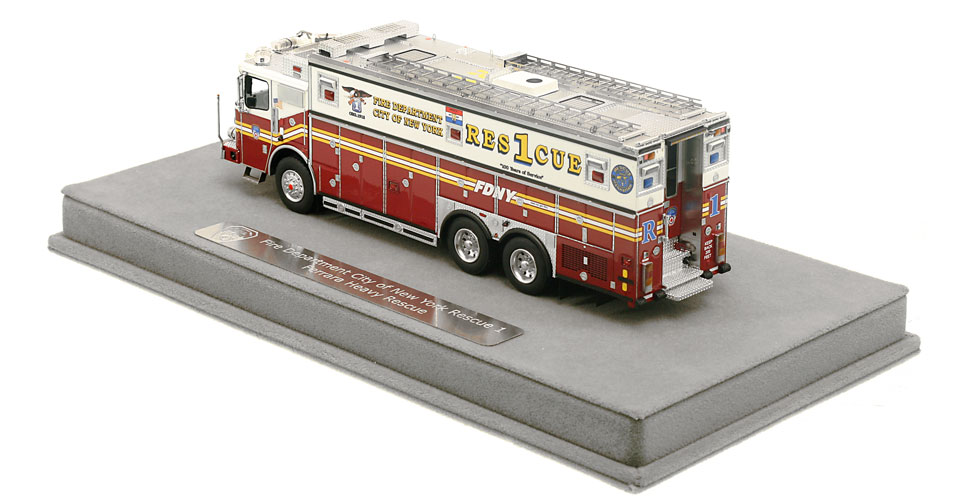 FDNY Rescue 1 Scale Model Specs
Scale: 1:50

Production Quantity: Maximum of 300

Multi-materials including High Def Resin, stainless steel photo etch metal, wire, rubber and other composites.
Mounted inside high quality, custom display case featuring etched stainless steel I.D. nameplate.
Model Dimensions: 9"L x 2.5"W x 3"T
Display Case Dimensions: 12"L x 6"W x 5.25"T
More About the Scale Model
This FDNY Rescue 1 scale model is a museum grade replica. Like all Fire Replicas models, every detail is modeled to perfection and with razor sharp precision. The replica features the specific department configuration and graphics, leaving no detail overlooked. The display case is custom manufactured with high quality acrylic and resin. The stainless steel etched plate features the department and truck name, and department seal. This replica is a treasure to be displayed and admired and is in no way a toy.
Safety Warning
This is not a toy and not suitable for children under the age of 14. This highly detailed scale model contains small, intricate pieces that may present a choking hazard.
All New York City logos and marks depicted herein are the property of New York City and may not be reproduced without written consent. ©2017. City of New York. All rights reserved.


They just keep cranking these beauties out !!!!!!!!!!! Beautifully detailed model !!!! Another Great addition to my model Fire Engine Collection !!!!!!!!!!!!

At the risk of sounding like a broken record, here's yet another absolute winner from Nic and Fire Replicas. They have captured every detail of the real one, and these rescues are a must-have for any FDNY fan.

This is an absolutely amazing scale model of Rescue-1 "Outstanding!" I look forward to each of the Fire Replicas I have added. Rescue-1 is truly a great replica!

FDNY Rescue 1 & Milwaukee Rescue 2

Like all your products, the accuracy of the reproductions is superb. I have a particular "thing" for specialty rigs, such as rescue vehicles, so the Milwaukee & New York trucks get an extra look from me whenever I walk by. And they are among the 100+ vehicles in my collection.

A really great model super and accurate detail.

Very happy with Rescue 1. This is my first Fire Replicas model and I must say I am very impressed!

Another fantastic replica! Great customer service Communications regarding the customs delay, thank you Nick for another great product and your customer service.

Very beautiful model.
Many details.
I love FDNY Rescue Co. 1.
I love this model.

Thanks Nicholas and Thanks Fire Replicas.

A truly eautiful rig. Nothing was overlooked. I currently have 2 Miami-Dade Rosenbauers, the pink Pierce, CFD E117 and FDNY R1...and coming soon FDNY Squad 61 and CFD Tower Ladder 14 .