FDNY Ladder 26 scale model specifications

The first museum grade Ladder 26 for The Fire Factory.
Each individually designed, cast or fabricated part is hand-assembled using tweezers, glue-filled syringes, and a steady hand. Materials are chosen to replicate each feature accurately and include stainless steel, high-def resin, brass, wire, rubber and other composites.



Authentic to Ladder 26 using over 625 hand-crafted parts.
From the authentic Fire Factory decals to the eagle on the grill, this 1:50 scale replica emulates the real FDNY Ladder 26. Our goal with each release is that our customers may notice something new each time they view the model.


0.6mm stainless steel ladder offers razor sharp precision.
Harlem's Ladder 26 features impeccable detailing and true-to-scale parts that only stainless steel can provide. Fire Replicas has ushered in a new standard in 1:50 scale modeling that is sure to impress the most discriminating collectors.


Production limited to only 125 units.
Only 125 units of FDNY Ladder 26 have been produced. Fire Replicas are designed with the elite collector in mind, and manufactured in limited quantities to enhance long-term value.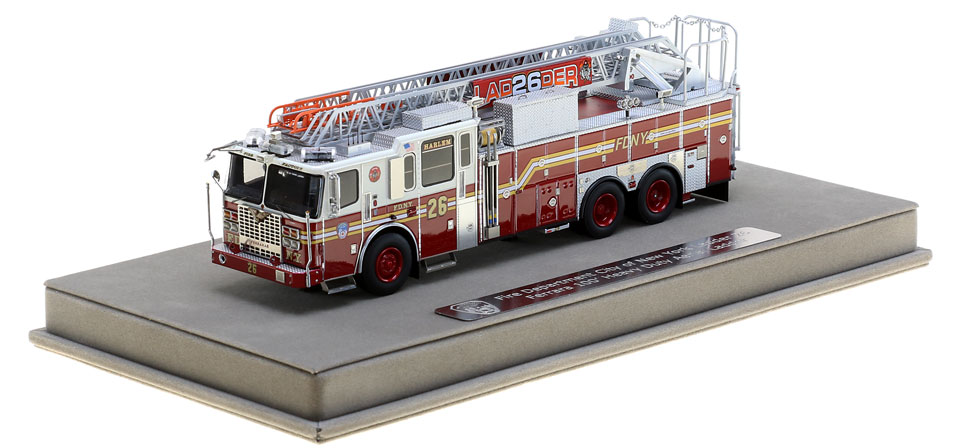 FDNY's Ladder 26...preserved with pride and professionalism.
The FDNY Ladder 26 replica measures 9"L x 2.5"W x 3"T and is securely displayed inside a custom case. The case dimensions are 12"L x 6"W x 5.25"T and the platform includes an etched stainless steel nameplate with the FDNY seal, department and truck name.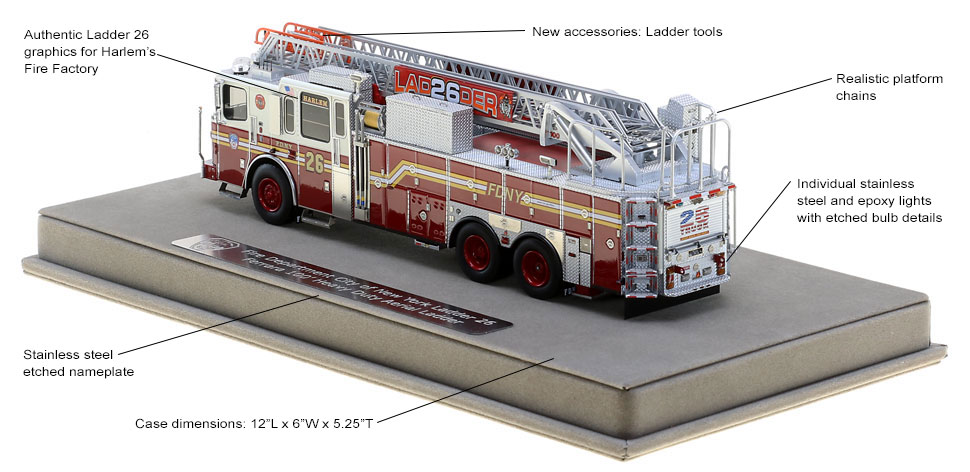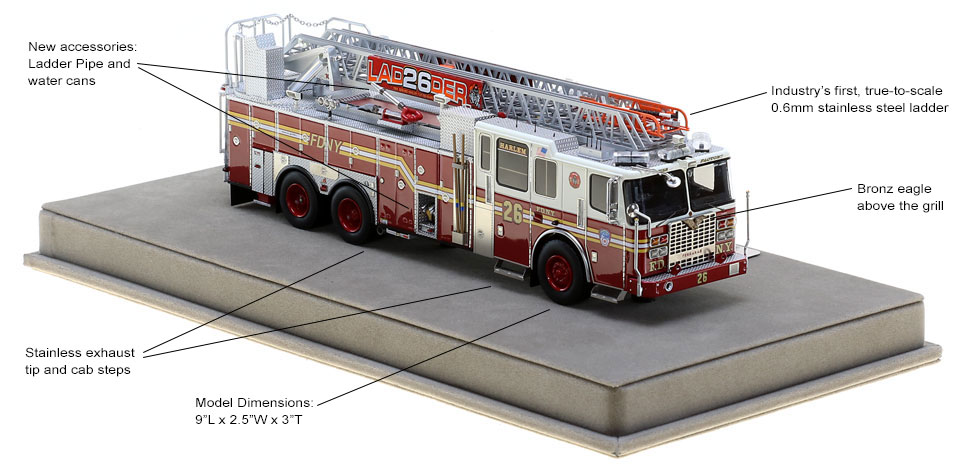 FDNY Ferrara 100' Ladder 26 Scale Model Specs
Scale: 1:50

Production Quantity: 125

Multi-materials including High Def Resin, stainless steel photo etch metal, wire, rubber and other composites.
Mounted inside high quality, custom display case featuring etched stainless steel I.D. nameplate.
Model Dimensions: 9"L x 2.5"W x 3"T
Display Case Dimensions: 12"L x 6"W x 5.25"T
More About the Scale Model
This FDNY Ladder 26 scale model is a museum grade replica of the FDNY Ferrara 100' Heavy Duty Aerial Ladder. Like all Fire Replicas models, every detail is modeled to perfection and with razor sharp precision. The replica features the specific department configuration and graphics, leaving no detail overlooked. The display case is custom manufactured with high quality acrylic and resin. The stainless steel etched plate features the department and truck name, and department seal. This replica is a treasure to be displayed and admired and is in no way a toy.
Safety Warning
This is not a toy and not suitable for children under the age of 14. This highly detailed scale model contains small, intricate pieces that may present a choking hazard.
All New York City logos and marks depicted herein are the property of New York City and may not be reproduced without written consent. ©2018. City of New York. All rights reserved.
Wow what a beautiful model

Pure beauty is what I saw when I opened my Ladder 26, the details and markings just make this truck pop. This is being displayed with Engine 58, I am so glad I got the station set. Keep up the outstanding work.

Awesome!

This model is a truly superb example of the level of excellent detail we've come to expect from Fire Replicas, I sat taking in all the detail & there is so much to take in. From the slam locks to the excellent & almost paper thin ladder which looks so realistic & the paintwork & crisp decals it's a true work of art.

Fire Replicas just keep getting better! Attention to the smallest detail is not overlooked. Awesome in every way. The graphics are accurate as well as the other materials used. A very detailed and true to life model! Two thumbs up!

Fantastic! Worth every penny. Fire Replicas is the best. FDNY Ladder 26 look so realistic.

Another great model with tons of detail. Five stars isn't a high enough rating!

This truck has awesome detail, as all Fire Replicas have. Great work!

FDNY Rearmount Ladder Trucks

There aren't enough superlatives in the English language to effectively describe the outstanding product that Fire Replicas has once again produced in their recent offering of the FDNY rearmount ladders. Avid collectors should not hesitate to purchase these offerings before they are out of stock. The quality and attention to detail is so evident in every aspect of this model. My Fire Replicas collection has never disappointed and they are the foremost units in my collection.

We finally are getting our FDNY line Ferrara 100' rear-mount ladders! It is has been around two years since Fire Replicas released the first Ferrara rear-mount in the form of the 150th Commemorative unit. This is a great model, but I was a lot more interested in regular line trucks. Well we finally have them (or at least will in about three weeks) and they are worth the wait. The new Ferrara heavy duty ladders are a major improvement over the previous model (which was very nice in its own regard). Fire Replicas did not simply modify the previous model, they started from scratch and produced a completely new model, including the body, ladder and most every other component! The results have been fantastic and the new Ferrara's are loaded with detail. Over 600 parts are hand assembled to create these museum quality FDNY masterpieces. The "Fire Factory's" Ladder 26 graphics are faithfully reproduced and will go great with the previously released Engine 58. The headlights, turn signals, scene and emergency lighting really stand out with this model. Fire Replicas has effectively used stainless steel etching to recreate the grill, steps, compartment hinges, air conditioning units and many dozens of other components. The unit is also loaded with tools, extinguishers and other equipment to add to the realistic appearance. The fit, finish and graphics are second to none. This will be a quick sell-out (only 125 units produced!), I wouldn't wait too long to buy one! We waited two years, received a ton of improvements and the price is lower than the original!