Fire Department City of New York Ladder 10 scale model specifications

The first museum grade replica for Liberty Street's FDNY Ten Truck.
Each individually designed, cast or fabricated part is hand-assembled using tweezers, glue-filled syringes, and a steady hand. Materials are chosen to replicate each feature accurately and include stainless steel, high-def resin, brass, wire, rubber and other composites.



Authentic to Ladder 10 using over 625 hand-crafted parts.
From the patriotic wrap and 9/11 memorial decals, to the steel cab steps and door hinges, this 1:50 scale replica emulates the real FDNY Ladder 10. Our goal with each release is that our customers may notice something new each time they view the model.


0.6mm stainless steel ladder offers razor sharp precision.
Manhattan's Ten Truck features impeccable detailing and true-to-scale parts that only stainless steel can provide. Fire Replicas has ushered in a new standard in 1:50 scale modeling that is sure to impress the most discriminating collectors.


Extremely limited production for lasting value.
Only 250 units of Ten Truck have been produced. Fire Replicas are designed with the elite collector in mind, and manufactured in limited quantities to enhance long-term value.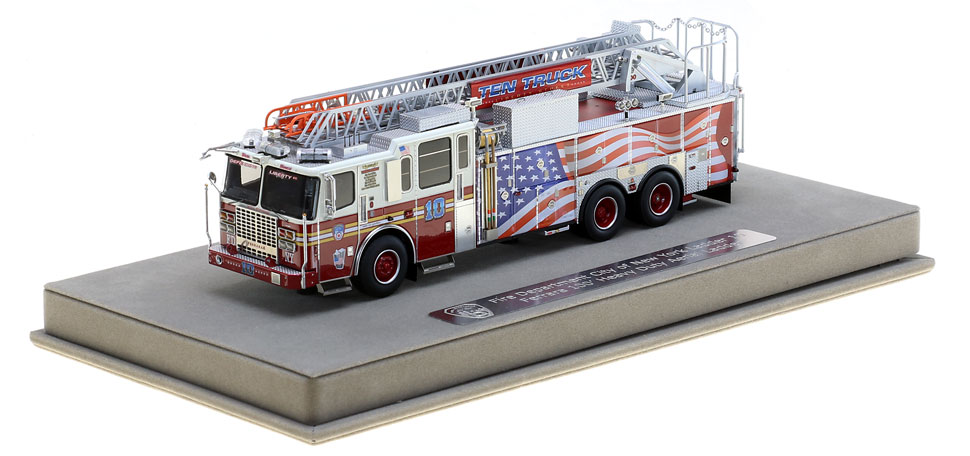 FDNY's Ten Truck...preserved with pride and professionalism.
The FDNY Ladder 10 replica measures 9"L x 2.5"W x 3"T and is securely displayed inside a custom case. The case dimensions are 12"L x 6"W x 5.25"T and the platform includes an etched stainless steel nameplate with the FDNY seal, department and truck name.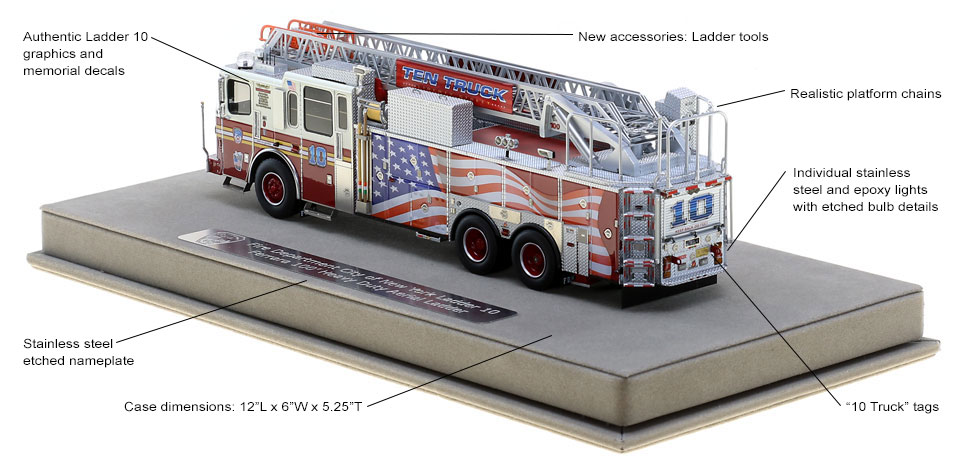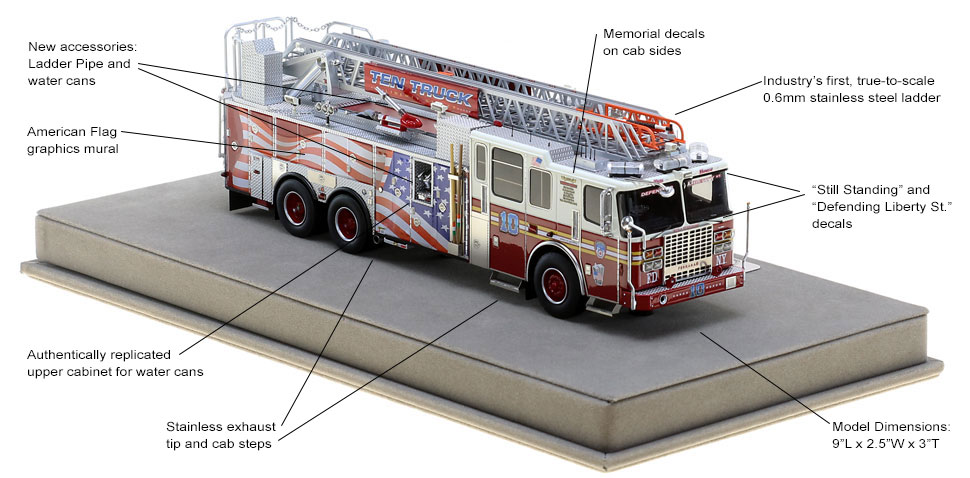 FDNY Ferrara 100' Ladder 10 Scale Model Specs
Scale: 1:50

Production Quantity: 250

Multi-materials including High Def Resin, stainless steel photo etch metal, wire, rubber and other composites.
Mounted inside high quality, custom display case featuring etched stainless steel I.D. nameplate.
Model Dimensions: 9"L x 2.5"W x 3"T
Display Case Dimensions: 12"L x 6"W x 5.25"T
More About the Scale Model
This FDNY Ladder 10 scale model is a museum grade replica of the FDNY Ferrara 100' Heavy Duty Aerial Ladder. Like all Fire Replicas models, every detail is modeled to perfection and with razor sharp precision. The replica features the specific department configuration and graphics, leaving no detail overlooked. The display case is custom manufactured with high quality acrylic and resin. The stainless steel etched plate features the department and truck name, and department seal. This replica is a treasure to be displayed and admired and is in no way a toy.
Safety Warning
This is not a toy and not suitable for children under the age of 14. This highly detailed scale model contains small, intricate pieces that may present a choking hazard.
All New York City logos and marks depicted herein are the property of New York City and may not be reproduced without written consent. ©2018. City of New York. All rights reserved.


Excellent piece of equipment! Ladder 10 is detailed and full of features not seen on other Ladders trucks. Very proud to have this beautiful show piece truck in my collection. Although expensive, this truck was well worth the price. Collectors must have Ladder 10 in their New York collection. Great job Fire Replicas.

FDNY is always a hit. Ladder 10 Ferrara is so awesome. The emergency lights and turn signals look like LEDs. The graphics are beautiful. The equipment on the rig is detailed. The 3 emergency cab roof lights look real. You can go on about this Liberty Street beauty. It looks dead to photos of the actual rig.

Another amazing piece from fire replicas. The detail on the truck is amazing. Every piece is perfectly crafted and authentic. Truly amazing the amount of accuracy and detail goes into every aspect of the truck. You just can't go wrong if you are true collector getting this piece.

These trucks are pricey but the quality of the product and the care with which it is packed and sent, is beyond anything I have ever purchased before. Thank you.

This model was my favorite of the three. The details was perfect to the real truck. I previous order L10 and L26. Now, I ordered my second L10 as a gift for a relative.

Having seen and photographed Ladder 10 outside its quarters in Liberty Street I was eager to see my Fire Replica's model when it arrived.
As my twelfth model from Fire Replicas I knew that it would be equally as good as the models already in my collection and I wasn't disappointed. The model is simply stunning, right down to the perfectly created miniature Halligan tool mounted at the head of the ladder. The detail on the graphics is stunning and 100% accurate to Ten Truck in every way.


As a proud owner of this historic truck model in various scales from other companies, I was thrilled to purchase this updated model from Fire Replicas. I was not disappointed. The attention to detail is fantastic and the colors and graphics are top shelf. I look forward what's up next from Fire Replicas because they continue to impress and have brought the excitement back to collecting fire models!

Very impressive, I'm not from NY, but I have visited. It's the little details that make the difference.

Great model, outstanding detail!