Boston Fire Department E-One Engine 14 Scale Model Specifications


Hand-crafted using over 400 intricately detailed parts.
Each individually designed, cast or fabricated part is hand-assembled using tweezers, glue-filled syringes, and a steady hand. Materials are chosen to replicate each feature accurately and include stainless steel, high-def resin, brass, wire, rubber and other composites.

Roxbury's first museum grade replica.
Engine 14 is specific to Fort Dudley in Roxbury. We start from scratch on every project to ensure authenticity. Our goal with each release is to improve in every area...so that our customers will notice something new each time they view the model.


Museum grade precision.
When it comes to preserving a rig, it is critical to capture every detail with extreme precision. Countless hours of design, proofing, and improvements make this replica museum grade.

Extremely low production.
Production of Boston Engine 14 is limited to 125 units. Fire Replicas are designed with the elite collector in mind, and manufactured in limited quantities to enhance future value.

Fully custom presentation.
Engine 14 measures 7"L x 2.5"W x 2.5"T and is securely displayed inside a custom case. The case dimensions are 12"L x 6"W x 5.25"T and the platform includes an etched stainless steel nameplate with the Boston seal, department and truck name.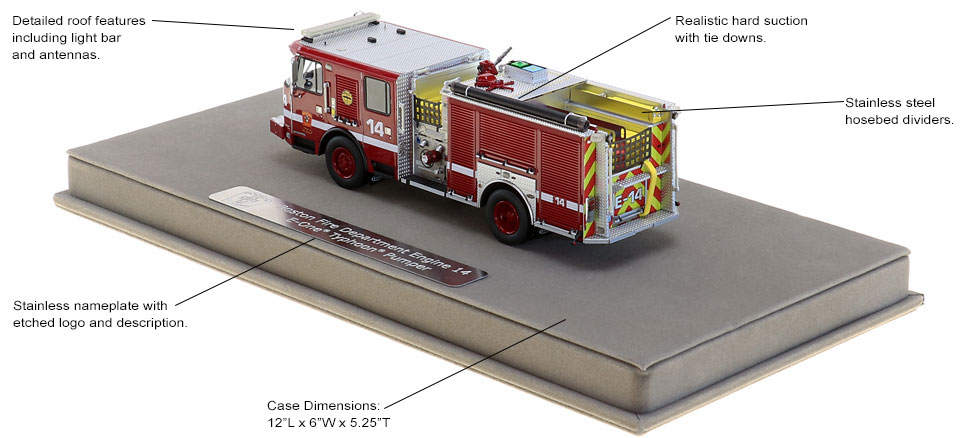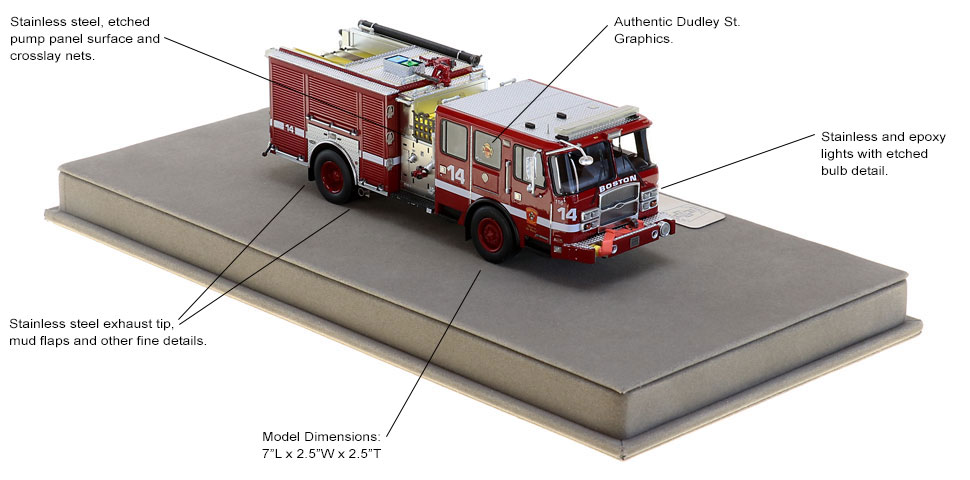 Order online or call 1.800.481.2450
Scale Model Specs
Scale: 1:50

Production Quantity: 125

Multi-materials including High Def Resin, stainless steel photo etch metal, wire, rubber and other composites.
Mounted inside high quality, custom display case featuring etched stainless steel I.D. nameplate.
Model Dimensions: 7"L x 2.5"W x 2.5"T
Display Case Dimensions: 12"L x 6"W x 5.25"T
About the Scale Model
This Boston Fire Department E-One Engine 14 scale model is a museum grade replica. Like all Fire Replicas models, every detail is modeled to perfection and with razor sharp precision. The replica features the specific department configuration and graphics, leaving no detail overlooked. The display case is custom manufactured with high quality acrylic and resin. The stainless steel etched plate features the department and truck name, and department seal. This replica is a treasure to be displayed and admired and is in no way a toy.
Safety Warning
This is not a toy and not suitable for children under the age of 14. This highly detailed scale model contains small, intricate pieces that may present a choking hazard.


Very nice model, keep up the great work. Love it

Just received my Boston E-14 E-one pumper and WOW what a beautiful piece. These Boston E-one pumpers are a perfect urban city "spec" pumper, they look great & Fire Replicas has once again captured every fine detail to 100% accuracy in 1/50 scale as compared to the real rig. This E-one cab is unique with fine lines & contoured bends at the nose of the rig & roof lines, Fire Replicas has replicated every aspect of this cab and chassis with razor sharp accuracy, the body and pump panel are of exemplary detail to the real rig including the preconnect's hose net and the rear hose bed hose net. Paint fit & finish are of true top shelf "museum" quality scale model replica. Fire Replica's continues to produce such incredible quality fire apparatus replicas! can't say enough as to how happy I am with this model and my entire collection of Fire Replicas. I truly look forward to all future Fire Replica models to come thank you.

High Precision for BOSTON

New City, new engine
What a magnificent reproduction that this Emergency One, the details are extraordinary the manoeuvring wheels, the snozle... a wonderful reproduction

Sharp details all the way around

When you first look at the Boston Engine it is kinda plain, built by the cities specs, however this truck does have a lot of character. First that deep dark red catches your eyes and really makes the white graphics standout even more. The word Boston curves perfectly with the e-one grill, the bumper designed for a front intake and the LDH sits neatly in it's tub. The Q2 siren also sits back in the bumper keeping it protected. I loved seeing the TYPHOON logo on the door as wells the hinges look like hinges on the doors, that a welcome improvement to Fire Replicas models. As you work you way back to the pump and discharge panels you have to love the stainless steel used, the pump panel decals look great for the gauges maybe one of the sharper panels so far. The crosslay's in the normal Boston sequence and the detail on the nozzles really stands out. The deck gun/multiverrsel combination has some great detail to it. Yellow lines outline the deck around the deck gun and water/foam fills. The corrugated hard suctions details also stand out. This engine like Chicago's E-one compartments are all painted including the trim outline, which I am noticing more on other newer trucks around the county. What's great about this truck is there are no hose bed or cross lay covers which means more details with the lines and nozzles. The decals on the rollup doors curve well and you can see the ribs of the doors on the side and back, rear job on getting the decals soft enough to do that!. The truck has a lot of stiles steel parts which enhances the detail and beauty of the Dark Red.

This replica is just as amazing as other Fire Replicas model's, in fact because of the real trucks uniqueness it required more detail parts. Awesome job Fire Replicas, cant wait to see the Boston Ladder.

Brilliant model. Great buy. Every detail is covered. 10/10 for everything

I pushed for Boston for over a year for this exact reason. Engine 14 is a true workhorse of Beantown. No fancy chrome, just a deep and beautiful red color with sharp graphics all around. Boston had laid out their graphics to complement the engine in a simple, yet beautiful way. This "First In The Nation" rig is a must have for your collection.

Unbelievable detail been collecting diecast for 30 plus years these are pricy but unbelievable end result just an awesome model can't wait to get the E-One metro ladder coming out

A wonderful representation of the new generation of Boston E-One engines. Having seen these trucks in person, I can say that the models are as accurate as they possibly can be. "Museum grade" is the best possible way to describe these models!

Boston Fire Dept. E-ONE Engine 14

The attention to detail is absolutely beautiful, this model is fantastic and a great addition to my collection.