FDNY Tower Ladder 1 scale model

The first museum grade replica for "The Original One".
Each individually designed, cast or fabricated part is hand-assembled using tweezers, glue-filled syringes, and a steady hand. Materials are chosen to replicate each feature accurately and include stainless steel, high-def resin, brass, wire, rubber and other composites.



Authentic to Tower Ladder 1 using over 785 hand-crafted parts.
From the unique ladder company graphics to the Igloo cooler and exhaust fan, this 1:50 scale replica emulates the real FDNY Tower Ladder 1. Our goal with each release is that our customers may notice something new each time they view the model.


Intricately detailed, stainless steel parts for razor sharp precision.
Manhattan's Tower Ladder 1 features impeccable detailing and true-to-scale parts that only stainless steel can provide. Fire Replicas has ushered in a new standard in 1:50 scale modeling that is sure to impress the most discriminating collectors.


Extremely limited production for lasting value.
Only 125 units of Tower Ladder 1 have been produced. Fire Replicas are designed with the elite collector in mind, and manufactured in limited quantities to enhance long-term value.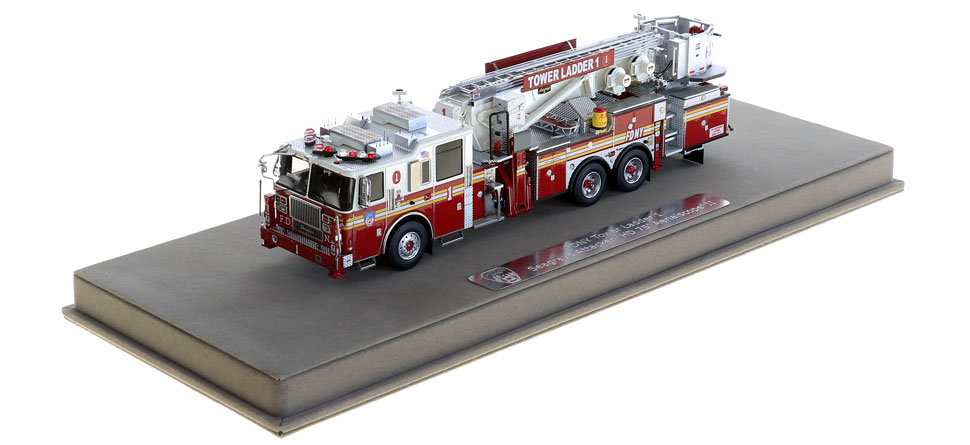 FDNY's Tower Ladder 1...preserved with pride and professionalism.
The FDNY Tower Ladder 1 replica measures 10"L x 2.5"W x 2.75"T and is securely displayed inside a custom case. The case dimensions are 15.5"L x 6"W x 5.25"T and the platform includes an etched stainless steel nameplate with the FDNY seal, department and truck name.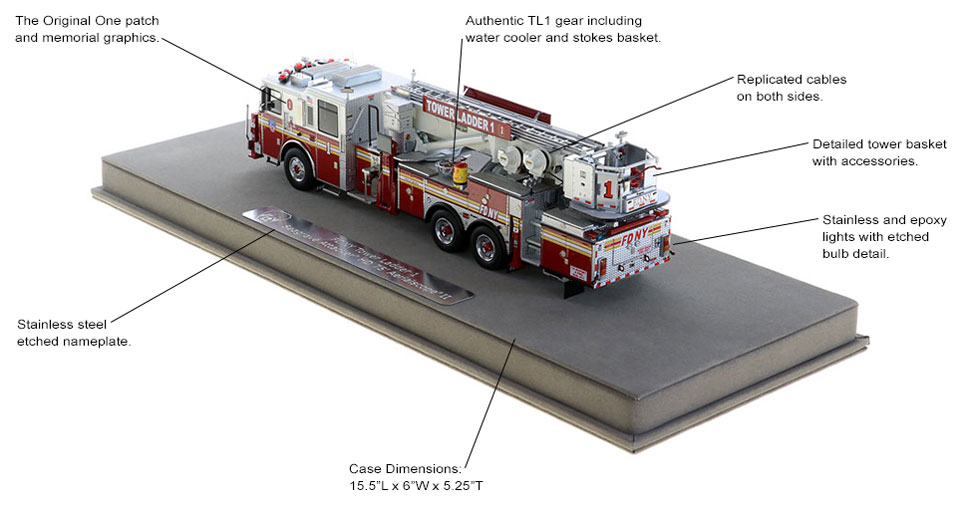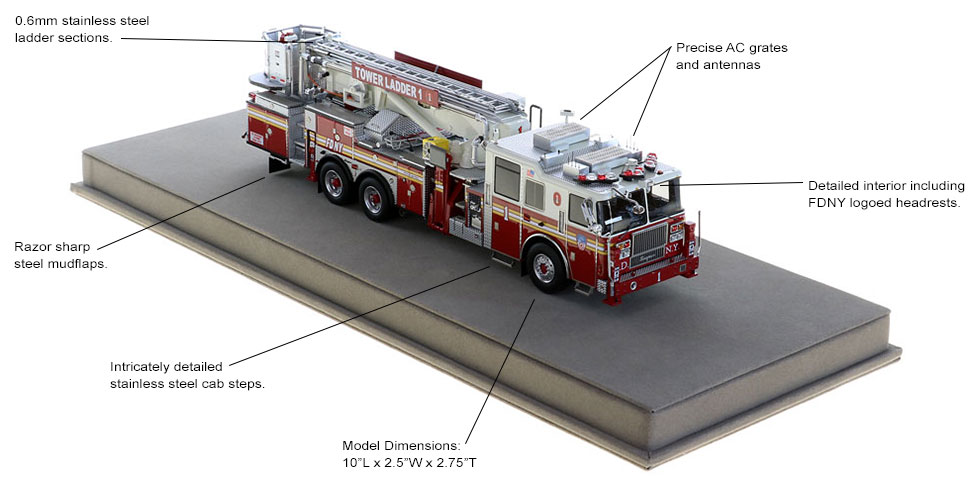 FDNY Tower Ladder 1 Scale Model Specs
Scale: 1:50

Seagrave Attacker HD 75' Aerialscope II

Production Quantity: 125

Multi-materials including High Def Resin, stainless steel photo etch metal, wire, rubber and other composites.
Mounted inside high quality, custom display case featuring etched stainless steel I.D. nameplate.
Model Dimensions: 10"L x 2.5"W x 2.75"T
Display Case Dimensions: 15.5"L x 6"W x 5.25"T

More About the Scale Model
This FDNY Tower Ladder 1 scale model is a museum grade replica of the FDNY Seagrave Attacker HD 75' Aerialscope II. Like all Fire Replicas models, every detail is modeled to perfection and with razor sharp precision. The replica features the specific department configuration and graphics, leaving no detail overlooked. The display case is custom manufactured with high quality acrylic and resin. The stainless steel etched plate features the department and truck name, and department seal. This replica is a treasure to be displayed and admired and is in no way a toy.
Safety Warning
This is not a toy and not suitable for children under the age of 14. This highly detailed scale model contains small, intricate pieces that may present a choking hazard.
All New York City logos and marks depicted herein are the property of New York City and may not be reproduced without written consent. ©2018. City of New York. All rights reserved.


Beau comme un camion de pompier

One of the most famous tower ladder in New York. It's decided I go check on the spot if the true is conform to the reduced model

Something about a Seagrave! This truck is the one I look at the most in my collection. The stokes basket and many other equipment at awesome. The LED lights are awesome. I don't know how Fire Replicas puts such depth and detail in model. The Aerialscope is dead on detail. The cables and reels are perfect. I used to built model fire apparatus with some good detail, but Fire Replicas FDNY Tower Ladder 1 smokes anything I ever built. I hope to see it's stable mate, Engine 7.

Very well done, great detailing, clean lines.

The model of FDNY Ladder 1 is my 13th Fire Replica's model and as with the previous 12 I have been amazed by the accuracy and detail that has been achieved on this model. It is outstanding and perfectly to scale.
A perfect illustration of the level of detail that Fire Replica's aim to achieve with their models is shown well on this model. A look at the bottom of the side jack feet reveals traces of red paint, that would have been there when the real vehicle was originally delivered but has been gradually worn away during use. Now that is detail !!!
The Seagrave Aerialscope is an icon of the US fire service and this model represents it to perfection.


Another great and awesome job done by Fire Replicas. To sum it up the Model looks like a miniature version of the real rig. The details are amazing. Everything is there and nothing overlooked! Keep up the good work.

FDNY Tower1, The best by far!

I received my Tower 1 today and the moment I opened the truck and took it out of the box it blew me away. No detail has been spared or missed. Everything has been faithfully recreated. I'm impressed with every new truck that comes out and am looking forward to ordering more! Well worth the money

This review is based on a long look I had at the pre-production prototype. I remember when Fire Replicas release their first FDNY Towers back in 2016. These were amazing models (and still are) they were well received and spectacular in every way. These Seagrave Aerialscopes are still among my favorites in my collection. I would have thought it would have been impossible to improve on them

But Fire Replicas have made significant improvements with the new batch of Seagrave Aerialscopes (this time FDNY 75' units). These are amazing models with a level of craftsmanship that is better than the previous generation 95' models. A summary of improvements:
• Flawless assembly fit and finish
• The roof mounted A/C units have cleaner assembly and better fit to the roof
• The basket is a major improvement:
o Better casting
o Perfect fit and finish
o Improved detail
o Thinner panels
• The ladder structure has crisper detail and improved fit
• Improved communication antennas
• The overall assembly is "tighter" in every way
• The overall casting is flawless which is why the fit and finish is so good.
• Parts count went from under 600 to nearly 800!

It is difficult to describe the overall improvement in fit and finish, but the overall model is simply crisp, clean, perfectly assembled and spectacular. Overall detail is also improved and you get extra equipment as well. Specific to Tower Ladder 1: Stokes basket, exhaust fan, igloo water cooler and accurate TL1 graphics.