Columbus Division of Fire Sutphen SPH100 Aerial Platform Specifications


The first museum grade Sutphen SPH 100 Aerial Platform.
Countless hours of design, proofing, and improvements make this replica museum grade, from the stainless steel grill and detailed pump panel features, to the individual lenses on each scene light.


Over 830 hand-crafted parts.
On our most complex replica to date, each individually designed, cast or fabricated part is hand-assembled using tweezers, glue-filled syringes, and a steady hand.


Industry first, true-to-scale, 0.6mm stainless steel ladder.
The Columbus Platform is set apart with its razor sharp stainless steel ladder structure. This is a critical component of museum grade precision and makes for an amazing first impression.

Production limited to only 250 units.
Total production of this Columbus Sutphen SPH100 is limited to 250 units. Fire Replicas are designed with the elite collector in mind, and manufactured in limited quantities to enhance future value.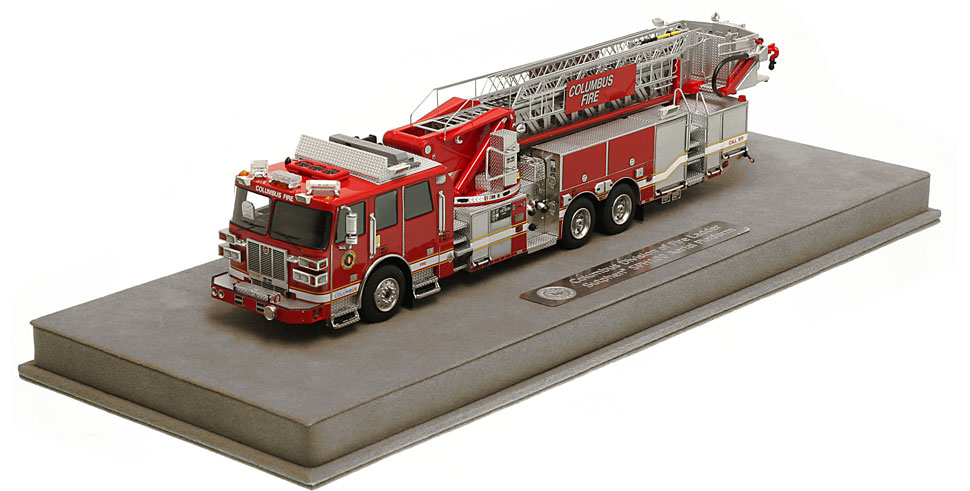 First class presentation and protection.
The replica measures 11.75"L x 2.5"W x 2.75"T and is securely displayed inside a custom case. The case dimensions are 15.25"L x 6"W x 5.25"T and the platform includes an etched stainless steel nameplate with the Columbus seal, department and truck name.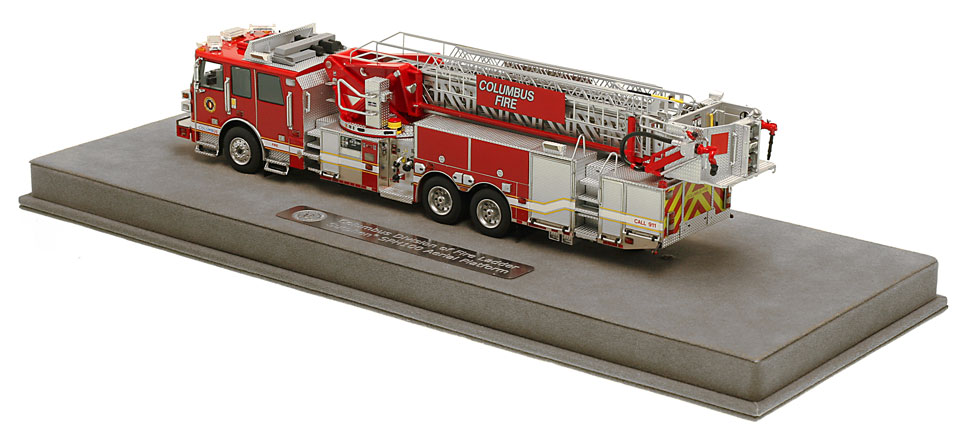 Station number decal sheet included.
Each Columbus Platform includes a station number decal sheet to allow for full customization. Customer applied decal locations include ladder sign, front bumper, crew doors, and on the doors of and underneath the platform.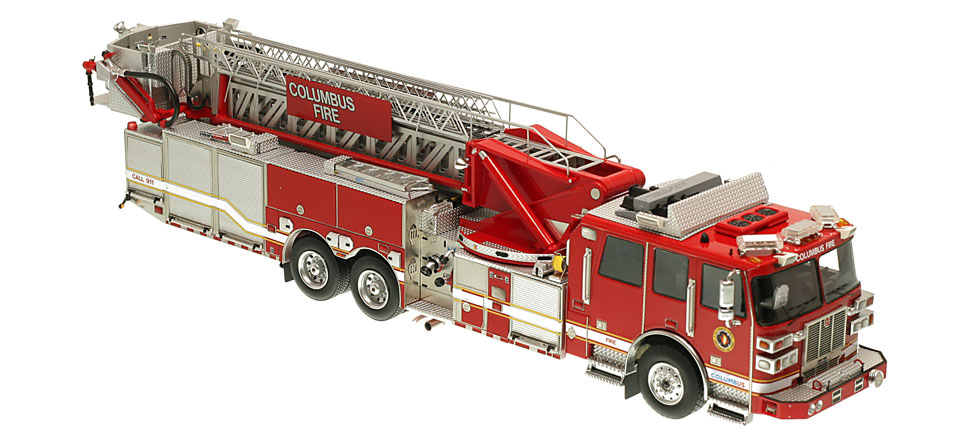 Order online or call 1.800.481.2450
Columbus Division of Fire Sutphen Monarch Engine Scale Model Specifications
Scale: 1:50

Final Production Quantity: 250

Decal Sheet included so model can be customized to a choice of ladder numbers

Multi-materials including High Def Resin, stainless steel photo etch metal, wire, rubber and other composites.
Mounted inside high quality, custom display case featuring etched stainless steel I.D. nameplate.
Model Dimensions: 11.75"L x 2.5"W x 2.75"T
Display Case Dimensions: 15.25"L x 6"W x 5"T
About the Columbus Sutphen Scale Model
This Columbus Division of Fire Sutphen SPH100 Aerial Platfrom scale model is a museum grade replica. Like all Fire Replicas models, every detail is modeled to perfection and with razor sharp precision. The replica features the specific department configuration and graphics, leaving no detail overlooked. The display case is custom manufactured with high quality acrylic and resin. The stainless steel etched plate features the department and truck name, and department seal. This replica is a treasure to be displayed and admired and is in no way a toy.
Safety Warning
This is not a toy and not suitable for children under the age of 14. This highly detailed scale model contains small, intricate pieces that may present a choking hazard.



About the Columbus Division of Fire
The Columbus Division of Fire is responsible for assuring the efficient and effective deployment of firefighting and emergency resources to the City of Columbus. In 2012, the Columbus Division of Fire was awarded for the second time accredited status by the Commission of Fire Accreditation International through the Center of Public Safety Excellence.
The mission is simple, to serve the City of Columbus by preventing emergencies through education and inspection. The goal is to minimize injury, death and property destruction due to fire, natural disaster and other emergencies while providing timely and effective emergency medical services. Currently, the Division of Fire responds to over 150,000 calls per year within 399 square miles.
Additional services provided to the community include resources such as fire inspections, fire and explosives investigations, fire prevention education, hazardous materials and technical rescue response. The Division's community involvement extends beyond those emergent services to include partnerships that distribute coats and toys for kids, youth development, and public CPR training.
The Mission of Columbus Division of Fire - Our mission as the Columbus Division of Fire is to serve our community by:
Preventing emergencies through education and inspection.
Minimizing injury, death, and property destruction due to fire natural disaster and other emergencies.
Minimizing injury, death, and suffering by providing timely and effective emergency medical service.
The Values of Columbus Division of Fire - In order to accomplish our mission, the members of the Columbus Division of Fire, use the following values to guide our actions:
Preservation of life and property.
Personal integrity.
Professionalism.
Respect for others.
Another great addition to the collection. Excellent detail and flawless paint.

Columbus Sutphen fire truck.

Perfection in miniature, simple as.

The best of the collection
the ladder is perfectly reproduced
the other parts are amazing
i am enthousiast

Columbus Division of Fire Sutphen SPH100 Aerial Platform

This beauty is the very ultimate addition to the Columbus Sutphen Engine Co. that was produced last year. As usual the detailing is Outstanding !!!!! As close as it gets to owning the real deal !!!!! A very nice addition to anyone's collection. It also includes a set of decals so you can customize it a specific Columbus Truck Co. I'm very Happy to own one of these models !!!!! Keep up the Great work Fire Replicas !!!!!

Absolutely the best ladder truck model I've seen. The detail is amazing once you get it you'll look at it for hours

Another outstanding model

Probably the most detailed model in my collection, great addition!

Only negative is the decals, I would prefer a finished model verses spending an hour installing decals. I'm sure that if I were a member of Columbus Fire I would appreciate the company options, so I understand and appreciate the concept behind the decals.

Fire Replicas never fails to amaze. Always turning out very accurate and high quality.
Look forward to what they have coming next.

Columbus Sutphen Aerial- Perfection Personified

The offering of the Columbus Fire Department's Sutphen
Tower Ladder can only be described by stating it is "Perfection Personified" in its attention to detail and complexity of production. One can easily see the time and effort put in by Fire Replicas in this latest Ariel offering. This company seems to outdo itself in its accomplishments every time they offer a new model. A must have buy every collector. Dave S.- NYC

Once again the quality and accuracy to detail is amazing.