1:50 Scale Columbus Division of Fire Sutphen Monarch Engine Specifications

Over 400 hand-crafted parts.
Each individually designed, cast or fabricated part is hand-assembled using tweezers, glue-filled syringes, and a steady hand. Materials are chosen to replicate each feature accurately and include stainless steel, high-def resin, brass, wire, rubber and other composites.



Station number decal sheet included.
Each Columbus Engine includes a station number decal sheet to allow for full customization. Station number locations include cab roof, front bumper, crew doors, and rear rollup door.




The first museum grade Sutphen engine.
Countless hours of design, proofing, and improvements make this replica museum grade, from the stainless steel grill and detailed pump panel features, to the individual lenses on each scene light.


Extremely limited availability.
Total production of this Columbus Engine is limited to 250 units, of which 150 have already been sold. Fire Replicas are designed with the elite collector in mind, and manufactured in limited quantities to enhance future value.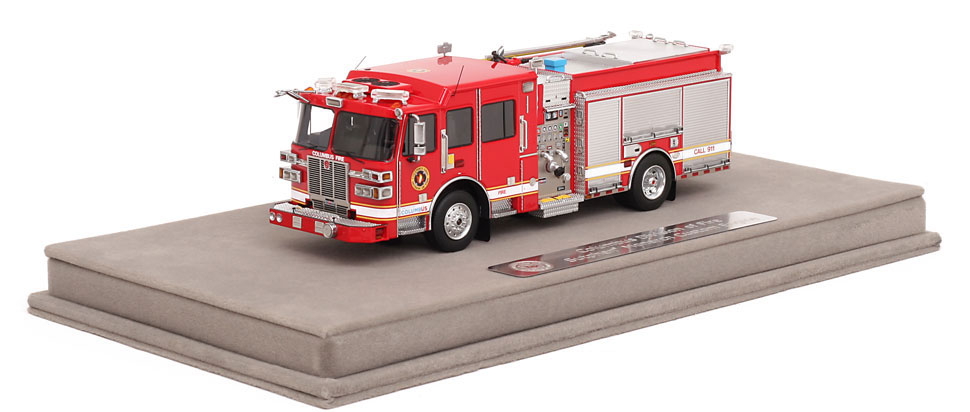 Fully custom presentation.
The replica measures 8"L x 2.5"W x 2.5"T and is securely displayed inside a custom case. The case dimensions are 12"L x 6"W x 5.25"T and the platform includes an etched stainless steel nameplate with the Columbus seal, department and truck name.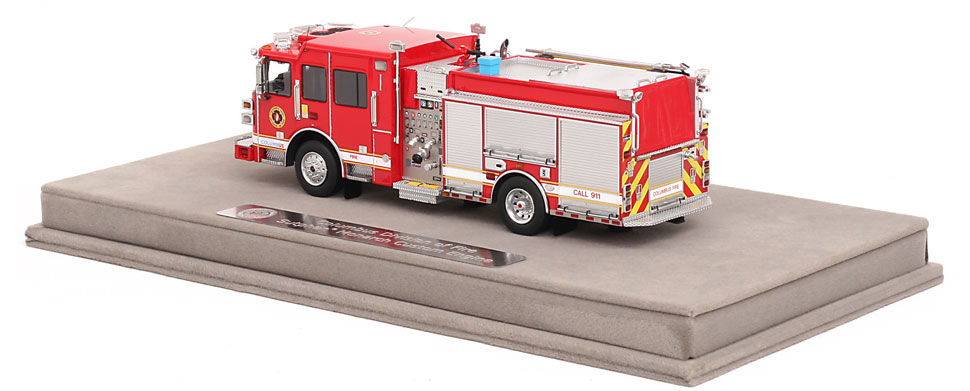 Order online or call 1.800.481.2450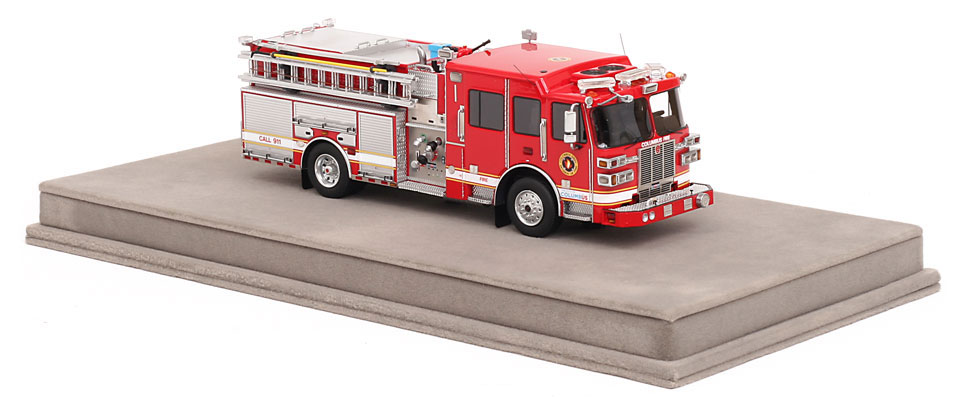 Columbus Division of Fire Sutphen Monarch Engine Scale Model Specifications
Scale: 1:50

Final Production Quantity: 250

Decal Sheet included so model can be customized to a choice of engine numbers

Multi-materials including High Def Resin, stainless steel photo etch metal, wire, rubber and other composites.
Mounted inside high quality, custom display case featuring etched stainless steel I.D. nameplate.
Model Dimensions: 8"L x 2.5"W x 2.5"T
Display Case Dimensions: 12"L x 6"W x 5"T
About the Columbus Sutphen Scale Model
This Columbus Division of Fire Sutphen Monarch Engine scale model is a museum grade replica. Like all Fire Replicas models, every detail is modeled to perfection and with razor sharp precision. The replica features the specific department configuration and graphics, leaving no detail overlooked. The display case is custom manufactured with high quality acrylic and resin. The stainless steel etched plate features the department and truck name, and department seal. This replica is a treasure to be displayed and admired and is in no way a toy.
Safety Warning
This is not a toy and not suitable for children under the age of 14. This highly detailed scale model contains small, intricate pieces that may present a choking hazard.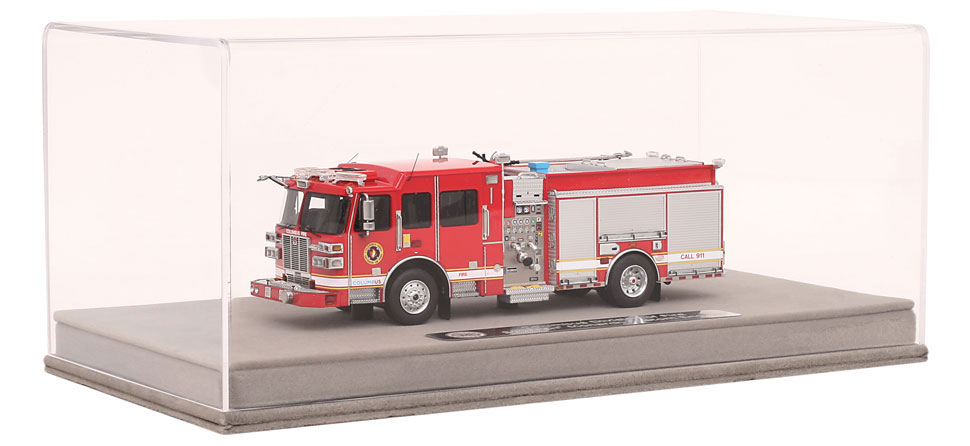 Real Columbus Engine Specs
CHASSIS: Sutphen 73" with 10" raised roof
Four-Door Six-Person Cab 20,000
Front Axle and Suspension 24,000
Engine: Cummins ISM 435HP
Alternator: Niehoff, 300Amp
Transmission: Allison GEN IV EVS4000


PUMP: Waterous
CMU-1500 GPM Two Stag
Discharges: 2 ½" Left, 3" Right,2 ½" Right,(2) 1 ½" Left Rear,3" Right Rear, 3" Deck-Gun, 1 ½" Front Bumper
750 Gallon Tank ( in lieu of 500 gal)


BODY: Sutphen
PA-08 RES 34/48 MID RGT done in Stainless Steel
Ziamatic Ladder Rack: 24' two-section, 14" Roof,10"Folding
Left High and Right Mid-Height Compartments
159 cu. ft. Compartmentation
Six SCBA Cylinder Compartments


OPTIONAL EQUIPMENT:
18" Extended Bumber with Hose Trough
Barrier Style Cab Doors
Roll-Up Compartments
ThermTech 3000C 12v Compartments Heater
Whelen LED lighting throughout vehicles
Voyager Reverse Camera
GoLight 2020 Spotlight
Whelen LED TAM65 36" Traffic Advisor
About the Columbus Division of Fire
The Columbus Division of Fire is responsible for assuring the efficient and effective deployment of firefighting and emergency resources to the City of Columbus. In 2012, the Columbus Division of Fire was awarded for the second time accredited status by the Commission of Fire Accreditation International through the Center of Public Safety Excellence.
The mission is simple, to serve the City of Columbus by preventing emergencies through education and inspection. The goal is to minimize injury, death and property destruction due to fire, natural disaster and other emergencies while providing timely and effective emergency medical services. Currently, the Division of Fire responds to over 150,000 calls per year within 399 square miles.
Additional services provided to the community include resources such as fire inspections, fire and explosives investigations, fire prevention education, hazardous materials and technical rescue response. The Division's community involvement extends beyond those emergent services to include partnerships that distribute coats and toys for kids, youth development, and public CPR training.
The Mission of Columbus Division of Fire - Our mission as the Columbus Division of Fire is to serve our community by:
Preventing emergencies through education and inspection.
Minimizing injury, death, and property destruction due to fire natural disaster and other emergencies.
Minimizing injury, death, and suffering by providing timely and effective emergency medical service.
The Values of Columbus Division of Fire - In order to accomplish our mission, the members of the Columbus Division of Fire, use the following values to guide our actions:
Preservation of life and property.
Personal integrity.
Professionalism.
Respect for others.
I am impressed with the craftsmanship and quality overall.

Looks great. A small piece broke off. It was a piece of diamond plate. Other than that I would buy another.

Another Fire Replicas classic

Another brilliant Fire Replicas model. The detail is at least on-par if not better than the others in my collection - which means you need a magnifying glass to find them all. There's always something new to find. This is another model that visitors can't help but stare at.
A good eye and steady hand is needed to add the numbers.

I received the Columbus Division of Fire Sutphen Monarch Engine. First I was impressed with how well it was packaged to protect the model. The model only had a few tiny imperfections. I'm also very OCD. It won't stop me from buying another model. I have three more I'm looking to get. I would like to see a bigger size model like the Code 3 Diamond Plate Series.

FIRST CLASS REPLICA/CUSTOMER SERVICE.

Just received my Columbus Fire, Sutphen Engine. My dad was a Captain with Columbus for 31 years. I have collected die cast fire apparatus for 16 years and I must say this is one of the best examples of any I have collected. From the moment I spoke to Mr. Neumann, to when my order arrived, I found everything to be far better than advertised. It arrived exactly when he said it would and maintained a line of communication apprising me of the progress. All correspondence was promptly answered, usually within a hour or so. The shipping/packing was far above average with everything arriving on time and intact. The replica is very detailed and the fit & finish is exemplary. Even the enclosed paperwork was first class all the way. Only negitave comment would be the inability to order with the station number already affixed! Eyes aren't what they used to be. I am very pleased with everything and would highly recomend Fire Replicas. I will continue to order from them in the future.
Respectfully,
FF E.C. Perkins NREMT-P, CCEMT-P (RETIRED)

A great follow up with a small difference

I am glad to see Fire Replicas added another 100 models to the sell out, even better this truck has just a minor difference that only the true collector may notice if they get both. The details on this truck are incredible no matter how many times you look at it you seem to always see something you did not see before. Really need a stablemate addition to set next to mine.

I was skeptical at first of what this was going to be until I saw a prototype at the firehouse expo in Nashville. Then I couldn't wait to get mine after being preordered for some time. Not only does the truck have the small details but they are clear and you can tell what they are. This is truly museum quality and any serious collector,should have one.

The Columbus Fire Sutphen Monarch Engine was breath-taking! When I opened the box and looked at the truck I was very pleased at the detail and workmanship of the truck. My Department, Teaneck New Jersey Fire Rescue, has two Sutphen tower ladders and one Sutphen engine. No one has very produced a Sutphen truck before. Now I have one. Thank you for the beautiful engine. It is a master piece!

It's all in the details, and there are many. From the realistic pump panel to what appears to be a hitch receiver under the back step. A magnifying glass is needed to appreciate the fine detail. Each time I examine the truck, new highlights are revealed. For me, it is one of the best fire truck models I have seen. Having visited both Columbus, and the Sutphen factory, this one is special. Keep up the great work Nick.